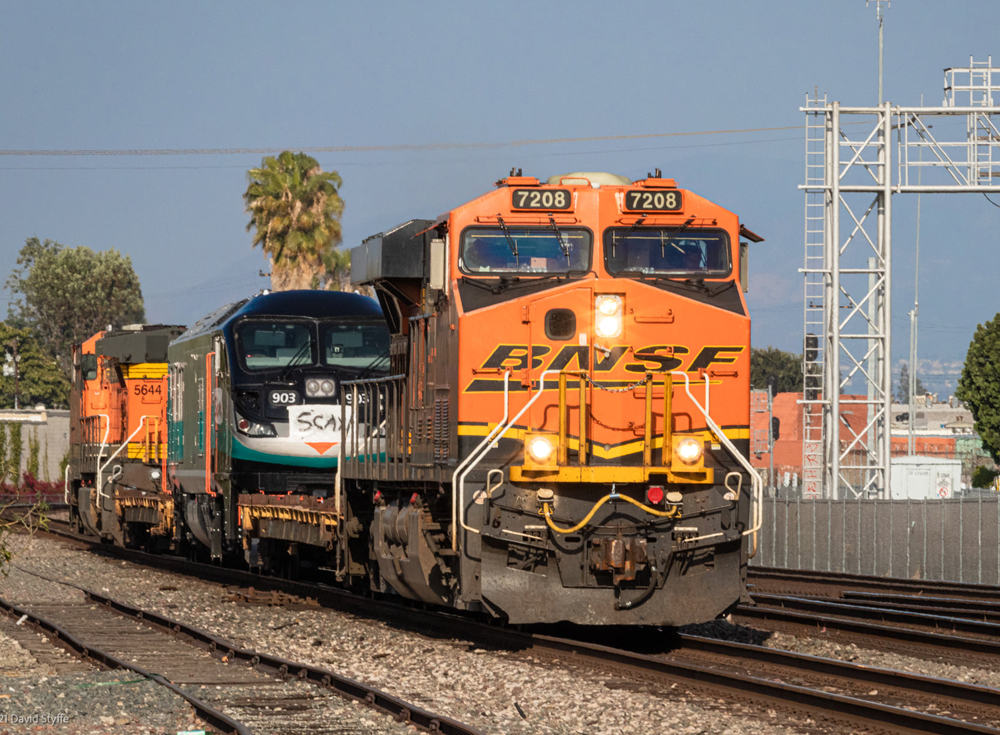 LOS ANGELES — BNSF Railway has delivered the last EMD F125 passenger locomotive to California's Metrolink. The locomotive, SCAX No. 903 arrived last Thursday on special train J-BRCLAC9-08, with only No. 903 and two idler flatcars. Delivery of No. 903 was delayed due to parts shortages related to the COVID-19 pandemic. The locomotive's arrival, almost five years after the first of Metrolink's 40 F125s arrived on Metrolink's property in July 2016, marks the completion of Progress Rail's first — and to date, only — order for the model.
Equipped with a C175-20 engine and A.C. traction, the F125 was introduced in October 2011, with Metrolink signing on as the launch customer in December 2012. The order for 20 locomotives was doubled to 40 in July 2015 when Metrolink exercised its option to purchase an additional 20 locomotives. The locomotives's monocoque body was built by Vossloh in Spain and shipped to Progress Rail's plant in Muncie, Ind., for final assembly.
Mechanical issues and appliance redesign delayed the overall order by several years. Due to reliability issues with the first F125s, Metrolink revised its requirement from 500 to 2,500 failure-free miles each must operate. Once each F125 achieved this benchmark, which was done in revenue service with a second locomotive accompanying it as protection power, the F125 would be conditionally accepted and allowed to operate solo in revenue service. The first Metrolink F125 allowed to operate solo in revenue service was SCAX No. 908 in March 2018. Metrolink hopes to begin the process of final acceptance of each remaining locomotive this fall.