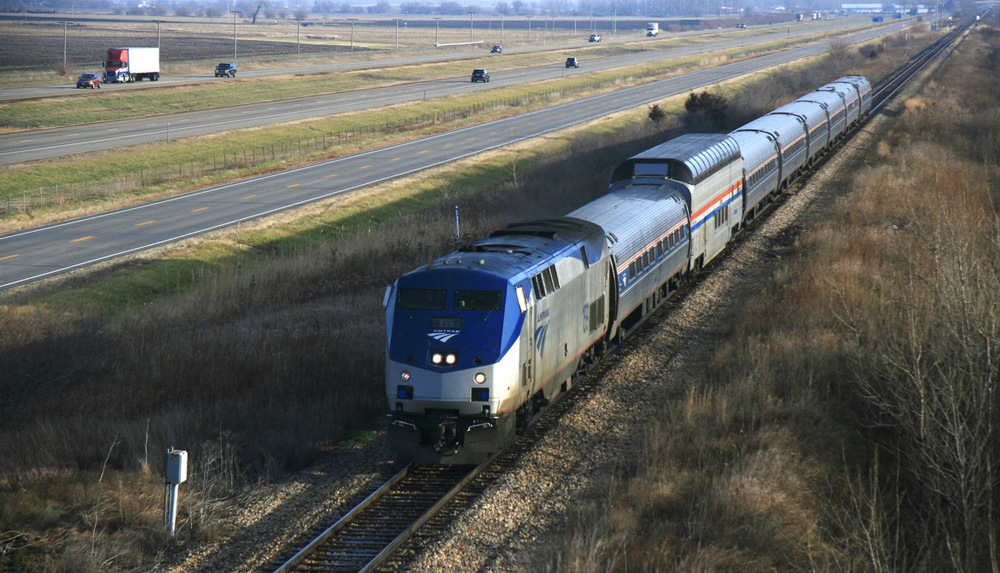 ---
WASHINGTON — Consistent sellouts on Amtrak trains before and after Thanksgiving never get the same media play as TV reporters provide with stand-ups at the airport or on a highway overpass, and 2022 was no exception. The ability to efficiently move masses of travelers is a story that needs to be told.
What was different at Amtrak this year, however, is that the company not only wasn't able to add extra holiday departures to accommodate the usual demand surge, but didn't even have enough equipment and crews to operate its regular daily schedule on several Midwest routes.
Sold out in the Midwest, East, and Pacific Northwest
 A Trains News Wire spot check of all corridors and long-distance routes beginning early Thanksgiving week for travel the Wednesday before and Sunday after the holiday showed widespread sellouts outside of California, North Carolina, Virginia, and Maine. Any remaining coach inventory was subsequently gobbled up, especially on Sunday.
In previous, pre-pandemic Thanksgiving weekends, the company squeezed extra round trips out of its equipment and crews on routes between Chicago and Quincy and Bloomington-Normal, Ill.; and Ann Arbor and Holland, Mich. Extra equipment was also pressed into service on many routes. This year, morning trains to and from Quincy, and one Chicago-Carbondale round trip are cancelled through mid-December, as is one St. Louis-Kansas City, Mo., round trip. All Wednesday and Sunday trains except unreserved Chicago-Milwaukee Hiawathas were sold out, as were coach seats on every long-distance train that shares corridor routes.
Amtrak was able to charter on-time buses Wednesday to handle St. Paul-Chicago Empire Builder passengers booked on an eastbound train running more than 7 hours late, but the only space available on other Wednesday and Sunday Builders cost $385 for one adult in a roomette.
Coast Starlight roomettes could also be purchased between Seattle and Portland, Ore., but no coach seats were available on any other train, even though an extra round trip on both Wednesday and Sunday was achieved by turning equipment out of the usual pattern. Aside from the two Talgo Series 8 trainsets that normally do Seattle-Eugene, Ore., trips on trains 500 and 505, the four Horizon equipment sets are each assigned just two coaches and one café-business class car.    
Northeast fare manipulation garners extra revenue
For decades, Amtrak leased commuter trainsets from Philadelphia's SEPTA, Maryland's MARC, and NJ Transit south of New York to accommodate legions of travelers headed home and back. Extra round trips with Amfleet coaches and staffed cafe cars were also added as advance sections to especially taxed Boston-Washington trains that operated into Virginia. Special Thanksgiving timetables providing a much-appreciated scorecard while promoting the additional capacity.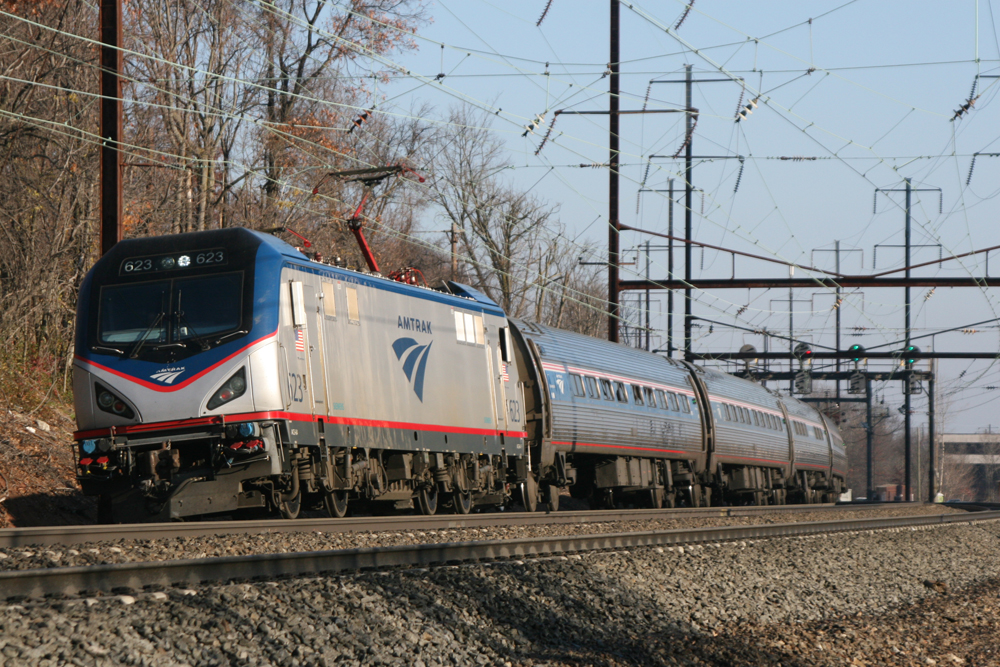 Not so today. The only extra trains operating across the long weekend were two Boston-Washington Acela round trips on Sunday, Nov. 27, and another Washington-New York Acela round trip extended from New York to Boston that day.
One justifiable reason is that travel patterns became less regimented over the last few years as more flexible employment arrangements evolved. However, the most significant factors are insufficient operating and maintenance employees and sidelined equipment that management did not sufficiently prioritize returning to service.
Given this reduced capacity and to avoid sellouts, Amtrak has intensified its use of yield management to dramatically raise prices as seats are booked over time. A News Wire snapshot on Tuesday, Nov. 22, of departures for Sunday, Nov., 27, showed the following: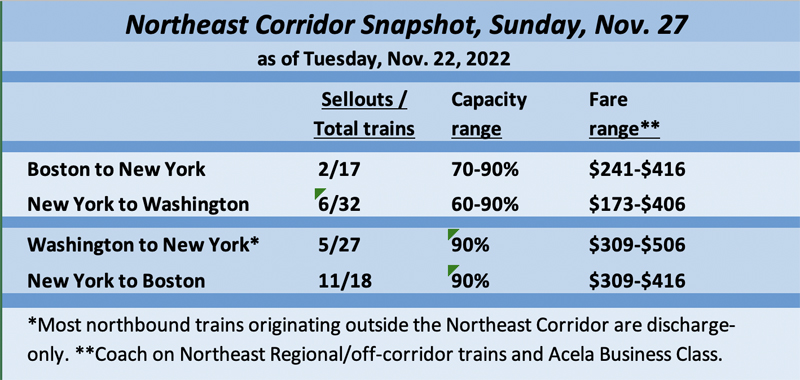 Despite the prices, most remaining seats were sold by the time Northeast Regionals and Acelas left their terminals on Sunday. Although Pennsylvania's Harrisburg-Philadelphia-New York Keystones had inventory, most Empire Service trains were sold out well in advance.
On the Sunday after Thanksgiving in 2013, Amtrak originated 25 trains, with 20 sellouts from Boston to New York's Penn Station tallied the day before. From New York's Penn Station to Washington, 44 trains operated with 14 sellouts. On trains that still had seats as of that Saturday, New York-Washington pricing ranged from $84 for end-of-day trips to $264 for Acela business class. Of course, inflation has taken a toll in the intervening years, but the additional trains were able to accommodate thousands more passengers.
That said, this year Amtrak's network dependably carried huge numbers of travelers to their destinations over the holiday, especially in the face of heavy rain in the Northeast and mid-South that disrupted air and highway journeys. The only significant delays across the system were Saturday eastbound departures of both the California Zephyr and Cardinal. Perhaps someday, and with more rail options, Amtrak's big Thanksgiving won't operate in the shadows.