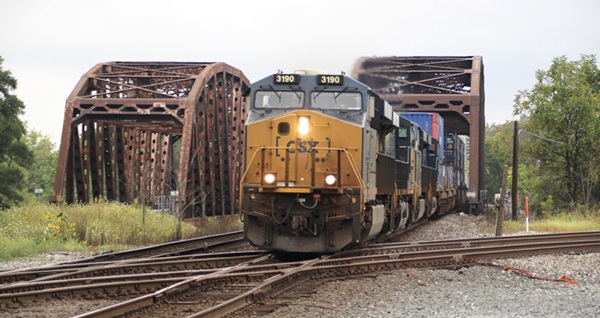 WASHINGTON — The association representing fertilizer shippers says federal regulators should put CSX Transportation under the microscope due to widespread service problems that stem from a shortage of train crews.
"For the past several months, CSX has had serious rail service problems, hindering the fertilizer industry's ability to serve its farmer customers," Corey Rosenbusch, chief executive of The Fertilizer Institute, wrote in a letter to the Surface Transportation Board last week.
"While we understand CSX is trying to fix its network, TFI urges the Board to conduct enhanced oversight to ensure it is successfully done as quickly as possible," Rosenbusch wrote.
Fertilizer shippers also urged regulators to increase rail competition, establish common-carrier service standards, and hold railroads accountable for service failures.
"In the aftermath of widespread implementation of Precision Scheduled Railroading, it may be that the rail industry is trying to do too much with too little," Rosenbusch wrote. "CSX — like other Class I carriers — has reduced its operating costs through a series of measures, including reductions in staff, such as train crews. We have all had some surprises in the past year, but a rebound of shipping volumes should not be one of them."
CSX has been caught short of crews and lacks the manpower to put stored locomotives back in service, fertilizer shippers say. As a result, transit times are two to four days longer than usual, local service in some areas has been cut to once a week from five days per week, and unit train movements have experienced delays.
The fertilizer shippers pointed out service problems in 10 states on the CSX system, with New Orleans, Chicago, and Birmingham, Ala., being focal points for delays.
CSX CEO Jim Foote last week said the railroad is working to improve its service and hire and train new crews.
"In most of the markets — rail, truck, anything — there's more demand than there is transportation product supply. It's as simple as that," Foote says. "The transportation product is struggling in our case for one reason and one reason only: We've been trying to hire since the beginning of the year."
CSX lost 7% of its train and engine crews to attrition last year and was unable to hire at the height of the pandemic because social distancing requirements made it impossible to hold training classes for new conductors, Foote explains.
Meanwhile, the number of coronavirus-related employee absences remained high late last year and carried into the first three months of 2021. Average train velocity fell and terminal dwell rose as the number of COVID-19 cases and quarantines rose.
"It's directly related. Velocity went down, dwell went up as the number of employees were off," Foote says. "Shazam. It's not rocket science."
CSX is starting to see the benefits of its first round of hiring, Foote says, but he notes that it takes time to properly train conductors and the railroad won't cut safety corners in order to rush people into operations.
The workforce has become more stable as coronavirus cases have waned, Foote says, and the railroad's performance metrics have been on an upswing in recent weeks.
"None of us are happy with the decline in velocity and dwell. We worked really, really hard to get this railroad to be running as well as it was, and we're going to get this railroad running back not to where it was but even better," Foote says. "And that's our intense focus."
CSX's performance metrics remain above the levels of 2017, 2018, and 2019, Foote says.
CSX continues to hire in anticipation of strong traffic demand that may last into next year and beyond. The worst thing that can happen if CSX hires too many people, Foote says, is that it misses a quarter's financial targets. "If you want to have a long-term reputation in the marketplace as a quality service provider, you better be there for people when they need you," Foote says.
CSX has plenty of track capacity and hundreds of locomotives it can pull from storage if they are needed. "We have a lot of horsepower out there now on the railroad to make sure we can get the trains over the road," Foote says.
On May 28, STB Chairman Martin J. Oberman wrote letters to the chief executives of the seven Class I railroads in which he outlined his concerns about rail service. Oberman asked the CEOs to update the board on their hiring plans for the next two years as well as their ability to meet freight demand, including crew and locomotive availability.