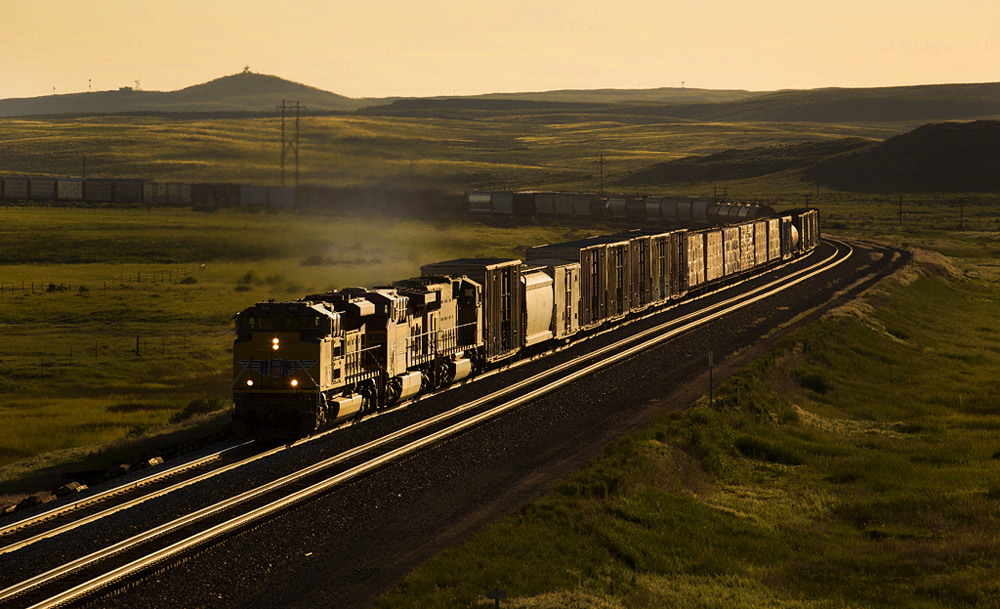 ---
DEERFIELD, Ill. — Union Pacific's plan to begin metering traffic as of today will curtail fertilizer shipments and put crops at risk, a major fertilizer producer says.
"The timing of this action by Union Pacific could not come at a worse time for farmers," CF Industries CEO Tony Will said in a statement on Thursday. "Not only will fertilizer be delayed by these shipping restrictions, but additional fertilizer needed to complete spring applications may be unable to reach farmers at all. By placing this arbitrary restriction on just a handful of shippers, Union Pacific is jeopardizing farmers' harvests and increasing the cost of food for consumers."
CF Industries informed its customers located on UP that railroad-mandated shipping reductions would result in nitrogen fertilizer shipment delays during the spring application season. The company also informed customers that it would be unable to accept new rail sales involving UP for the foreseeable future.
UP on April 8 told CF Industries that it would have to reduce its shipments by nearly 20% as part of the railroad's plan to reduce congestion in the midst of crew and locomotive shortages.
CF Industries said it will ask the Surface Transportation Board to intervene so that fertilizer shipments are prioritized.
"CF Industries' North American manufacturing network continues to produce at a high rate to meet the needs of customers, farmers and consumers," Will said. "We urge the federal government to take action to remove these Union Pacific rail shipment restrictions to ensure this vital fertilizer will be able to reach U.S. farmers when and where they need it."
The fertilizer company said it was one of only 30 shippers to face restrictions designed to unclog the UP network. CF Industries ships to customers via Union Pacific rail lines primarily from its Donaldsonville Complex in Louisiana and its Port Neal Complex in Iowa. The rail lines serve key agricultural areas such as Iowa, Illinois, Kansas, Nebraska, Texas, and California.
Affected products include nitrogen fertilizers such as urea and urea ammonium nitrate, as well as diesel exhaust fluid, an emissions control product required for diesel trucks. CF Industries is the largest producer of all three products in North America, and its Donaldsonville Complex is the largest single production facility for the products in North America.
CF Industries says crop yields will be lower this year if farmers are unable to secure all the nitrogen fertilizer that they need. This will likely extend the timeline to replenish global grains stocks and contribute to higher food prices, the company contends.
UP sent an email to customers earlier this month outlining the railroad's goal of removing 15,000 private cars from current inventory. UP is pulling nearly 3% of railroad-owned cars from the system. The railroad has said it will work with customers to avoid plant shutdowns and other potential negative impacts.
"Union Pacific is committed to proactively supporting our customers, and we are working with them to address the impact of several disruptive events," spokeswoman Kristen South says. The railroad is taking several steps to address "national supply chain issues," including adding 100 locomotives to the active fleet, training 450 new employees with more scheduled to graduate from conductor training this summer, and relocating 80 crew members to high-demand areas.
UP also says it's "partnering with customers to begin a metered approach in the coming days. This allows us to continue serving all customers while simultaneously working through a backlog of cars, restoring our ability to process volume – an approach we successfully applied last year with West Coast intermodal traffic."
Other shippers have complained about the restrictions, but none publicly like CF Industries.
The number of cars on the railroad has grown over the past 60 days and in the week ending April 8 topped 300,000 for the first time since 2018, when UP was in the midst of an operational funk that lasted more than a year. The railroad is short of crew and power, and says it's hiring aggressively while pulling locomotives out of storage.
When a railroad's average train speed drops and terminal dwell rises, transit times increase and service becomes more erratic. Shippers typically add cars to their fleets as rail service slows, which tends to exacerbate congestion and delays.
The STB has ordered executives from UP, BNSF Railway, CSX Transportation, and Norfolk Southern to appear at a hearing on service issues scheduled for April 26 and 27 [see "Federal regulators to hold hearings …," Trains News Wire, April 7, 2022]. Board Chairman Martin J. Oberman has blamed the service problems on job cuts related to Precision Scheduled Railroading and the industry's focus on reducing operating ratios.
— Updated at 9:05 a.m. CDT with comments from Union Pacific.