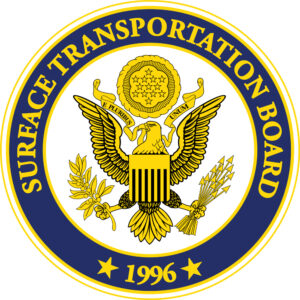 WASHINGTON – Federal regulators have ordered Class I railroads to provide more detailed operational and staffing metrics and will require the big four U.S. systems to submit service recovery plans in light of widespread service problems that were spotlighted during hearings last week.
The Surface Transportation Board, in a decision issued on Friday, said "immediate action is needed to address the significant service problems" as rail service has worsened this year.
"Our freight rail service hearing highlighted the grave concerns of shippers and others regarding freight rail service," Chairman Martin J. Oberman said in a statement. "While the railroads have faced certain challenges over the last few years, the evidence produced at last week's hearing is overwhelming that the railroads' longstanding practice of reducing operating ratios by cutting employment levels, mothballing locomotives, and eliminating other essential resources are the central reasons why farmers have been hours away from depopulating herds, manufacturing facilities have reduced operating hours, and shippers cannot get their products to market on time or receive essential raw materials for their companies. These failures are harming the nation's economy and, in my view, are contributing to the inflationary forces affecting food and fuel in particular."
All Class I railroads will have to provide much more detailed performance metrics every week for the next six months. The railroads already report a range of data weekly, but the board said it needed more information in order to get a better idea of the extent of congestion, service failures, and the impact of crew and locomotive shortages.
Among the data sought: Dwell information for smaller terminals; the weekly average number of train starts per day, broken down by train type; detailed freight car information, including the number of miles cars travel per day; and the weekly average number of trains that must be recrewed due to the federal hours of service law, along with the recrew rate.
The board also ordered the railroads to provide data regarding their local service, something that shippers have long sought. The railroads will have to report the number of local trains canceled per day and week as well as the percentage of scheduled spots and pulls fulfilled at customer facilities, broken down by operating division.
The railroads also must provide the percentage of manifest cars and unit trains delivered within 24 hours of the original estimated time of arrival.
The board directed all of the Class I railroads to submit more detailed monthly employment reports, including the number of train crews in active service and on extra boards.
BNSF Railway, CSX Transportation, Norfolk Southern, and Union Pacific were ordered to submit service recovery plans by May 20 and service progress reports beginning on June 3. And for the next three months they'll also have to participate in biweekly calls with STB staff to provide updates on efforts to improve service.
The plans must detail what the railroads are doing to alleviate crew shortages and how they will avoid them in the future.
The STB also waded into operations in its order covering railroads' service recovery plans. Labor leaders last week were critical of the use of energy management systems such as Trip Optimizer, as well as speed and throttle restrictions railroads have placed on some trains and in some operating territories.
"In light of suggestions on this record that reductions in velocity have contributed to congestion and train delays, the Board expects each carrier within its service recovery plan to report on any plans it has to lift current velocity restrictions, as well as any plans it has to increase the power on its through trains — and not to limit the use of that power — so that each such train has the capacity to travel at track speed. To the extent a carrier has no such plan to lift velocity restrictions or increase power, the Board expects the carrier to explain why," the decision reads.
Labor leaders told the board that the speed restrictions extend transit times and lead to more trains requiring recrews while en route. Rail operating officials disagreed, saying systems like Trip Optimizer reduce fuel use while keeping the railroad fluid because they are linked with dispatching systems that have a bird's eye view of the entire railroad.
Oberman warned that the Friday decision may not be the last regarding rail service.
"Requiring additional reporting from railroads may not be the final result of our hearing on service issues," Oberman said. "Today's decision is an immediate step the Board can take to enable needed monitoring of the improved efforts the railroads have been promising for months, and to determine if additional regulatory steps are necessary to promote reliable service."