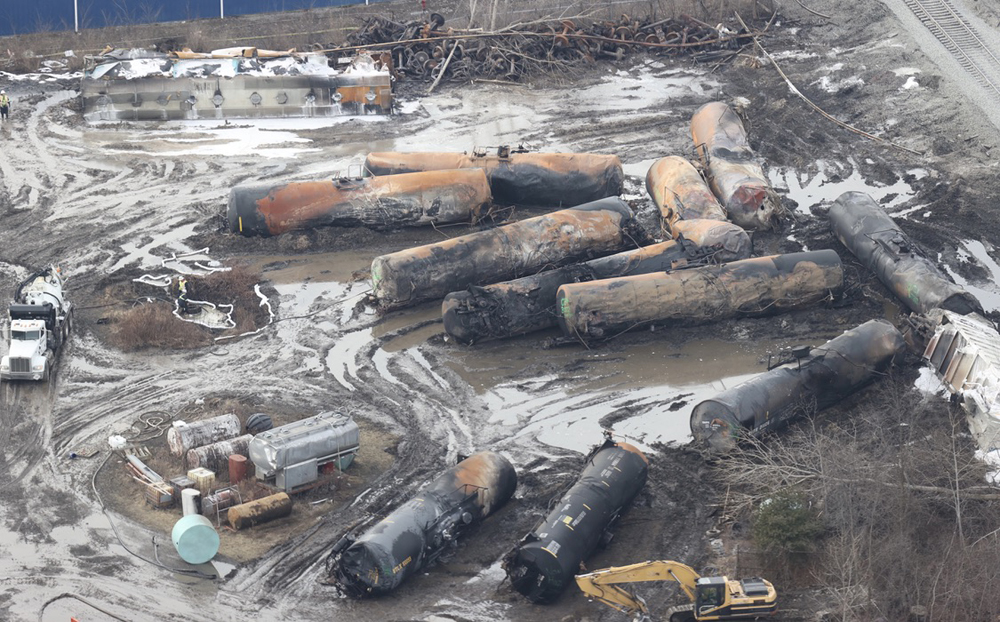 ---
WASHINGTON – A federal agency has issued a safety advisory recommending that shippers and tank car owners stop using DOT-111 tank cars in the wake of the February derailment of a Norfolk Southern train in East Palestine, Ohio.
"The safety advisory re-emphasizes concerns with the survivability of DOT-111 tank cars and encourages tank car owners and shippers of flammable liquids to voluntarily upgrade their tank car fleets to the DOT-117 specification tank car, the newest and safest available tank car design authorized for flammable liquid service," the Pipeline and Hazardous Materials Safety Administration said on Wednesday. "The advisory also urges rail carriers to consider the risks inherent in the continued use of DOT-111 tank cars in flammable liquid service, and to take actions that could reduce the risks of hazardous material transportation by rail."
The tank cars that were carrying vinyl chloride – which were vented and burned on Feb. 6 – were DOT-105Js.
But more than half of the 16 DOT-111 cars involved in the East Palestine derailment released material as a result of the wreck, the safety advisory notes.
DOT-111 cars are supposed to be phased out of flammable service by 2029. The Rail Safety Act of 2023, filed in the Senate this month, would move up that deadline to 2025.
PHMSA said there is enough shop capacity to retrofit existing DOT-111 cars to meet DOT-117R standards and to build new DOT117J tank cars to replace both the DOT-111 and CPC-1232 tank car fleets by the 2029 deadline.
The advisory noted that railroads could voluntarily apply high-hazard flammable train operating standards to trains that include DOT-111 tank cars that are carrying hazardous materials.
A safety advisory is a non-binding recommendation.

Updated at 9:48 a.m. Central to clarify that DOT-111 were not carrying vinyl chloride.