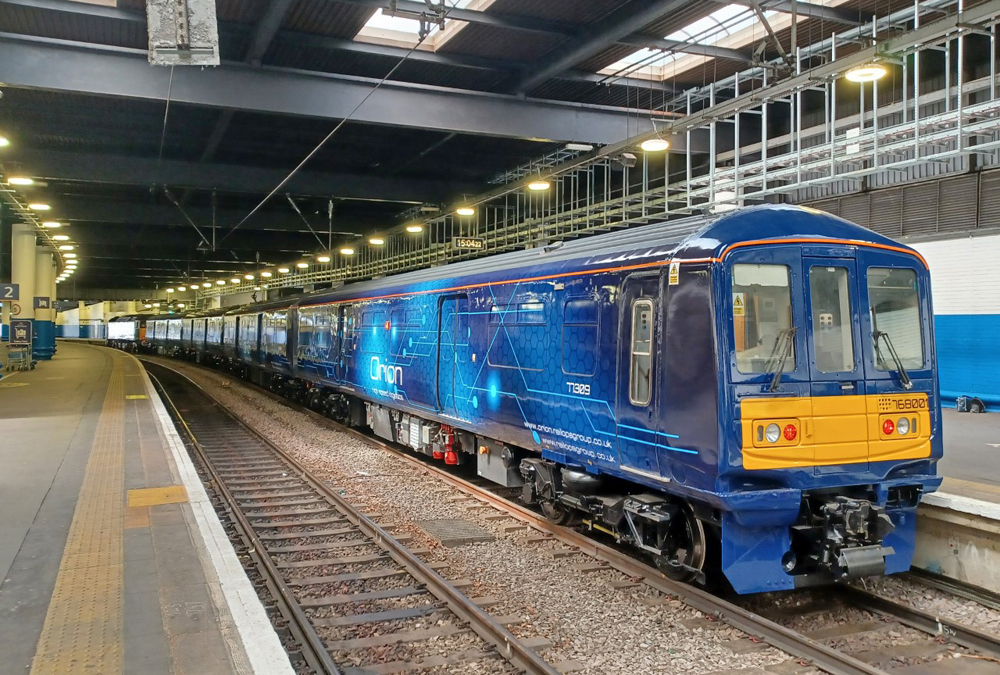 Spurred by the growth in home delivery during the pandemic, the desire by legislators to reduce goods vehicle use in cities, and a shortage of drivers in several countries, rail operators in Britain, Italy, and Germany are looking at offering new services with rebuilt equipment for parcels and light freight.
Two different projects in the next few months will see at least 24 former passenger EMUs converted for freight or parcel traffic, with some remanufactured as hybrid EMUs with diesel engines or batteries as well.
British bi-mode conversions
Start-up logistics provider Orion High Speed Logistics, a subsidiary of rail freight operator Rail Operations (UK) Ltd., has announced plans for 19 freight EMUs to be converted from former British Rail Class 319 passenger EMUs, dual-voltage electric (750V D.C. third rail, 25kV A.C. overhead) equipment built 1987-90. The converted trains, owned by leasing company Porterbrook, will be used on long-distance and shorter city logistics routes. Two conversions are planned: 10 bi-mode trains with the original electric traction equipment and new underfloor diesel powerpacks, classified as Class 768; and nine simpler EMU conversions to be known as Class 326. Both will have the seating removed and new steel floors installed to enable easy use of roll-cage type containers that can be pushed onboard at terminals.
The first Class 768 bi-mode trains are due to enter service between England and central Scotland using the West Coast Main Line route in September; diesel operation is likely to be limited to terminals and short connecting lines.
A second. shorter service linking the London Gateway port on the Thames Estuary east of London with London's Liverpool Street station is also planned for late 2021 or early 2022. This service is designed to remove heavy goods vehicles from the city center and will operate early in the morning, enabling delivery for retailers in central London with last-mile delivery before roads become congested.
"Swift Express Freight"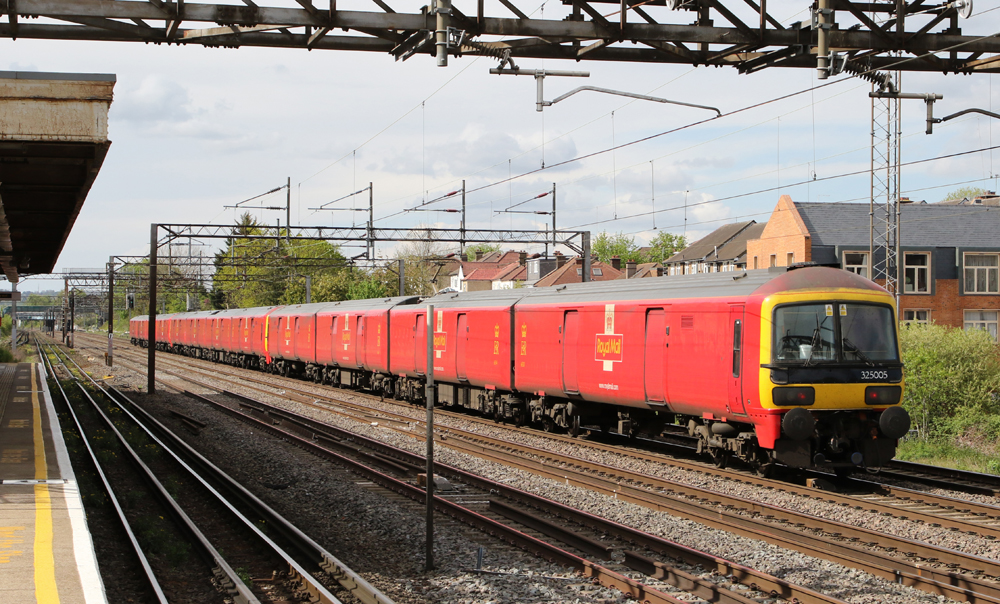 Another large British train leasing firm, Eversholt Rail, is converting four similar vintage ex-BR class 321 EMUs for freight use, branding them as "Swift Express Freight" trains. The first conversion has been completed, and trial operation is planned by 2022. Eversholt is also planning to convert a fifth train, equipped with batteries, for operation away from overhead wires.
Freight EMUs are not a new idea in the UK, as postal service operator Royal Mail operates a fleet of 15 purpose-built Class 325 freight EMUs which carry mail and parcels in wheeled roll-cage containers. These were built in 1994-95 using the Class 319 carbody design. They are used for bulk mail hauls of 200-400 miles, using dedicated terminals equipped for the trains and the roll-cage containers they carry. Several other European countries also had postal EMUs in the past, e.g. Belgium and the Netherlands, but took them out of service in the late 20th century.
Streetcars carrying freight
In the southern German city of Karlsruhe, the "tram-train" streetcar system is looking to expand into freight services. This operation is also permitted to use the mainline tracks owned by Deutsche Bahn connecting Karlsruhe with neighbouring cities.  Tram-train operator Albtal-Verkehrs-Gesellschaft (AVG) is planning trials of a freight-carrying streetcar, using a converted tram-train vehicle, to move goods and packets between town centers and the city center, reducing road congestion and pollution.
Freight-carrying streetcars would use the existing extensive Karlsruhe city tram system and the tram-train network to move small batches of freight to hubs in city centers, from which the goods could then be further delivered in a "climate friendly" way, such as by means of electric bikes.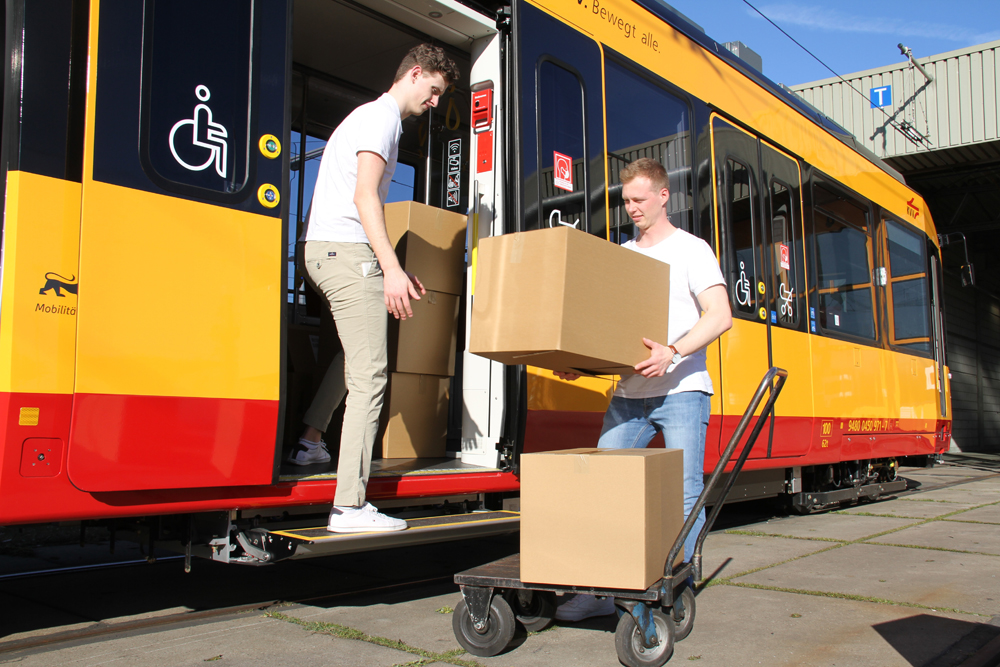 The "regioKArgo" project is being supported by several academic institutions, some of whom are leading the software development needed to support the concept. Logistics planning software to optimize the capacity offered by the freight streetcar is a key, as the interface between the freight consolidation logistics depots, where streetcars would be loaded, and the final-mile delivery from the city hubs is fundamental to making the concept economically viable. The newly developed software will track the movement of all goods and connect the logistic service agents with the transport service providers for booking, transport management, and payment.
A demonstrator streetcar or tram-train is planned by 2022 that can be used for passenger transport in peak hours and mixed passenger/goods operation during off-peak periods, removing the need to add specialized freight-carrying trams. Freight being carried on tramways was commonplace in the early 20th century, although they normally transported commodities rather than consumer goods. A "freight tram," using dedicated vehicles, but sharing the city's streetcar network, was used in Dresden, Germany, to supply parts to a car factory in the city center beginning in 2001, but it ceased operation in December 2020.
High speed freight?
In late 2018, Italian State Railways subsidiary Mercitalia Logistics launched a high speed freight service using an old 12-car ETR500 high speed train converted for freight use. The service runs between terminals in Caserta in southern Italy to Bologna in the north. While there are plans to expand the service, the pandemic has delayed progress.
In China, however, a brand new, dedicated high speed train built by manufacturer CRRC Tangshan was presented in January. The eight-car train is designed for a top speed of 219 mph. Precise details where it will operate have not yet been published. While this is the fastest freight-carrying high speed train, it is not the first to be purpose-built; France's SNCF ran postal TGV trains at speeds of up to 169 mph for the French Postal Service La Poste between 1984 and 2015. They have been retired and replaced with transport by road.