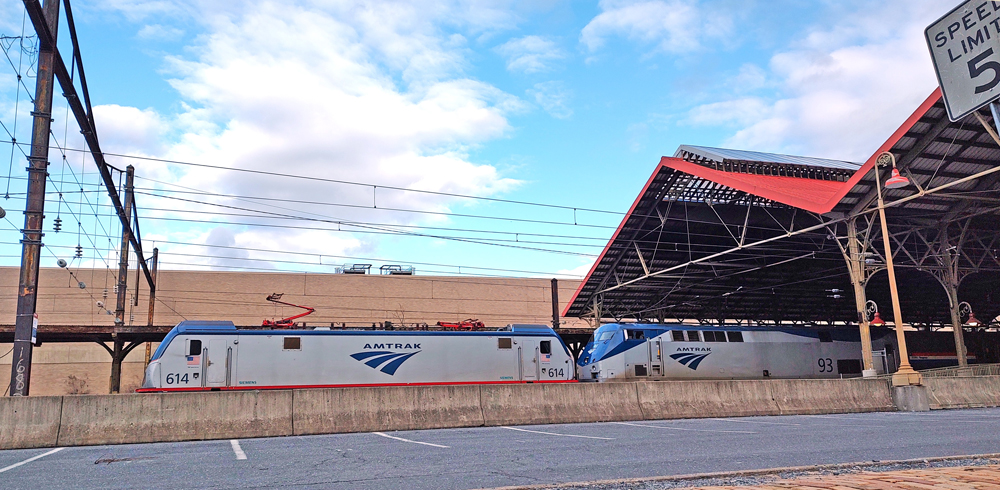 ---
HARRISBURG, Pa. – A locomotive shortage over the weekend caused Amtrak's westbound Pennsylvanian from New York to run more than four hours late on its 444-mile trip to Pittsburgh.
On Saturday (March 11), the seven-car train No. 43 left Manhattan's Penn Station Moynihan Train Hall on time behind an ACS-64 electric locomotive as usual, changing to diesel power (P42DC unit No. 93) at Philadelphia's 30th Street Station. After continuing for 103 miles, it arrived at Harrisburg 1 minute late. At that point, the diesel unit died and the mechanical department couldn't restart it.
For just such a dilemma, Amtrak routinely stations a rescue or "protect" diesel unit at Harrisburg, which marks the western end of Amtrak's Keystone Corridor and the beginning of Norfolk Southern's Pittsburgh Line. But because of an equipment shortage, no spare unit was available.
Rather than annul the train, Amtrak called another crew to bring P42DC No. 46 from Philadelphia. While awaiting its arrival,
Amtrak coupled an ACS-64 electric locomotive to the train to provide head-end power. According to Amtrak spokeswoman Beth Toll, the 285 passengers "were provided snack packs and bottled water during the delay."
She elaborated on the circumstances: "We normally do keep a protect diesel locomotive in Harrisburg and Philadelphia. One was shopped and had to be moved to Washington, D.C. for repairs. Due to the limited number of ACSES (Advanced Civil Speed Enforcement System)-equipped locomotives, we are currently unable to replace the shopped locomotive. When this occurs, we normally keep the other protect locomotive in Philadelphia to protect both the Northeast Corridor and Harrisburg line. The Harrisburg protect locomotive will be replaced as soon as availability allows."
She added that "an additional [electric] engine was added to supply HEP and recharge the batteries. Out of precaution, another engine was dispatched from Philadelphia to Harrisburg and added ahead."
Once under way, the train made a refueling stop at NS's Harrisburg Fuel Pad. After that, it remained 4 to 4½ hours behind schedule for the remainder of its run.
This was a markedly unusual event for the typically punctual Pennsylvanian, which has been known to arrive in Pittsburgh 10 to 20 minutes early.
For travelers headed farther, it serves as a connection to the Washington-Chicago Capitol Limited. The schedule calls for a 4-hour westbound layover between trains in Pittsburgh. On Sunday morning, the Capitol was held 44 minutes for 10 connecting passengers, and arrived in Chicago late by the same margin of time.