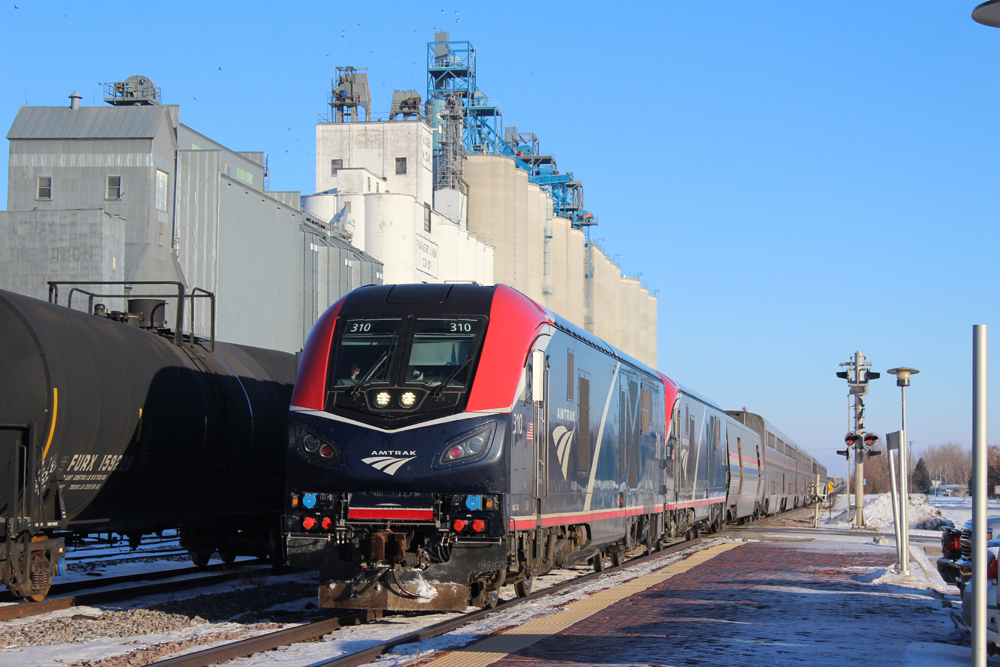 ---
MINOT, N.D. — With winter storm warnings in effect across the northern plains from a windy, frigid blast that has already barreled through the Sierra Nevada and Colorado mountains, there is always the possibility that service on Amtrak's long-distance network will be disrupted.
As was the case during a blizzard last month ["Westbound Empire Builder to miss ND stops," Trains News Wire, Nov. 10, 2022 News Wire], BNSF Railway is implementing directional running in North Dakota between Fargo and Minot through this Thursday, Dec. 15. The eastbound Builder will continue to go with the freight flow and make stops at Rugby, Devils Lake, and Grand Forks, but passengers traveling west through those communities have been notified that the stations will be missed because trains are detouring via BNSF's KO Subdivision.
"It's BNSF's call," Amtrak spokesman Marc Magliari tells News Wire, adding that no alternate transportation is being provided from Fargo or Minot due to expected treacherous conditions along blustery, two-lane U.S. Route 2.
Frigid weather was also likely responsible for a lengthy overnight delay for the westbound train that left Chicago on Friday, Dec. 9. It was stuck for more than 6 hours at Winona, Minn., while Canadian Pacific maintenance crews attended to a broken rail. Repairs were complicated because the break occurred at a highway crossing.
"We were supposed to leave St. Paul at 11:15 p.m., but they kept pushing the departure time back, so we sat on chairs in the depot all night until 6 a.m.," Cheryl Gnerer explained in the Sightseer Lounge aboard the westbound train the next day. She was headed to Williston, N.D., to attend her sister's surprise birthday party at Plentywood in eastern Montana. "No other way to get there; I've taken the trip many times and never had a delay like this before," she added.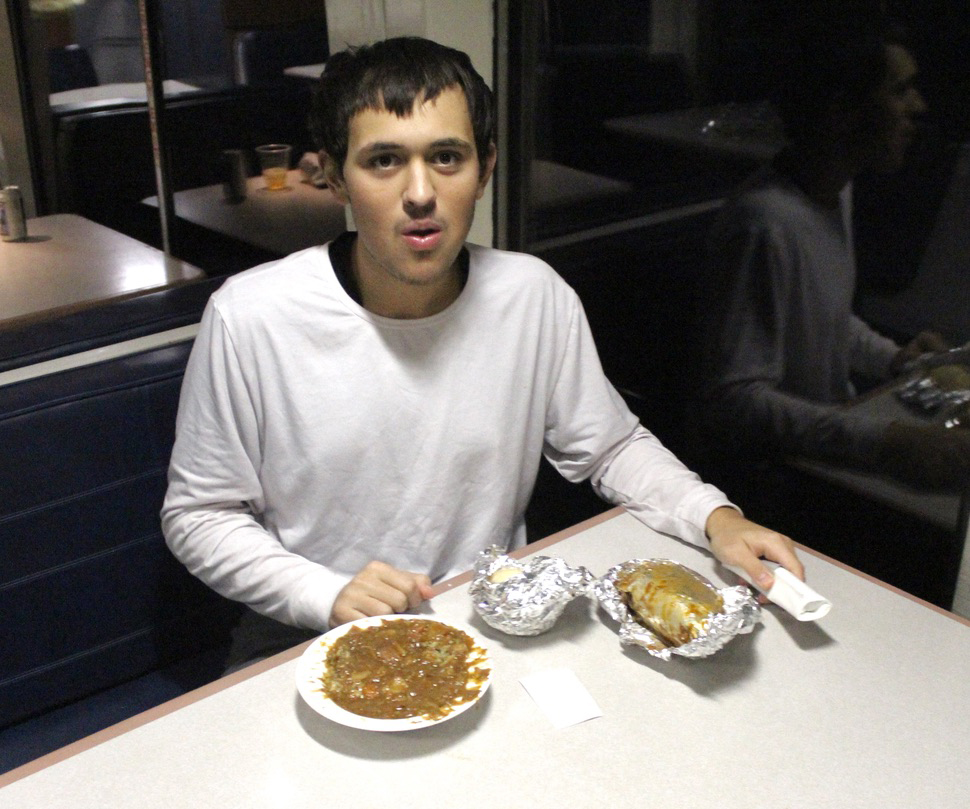 To help compensate for the disruption, Amtrak provided coach passengers with free food and non-alcoholic beverages all day: pastries at breakfast, sandwiches and chips at lunch, and beef stew over rice and a warm roll for dinner. Long-distance trains carry enough beef stew to feed all passengers for situations like this, or if a train becomes stranded for an extended period.
University of North Dakota student Arsham Dionysian received enough early notification about the delay to get some sleep before heading to the station at Grand Forks for his trip to Los Angeles via the Coast Starlight at Portland, Ore.
Knowing the Builder's tardiness meant he would miss that connection, Amtrak switched Dionysian's Starlight reservation to the following day. "They called to tell me they were putting me up in a hotel room," he said.
The operating crew told some passengers that buses to Seattle and Portland might be substituted at Spokane so the equipment could make an on-time eastbound departure. This had happened the previous week when a westbound Builder was held at Minot for6 hours until a BNSF freight derailment near Williston was cleared, but each section continued west.
Snows in the Cascades further delayed the train's Seattle arrival, so Sunday's eastbound Builder departed from the West Coast more than 5 hours late at 10:06 p.m. The delay ballooned to 7 hours at Williston, N.D., on Monday, but with recovery time in the schedule, shrunk to 5½ hours leaving St. Paul on Tuesday with a 9:30 p.m. arrival projected for Chicago instead of 4:45 p.m. Once again, connections are being missed.