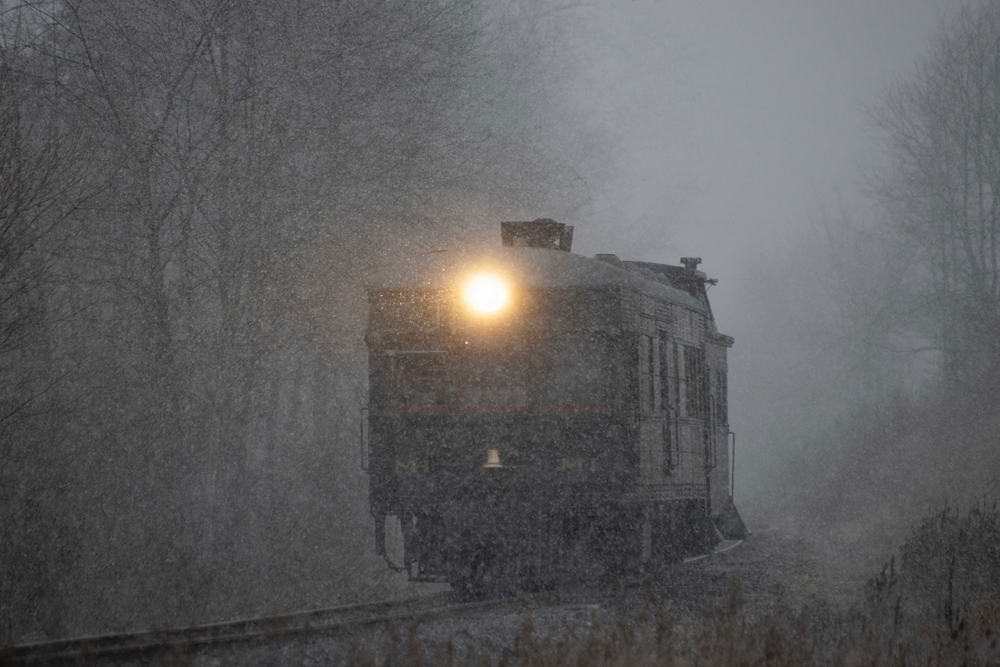 ---
ROCKHILL FURNACE, Pa. — The East Broad Top Foundation posted a sold-out Winter Spectacular celebration Feb. 18-19, with 10 internal-combustion-powered trips over its restored main line between Rockhill Furnace and Colgate Grove and tours of the roundhouse and station archives.
This year's winter event built on the success of the Foundation's first Winter Spectacular in 2021, operating five caboose-hop trips with the M-1, a Brill Co. gas-electric car that assembled in the EBT shops here in 1927. Alternating with the M-1 were five trips with the M-3, a gas-powered inspection and maintenance-of-way motorcar that EBT rebuilt from a 1928 Nash automobile.
The narrow gauge railroad, a National Historic Landmark, was revived in 2020 when the non-profit foundation purchased the majority of the property from the Kovalchick family. That comprised 27 miles of main line; the historic machine-shop complex, roundhouse and station here; six Baldwin Mikado 2-8-2 steam locomotives; and passenger and freight rolling stock. The former coal-hauling line quit as a common carrier in 1956 and a portion was reopened as a seasonal tourist railroad 1960-2011. Later this year, the railroad will mark the 150th anniversary of the start of construction in 1872.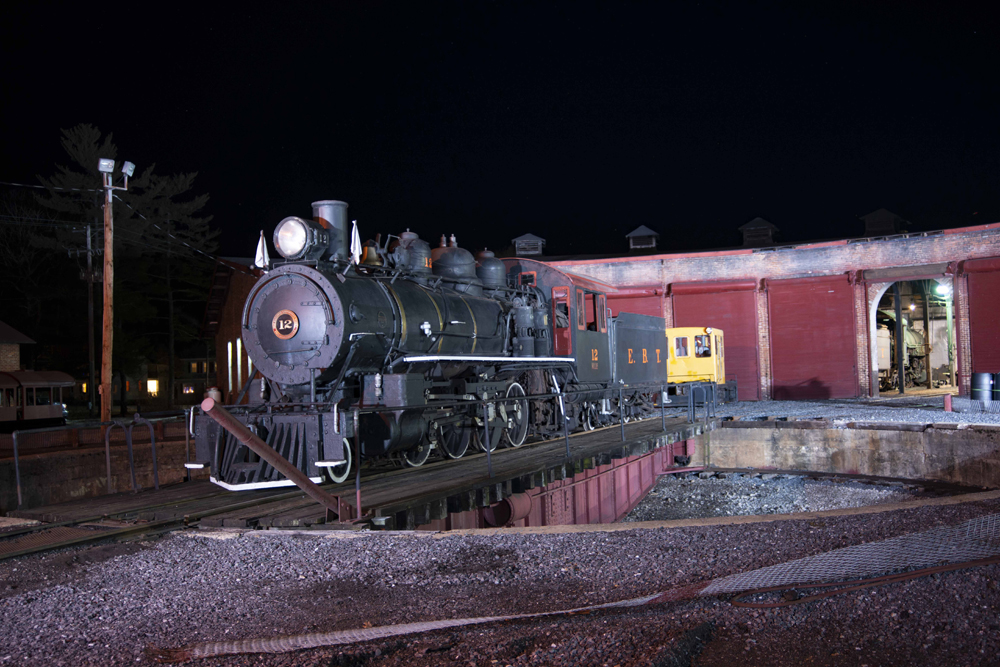 EBT also offered two tours of the roundhouse and restoration of engine No. 16 with Master Mechanic Dave Domitrovich, and two tours of the station archives with General Manager Brad Esposito. All were sold out, as was a night photo session and a 70-person benefit dinner to support the EBT Archives, a project spearheaded by professional archivist Julie Rockwell.
The archives project is jointly funded 50-50 by the Foundation and the 1,666-member Friends of the East Broad Top. Previously conducted on a space-available basis, the archives work recently moved into permanent quarters in the former chief engineer's office on the second floor of the station and headquarters.
The benefit dinner featured a showing by historian and railcar owner Jeff Pontius of Sunbury, Pa., of classic 16mm films from the 1930s through the 1960s. Shot by the late Clarence Weaver, a former Pennsylvania Railroad apprentice who spent a career as an industrial-arts schoolteacher, they covered the East Broad Top during a 1946 fan trip and after the 1960 reopening; PRR mainline action; and rare 1930s footage of the Susquehanna & New York and Kishacoquillas Valley short lines.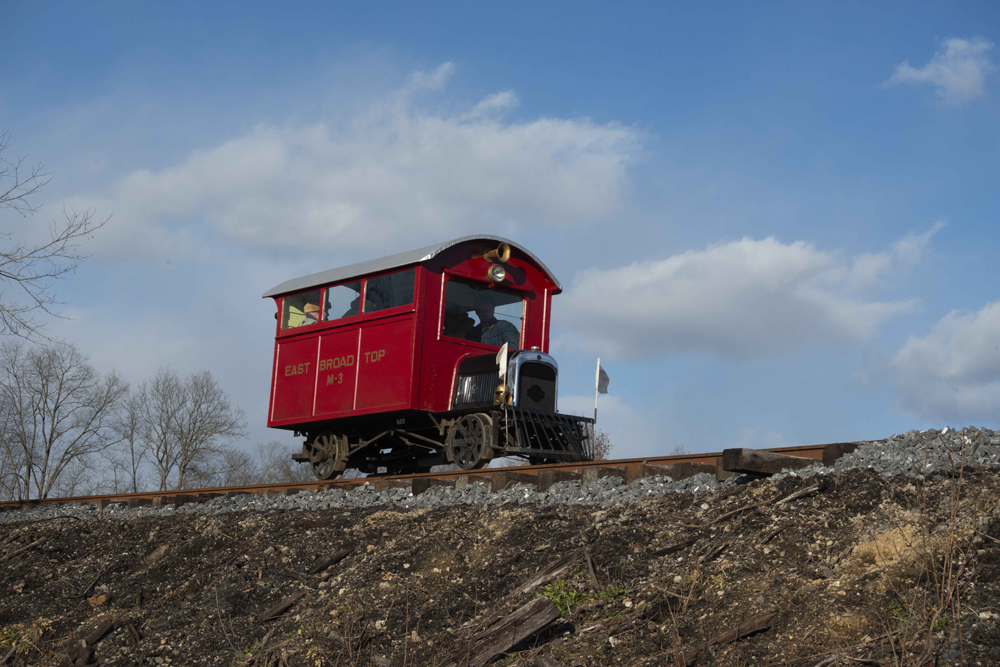 Also part of the dinner was a silent auction consisting mostly of discarded and unusable pieces of pipefitting from the continuing restoration of 1916-built Mikado No. 16, with proceeds also going to the archives project. Rebuilding of that engine continues, with a goal of returning it to operation sometime this year.
The opening of regularly scheduled seasonal service is set for May 6. The railroad plans five-day-a-week public service through August, with Friday-Sunday service in September and October. If No. 16 is still under restoration when the season starts, EBT's General Electric center-cab unit, M-7, will provide the power, as it did during 2021, the first year of scheduled revenue-service operation under Foundation ownership.
New cars coming for EBT
In separate but related news, Esposito confirmed Hamilton Manufacturing Co. of Sedro-Woolley, Wash., is constructing four new EBT passenger cars . Hamilton is best known for building some 50 historic-looking passenger cars for Alaska's White Pass & Yukon.
Three of the cars are straight coaches, Esposito said, while the fourth is a handicapped-accessible car to comply with requirements of the Americans with Disabilities Act. He noted that the cars will exhibit a vintage appearance that will "look at home on the East Broad Top."
Since the Foundation took over, EBT has been relying on its fleet of converted boxcars and flatcars for passenger rolling stock, with seating also available in one of its vintage wooden cabooses.
The railroad's three 19th-century coach-style passenger cars — all built circa 1880s and acquired in 1916 from the Boston, Revere Beach & Lynn Railroad — are either set aside awaiting work or laid up in various stages of rebuilding. The cars are combines No. 14 and 15 (No. 14 is being rebuilt by Friends of the East Broad Top crews under the direction of Rockhill Work Crew Coordinator Charlie Wootton) and coach No. 8, being restored under the direction of former Strasburg Rail Road President Linn Moedinger, a consultant to the EBT Foundation.
Parlor car 20, Orbisonia, a former Bradford, Bordell & Kinzua Railroad car built by Billmeyer & Smalls circa 1880s and acquired by EBT in 1907, is fully operational but is reserved for special events.
For more about EBT Foundation and the Friends, including volunteer opportunities, see www.eastbroadtop.com and www.febt.org.
— Updated at 12:05 p.m. on Feb. 27 to correct spelling of last name of Charlie Wootton.