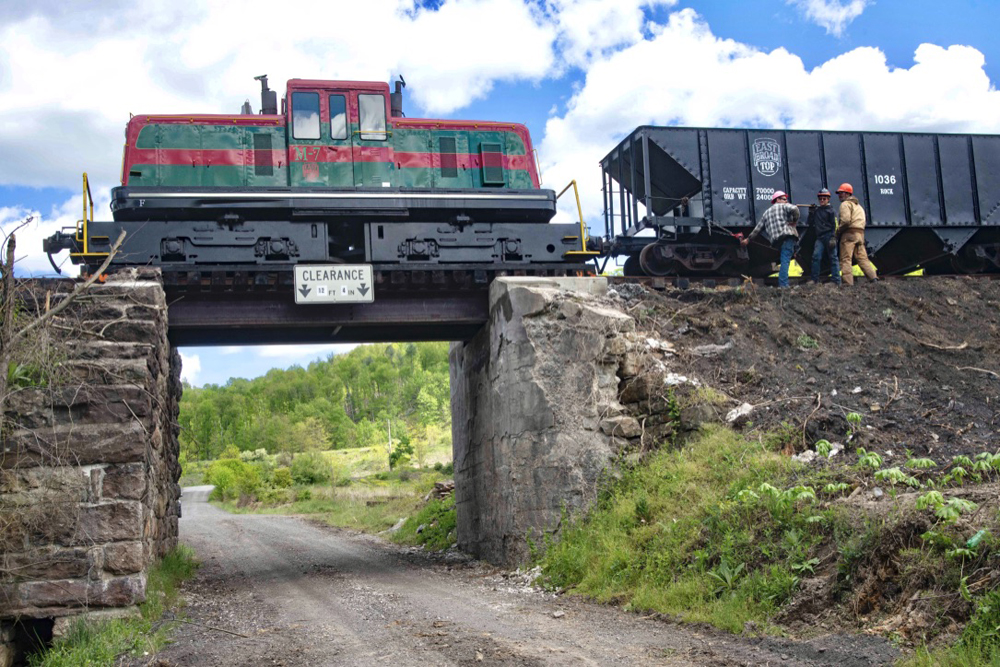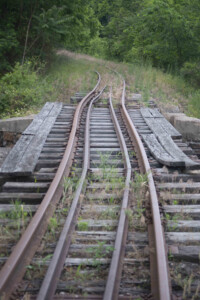 ROCKHILL FURNACE, Pa. – Rebuilding the main line of the East Broad Top Railroad continues at a rapid pace, with a damaged bridge replacement and significant ballast work completed this week.
The historic narrow gauge line in central Pennsylvania, a National Historic Landmark, was dormant from 2011 to 2020, when it was bought by the EBT Foundation, Inc., with the goal of restoring it to operation and reopening much of the original 33-mile main line. A former coal road, the carrier was abandoned in 1956 and bought by the Kovalchick scrap-dealer family, which revived a portion of it as a tourist line in 1960.
Thornbury Inc. of West Sunbury, Pa., completed its replacement of the damaged Runk Road Bridge about 3½ miles north of EBT's yard and headquarters at Rockhill Furnace. Last year, an over-height truck dented a girder and knocked the track out of alignment when its driver attempted to pass through the single-lane structure. The job consisted of concrete and stone abutment work and placement of new I-beams and bridge timbers on the span, which measures about 12 feet long.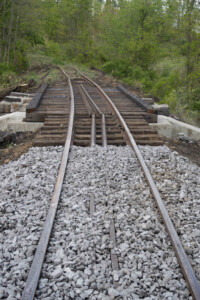 On Wednesday, EBT's ballast train made several trips working north to the bridge. In all, the train dumped about 500 tons of crushed limestone, according to James Roslund, EBT director of engineering. On a typical day, the train dumps 300 to 500 tons of stone, he said. This week's work included spreading stone along the railroad's widely known "Long Fill," a popular site for photographers shooting from U.S. Route 522. In a related development, the railroad is awaiting arrival of a ballast tamper it purchased from a contractor in Wellsboro, Pa.
The work leaves about a mile of track to be rehabilitated with gauging, tie replacement, and surfacing to make the line usable to Colgate Grove, the longtime turnaround point for excursions. On the two legs of the wye at that spot, rails have been removed for a complete rebuilding of the roadbed, Roslund said. EBT recently received a grant from the Allegheny Foundation to aid in building modern facilities at the grove that could accommodate visitor events such as concerts. [see "Digest: East Broad Top receives $100,000 grant …," May 7, 2021, Trains News Wire]. Since 1961, the site offered picnic tables, pavilions and rest rooms but not much more.
Stone ballast is a new material for EBT, which for decades relied on cheap materials – locomotive cinders and furnace slag – that retained moisture and broke down over time. Because the original EBT used untreated, non-creosoted ties, the combination accelerated deterioration of the roadbed and track structure.
Other lineside projects include substantial ditching in cuts and placement of new culvert pipe to improve drainage.
While work continues on restoring EBT 2-8-2 steam engine No. 16 (Baldwin 1916) to operation, other developments continue at and around the Rockhill Furnace station, yard and shops. They include:
— New concrete pavement at the station loading area.
— Placement of stone for a newly expanded parking area north of the station. This is in accord with EBT's plan to retire the longtime parking lot in front of the shops and roundhouse, to protect the historic fabric and view of those buildings.
— Installation of low wooden split-rail fences to help guide pedestrian traffic patterns.
— Designation of the freight station in the yard as a staging area for shop tours. Guided visits through the circa-1900 machine shop – with its overhead belt and lineshaft system – and roundhouse are a popular feature.