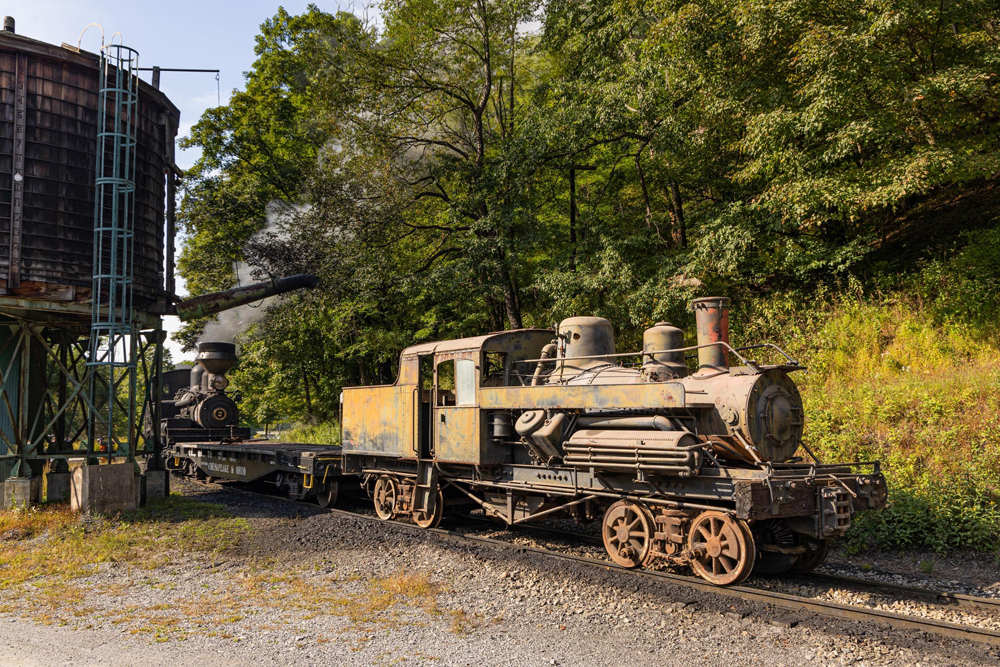 ---
CASS, W.Va. — Cass Scenic Railroad operator Durbin & Greenbrier Valley Railroad has acquired a two-truck Heisler locomotive, Builder's No. 1589, from Stuart Thayer of Thomas, W.Va., bringing to three the number of Heisler locomotives on Cass and DGVR property.
Built in September 1929 for Fisher Lumber Co. of Holly Grove, Ark., as its No. 6, the 42-ton Heisler later worked for Forest Products Chemical Co. of  Memphis, Tenn., as its No. 2 before the late Robert Johnson, industrial historian and banjo virtuoso, purchased it for tourist railroad Dry Gulch & Tombstone Railroad of Wytheville, Va., in the 1960s.  It operated there as No. 2 until that railroad closed in the 1980s, and then John Tisdale purchased it for display at the L&N Depot in Andalusia, Ala.  In 2002, Tisdale moved it to his shop building in Thomas, W.Va., where it remained indoors until earlier this week. In the interim, it had been purchased by Thayer, who conveyed it to DGVR.
Though this locomotive has no earlier connection to the Cass Scenic Railroad or its predecessors, the DGVR points out in a press release that its shop number is only two builder's numbers removed from 90-ton Heisler No. 1591, Cass No. 6.  Both were constructed in 1929 and could well have shared space on the builder's erection floor.
The new acquisition joins Cass No. 6 and Builder's No. 1607 at Cass and the DGVR. No. 1607 was built for Middle Fork Railroad of Ellamore, W. Va., in 1941 as its No. 7, and was the last geared steam locomotive to leave Heisler before the company folded. That locomotive is stored behind the Durbin Rocket shop building in Durbin, W.Va., awaiting restoration.
For more information, visit the DGVR website.