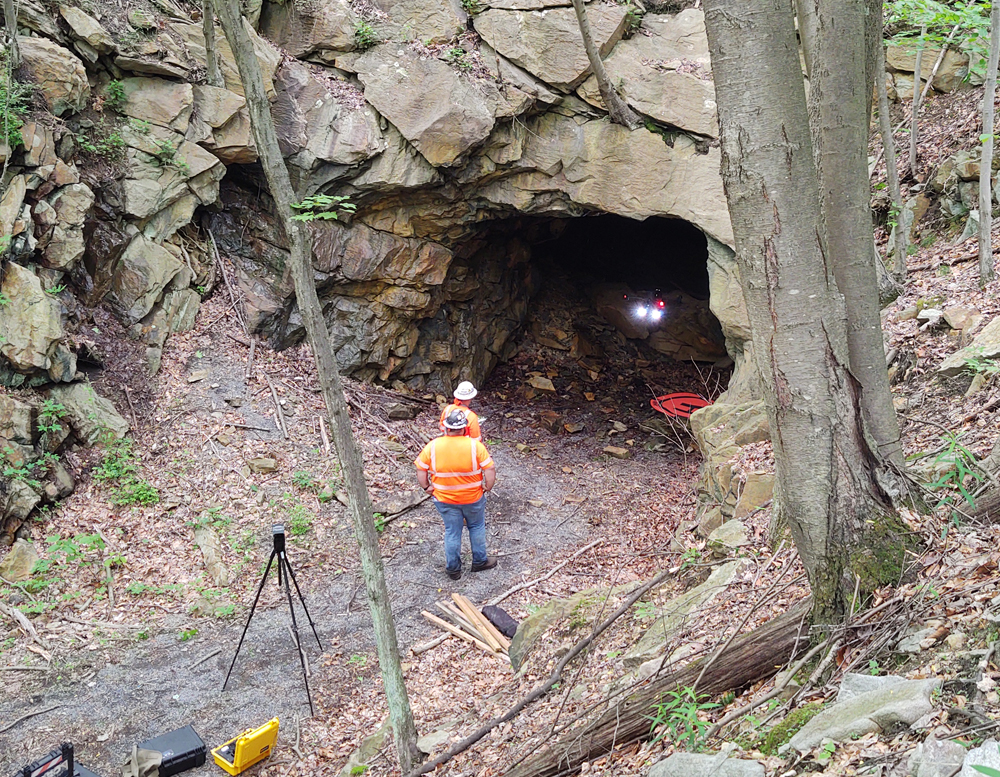 ---
ROCKY RIDGE, Pa. — Flying a 21st-century drone to plot the future of two 19th-century tunnels, the East Broad Top Railroad took a step forward Thursday, May 26, by revisiting its past.
Specialists set up, calibrated, and flew a drone through the Ray's Hill (some spell it Wray's Hill) and Sideling Hill tunnels, nestled in the mountainous southern end of the narrow gauge line, a National Historic Landmark.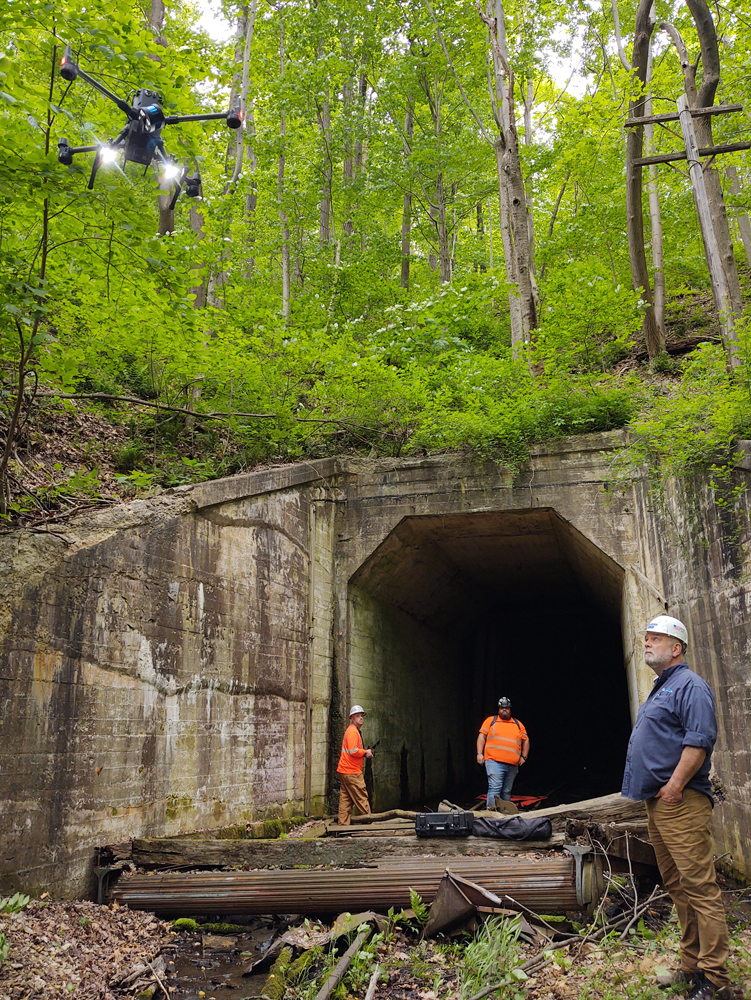 The goal was to digitally map and video-record the condition of each tunnel, identifying any earthen collapses, rockfalls, shifted strata, or sources of underground water seepage. Because of previous collapses, EBT Director of Engineering James Roslund said, experts consider both to be unsafe for human investigation.
The curved, 830-foot-long Sideling Hill Tunnel and the straight, 1,100-foot-long Ray's Hill Tunnel both have suffered minor cave-ins and major deterioration over the years. Their interiors are wet to varying degrees, with rails and ties partially or completely submerged in some areas. Many rails are severely rusted and will require replacement.
Using LIDAR (Light Detection and Ranging) technology, James Kenney, senior engineer for Wingfield Scale & Measure of Chattanooga, Tenn., flew the DJI M300, an unmanned aerial vehicle with a wingspan of about 5 feet. It lifted off, flew the length of each tunnel and returned, with a flight time of about 15 minutes for each cycle. Assisting Kenney and downloading data after every flight was Austin Brooks, a technician with the same firm.
The information gathered will guide contractors in how to approach each repair site, whether by drilling holes for roof bolts, using resin or other material to fill crevices, installing braces, or some other method.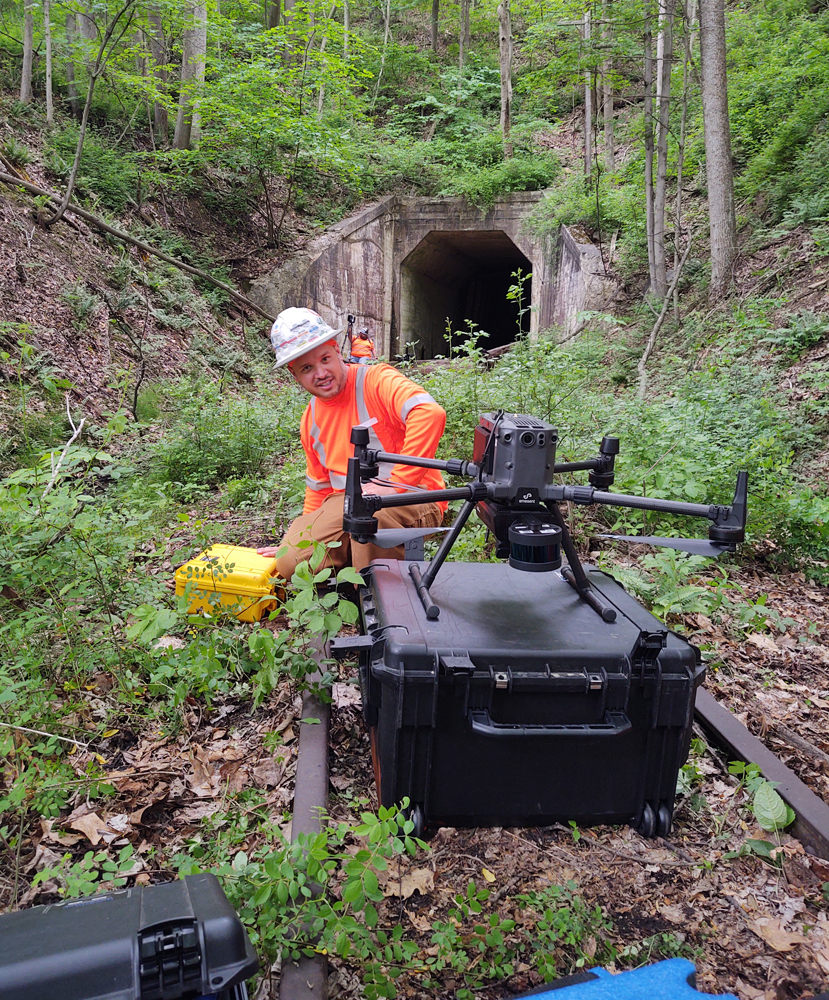 Accompanying the party were Eric Smith, president of Sub-Technical Inc., of Gibsonia, Pa., and Patrick McNulty, a technical sales rep with DSI Underground of Louisville, Ky. Smith assisted in the repair of a complete collapse of a Buffalo & Pittsburgh tunnel a number of years ago. Both men will advise EBT on how to best stabilize the tunnels and may perform the work or fabricate supports.
Existing reinforcement of walls and roofs consists of a combination of concrete, timber props, and native rock.
EBT Foundation General Manager Brad Esposito noted the railroad originally equipped the tunnels with wooden doors, operated by watchmen, to halt air currents and prevent ice build-up on the rails. Later, he said, the company tried to cut labor costs by installing electrically operated roll-up steel movable doors, triggered first by track circuit and later replaced by a pull cord yanked by the engine crew and train crew. An accidental activation that dropped the roll door on a wooden caboose ended that solution, he said, and EBT reverted to watchmen.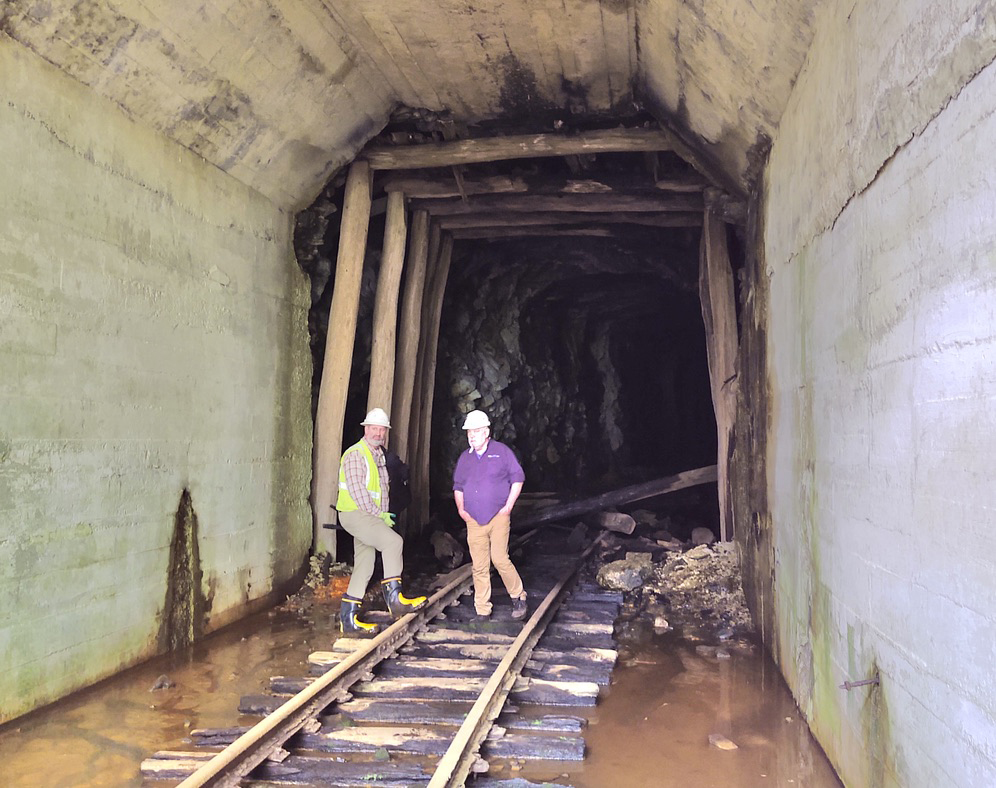 The roll-up doors, identical to those on EBT's roundhouse at its headquarters at Rockhill Furnace, Pa., survive, but weather and lack of maintenance since 1956 have caused them to topple onto the rails.
The tunnels were bored through in 1874, permitting the entire 32-mile-long EBT to open that same year.
Primarily a coal-hauling line, EBT shut down in 1956 and was bought by scrap dealer Nick Kovalchick. He reopened a 4½-mile segment for seasonal steam-powered tourist passenger service in 1960. It ran until the end of 2011, when Kovalchick's son Joe closed it. The line remained dormant for eight years until the February 2020 formation of the non-profit EBT Foundation, Inc. The foundation purchased the lion's share of the railroad — 27 miles of main line, six Baldwin 2-8-2 steam locomotives, a fleet of vintage passenger and freight cars, and the historic station, roundhouse and shops at Rockhill Furnace. The foundation immediately set about restoring and reopening the line, starting with the 4½-mile stretch and eventually hoping to run trains over the entire 27 miles.
A near-term goal is to reopen the main line south from Rockhill Furnace to Saltillo, about 7 miles. The tunnels lie south of that, but by commissioning the drone flights, EBT is again signaling its commitment to full restoration in the future.