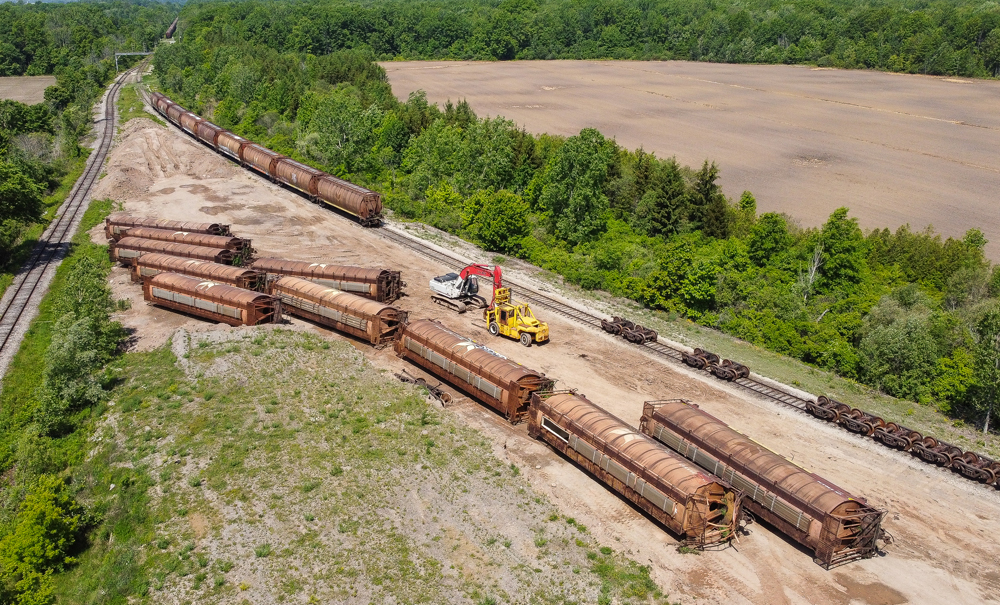 WELLAND, Ontario — The Canadian grain scene is starting to become a lot less cylindrical.
For the last 50 years Canadian Wheat Board cylindrical covered hoppers have dominated Canadian rails as the main way prairie farmers moved large grain shipments to coastal ports for export. But with Canadian National and Canadian Pacific investing in new grain hoppers, and the Wheat Board cars at the end of their lifespan, the familiar cars are going to scrap.
At Welland, a local company has about 50 of the cars, built between 1970 and 1980, on site to be scrapped. Ten lie on their sides within the old wye at Feeder West (Mile 20.9 on CN's Cayuga Subdivision), now controlled by Gio Rail, the former Trillium Railway. Another nine wait nearby to be removed from their trucks and cut up.  The cars are being scrapped by a local company that currently has roughly 50 cars on site to be scrapped.
The cars were a response to a tough spot faced by Canadian farmers in the 1960s, because aging grain boxcars were leading to car shortages. The Canadian federal government, provinces of Saskatchewan and Albert, and the Wheat Board stepped in late in the decade, purchasing new cylindrical hoppers that would be shared between CN and CP to ensure grain could reach market in a competitive fashion.  CN and CP could use these cars for free, but only to move Canadian regulated grain; the railroads would have to pay car owners for other uses.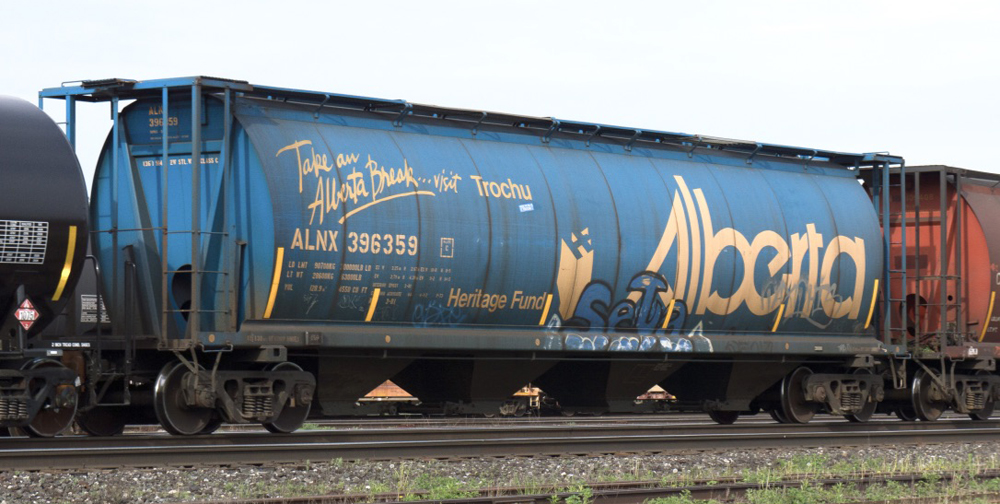 This led to a colorful variety of hoppers on Canada's prairies. Provincial-owned cars featured bright color; Alberta's cars even featured prominent city names.  The Government of Canada-owned hoppers were largely brown or red with "Canada" markings and a simple grain bud logo, and were nicknamed "Trudeau Hoppers" for Pierre Trudeau, Canada's prime minister at the time.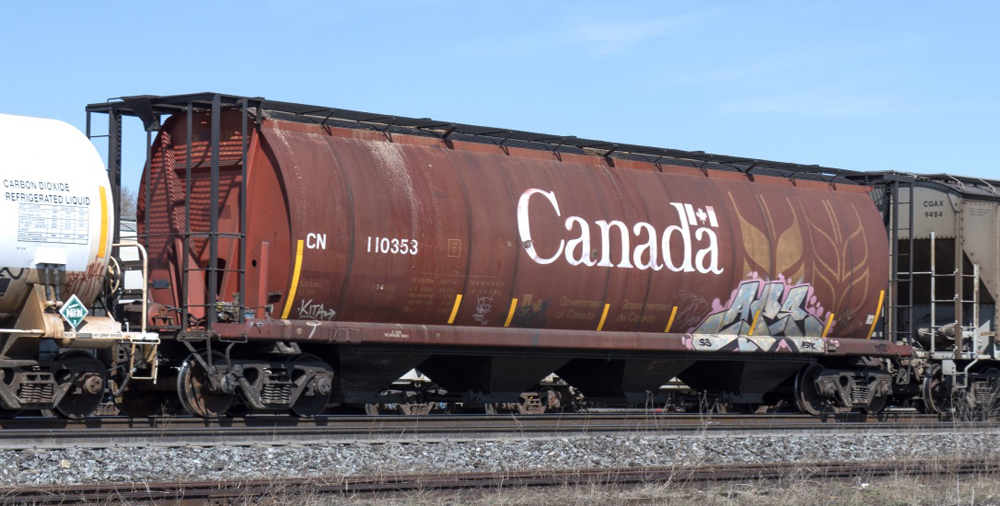 Between 1970 and 1990, the Canadian Wheat Board acquired over 13,000 cylindrical hoppers to address the shortage of usable rolling stop. The cars, manufactured by National Steel Car, Hawker Siddeley and Marine Industries, were uniquely Canadian, sporting the distinctive cylindrical sides or a fully flat roofline.  American railroads preferred flat-side hoppers that could hold 4,650 cubic feet of material versus the Canadian design that held 4,550 cubic feet. Most of the cylindrical cars were steel, but 2,424 were manufactured out of aluminum, designed for service on branch lines that required lightweight cars. These cars had a decreased capacity of 4,100 cubic feet.
After the Canadian government raised questions about fleet upgrading and maintenance costs several times over the years, the government reached agreement with CN and CP in 2007 to transfer operation, refurbishment, and maintenance of the fleet to the two Class I railways. The aluminum cars were retired and scrapped at this time as the railways evaluated the lifespans of the fleets. Over the next seven years, thousands of the cars were retired, returned to their leaser, or sold to prairie shortlines that handled grain and other bulk commodities. This left roughly 3,100 of the former Wheat Board hoppers under CN and CP ownership; the railways overhauled these cars to extend their lifespan.
Passage of the Transportation Modernization Act in 2018 paved the way for CN and CP to explore the purchase of new cars. Shortly after its passage, CP announced it would receive 5,900 new hopper cars over four years to replace its aging fleet. CN followed suit in 2020 with an order for 1,500 new hoppers, followed by an order for 1,000 more in 2021. These cars, being built by National Steel Car and Trinity Rail, sealed the fate of the Wheat Board hoppers, as the new cars are lighter, smaller (3 feet shorter) and can hold 15% more grain.
As more of the Canada Wheat Board hopper cars are sidelined and slated for scrap, seeing them rolling down the mainline will become increasingly difficult.  Some can still be found serving shortlines under new ownership or stored in various locations around. Next time you find yourself trackside, be sure to snap a picture if one of these cars rolls by.
In the words of Gord Downie of Canadian band The Tragically Hip, "Wheat Kings and Pretty Things.  Let's just see what the morning brings."
— Updated at June 14 at 7:25 p.m. to note change to Gio Rail.