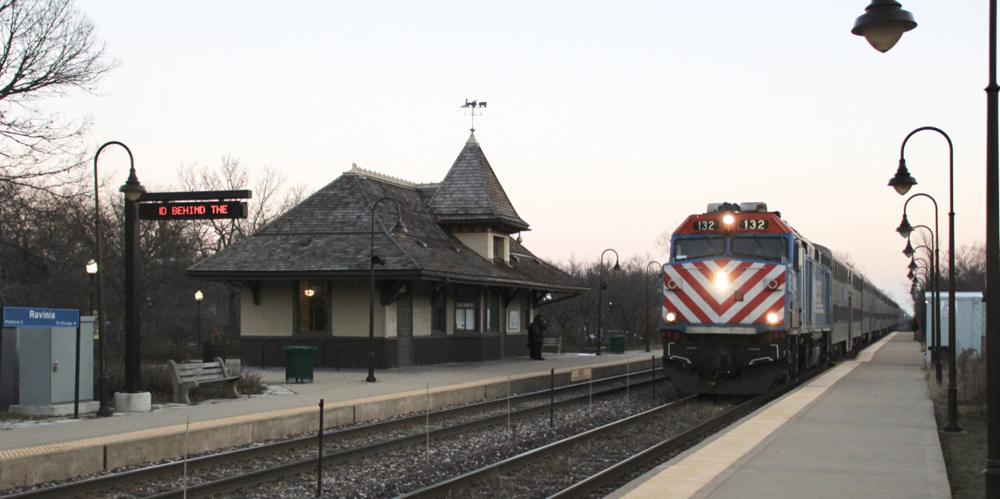 First of new Metra schedules increase emphasis on off-peak service; more to come
With ridership gradually increasing, Chicago's Metra announced plans to add service on all lines in July and has released pilot schedules on four lines that will increase off-peak service. The new schedules, available here, are effective on the UP North, BNSF, and Metra Electric lines on July 12 and on the Rock Island Line on July 19. These schedules move from emphasizing rush-hour service to more balanced schedules providing additional off-peak options. "With this pilot program, we are testing schedules that have changed with our riders' changing needs," Metra CEO/Executive Director Jim Derwinski said in a press release. "We think flexibility is the new currency in a post-pandemic economy." New schedules for Metra's other seven lines will be released in upcoming weeks. The commuter railroad says that after seeing ridership fall to just 3% of pre-pandemic levels in April 2020 and a plateau of around 10% for much of the rest of the year, ridership has been rising since January and this week is at 17% of pre-pandemic fitures.
Hamilton, Ohio, accepts donation of 1850s station from CSX
Despite concerns over the cost, the Hamilton, Ohio, city council has voted to accept the donation of the city's railroad station from CSX Transportation, WCPO-TV reports. The 5-2 vote means the city must move the building about 500 feet from its current location — at an estimated cost of $600,000, then could face $1.5 million in renovation costs. The structure dates to the 1850s and is said to have hosted visits by Abraham Lincoln and Harry Truman.
Tank cars capped, moved after long-running venting issues
Workers have managed to seal and move all four tank cars that were venting sulfur dioxide fumes in Wood River, Ill., and moved them back into a Phillips 66 refinery, a week after the start of a hazardous-materials situation that at one point included a shelter-in-place order for nearby residents and businesses. KMOV-TV reports the cars carrying sulfuric acid, which began venting after becoming overpressurized, were sealed Tuesday night and that no detectable levels of sulfur dioxide were reported.