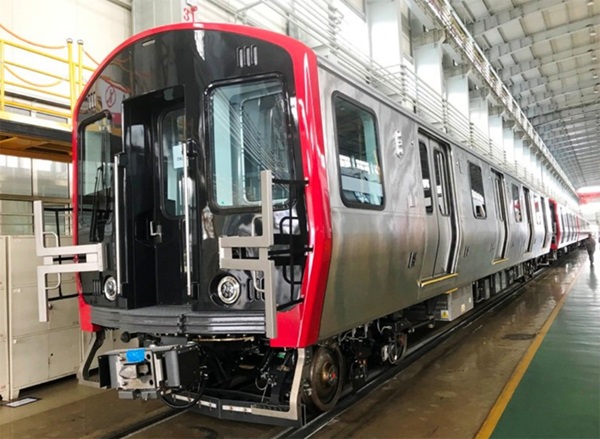 MBTA takes new cars out of service, will run bus bridge for three weeks after derailment
The Massachusetts Bay Transportation Authority has taken its new Orange Line and Red Line subway cars out of service as it investigates Tuesday's low-speed derailment of a train with 100 passengers aboard. The Boston Herald also reports a bus bridge around the accident site at Wellingon station in Medford, Mass., between the Oak Grove and Sullivan stations, will remain in place for three weeks as MBTA crews repair a switch damaged in the derailment and perform other infrastructure work. MBTA Deputy Press Secretary Lisa Battison said the cars built in Springfield, Mass., by a subsidiary of Chinese equipment manufacturer CRRC are being removed from service "out of an abundance of caution … to allow vehicle engineers to perform a thorough analysis of the cars' performance." A total of four trainsets are being sidelined. The accident occurred shortly before noon on Tuesday [see "Digest: Transportation Safety Board of Canada releases report …," Trains News Wire, March 17, 2021].
Problem with train wheels could push back Honolulu rail opening by a year
In the latest issue facing Honolulu's light rail system, wheels on the trainsets built by Hitachi Rail don't fit properly at switch frogs, requiring the trains to slow considerably at switches and posing a safety hazard. Honolulu Civil Beat reports Honolulu Authority for Rapid Transportation interim CEO Lori Kahikina told city council members of the problem at a Tuesday meeting and said the issue could delay partial opening of the new, mostly elevated and driverless light rail system by another year. The problem could require replacing all the frogs, Kahikina said, although the agency is still determining how to deal with the issue. Kahikina declined to discuss whether Hitachi or HART would have to pay for repairs until she brief the transit agency's board at a Thursday meeting. The effort to open the rail system is years behind schedule and currently facing a budget shortfall of nearly $3.6 billion.
New VRE station gets OK from Federal Transit Administration
Plans for a new Virginia Railway Express station in the Crystal City neighborhood of Arlington, Va., have received a significant endorsement from the Federal Transit Administration, which says the structure will not violate the National Historic Preservation Act. Inside NoVa reports the FTA determined that the station, while introducing a new structure into the Richmond, Fredericksburg & Potomac Railroad Historic District, would not alter the overall nature of the historic corridor. The VRE project would relocate and increase the length of the Crystal City platform to more than 800 feet while adding a second track. The FTA findings and a link for public comment are available here.