Additional Tuesday morning rail news: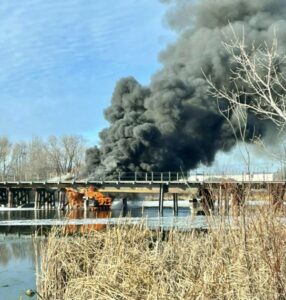 Fire damages BNSF bridge in Bemidji, Minn.
A BNSF Railway bridge across the Mississippi River in Bemidji, Minn., suffered "moderate damage" in a Monday afternoon fire, the Bemidji Pioneer reports. The fire was reported about 4 p.m., with Bemidji firefighters working about two hours to extinguish the blaze. The cause is under investigation but does not appear to be suspicious, according to the Bemidji Fire Department. No information was immediately available on the fire's impact on railroad operations.
Nebraska legislative committee hears testimony on bills to regulate crew size, train length
A Nebraska legislative committee heard testimony on two rail-related bills Monday, with union leaders and crew members asking the state's Transportation and Telecommunications Committee to advance a proposal requiring two-person crews and another limiting train length, while railroad representatives said the first matter is one for labor negotiations and the other is subject to federal rather than state law. The North Platte Telegraph reports Bill 486 reintroduces prior efforts to set the minimum crew size, while Bill 539 would cap train length at 7,500 feet, although its sponsor, Sen. Lynne Walz, said she would propose an amendment to increase that to 8,500 feet. Walz said that bill reflected "call after call" from constituents concerned about safety issues raised by lengthy trains blocking crossings for extended periods. Committee action on both bills is pending.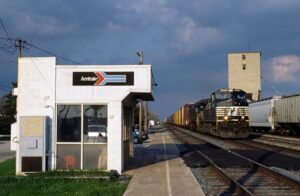 Amtrak to upgrade station in Bryan, Ohio
Amtrak has reached an agreement to continue a station stop in Bryan, Ohio, for 20 years and invest $3.3 million at the station. WTOL-TV reports Mayor Carrie Schlade announced the agreement, which will include an enclosed station building with a restroom and a new boarding platform compliant with the Americans with Disabilities Act. The mayor said work should begin sometime this year. The city, served by the Lake Shore Limited, currently has an enclosed shelter without restroom facilities dating to the 1980s. Bryan is 53 miles southwest of Toledo and 40 miles northeast of Fort Wayne, Ind.