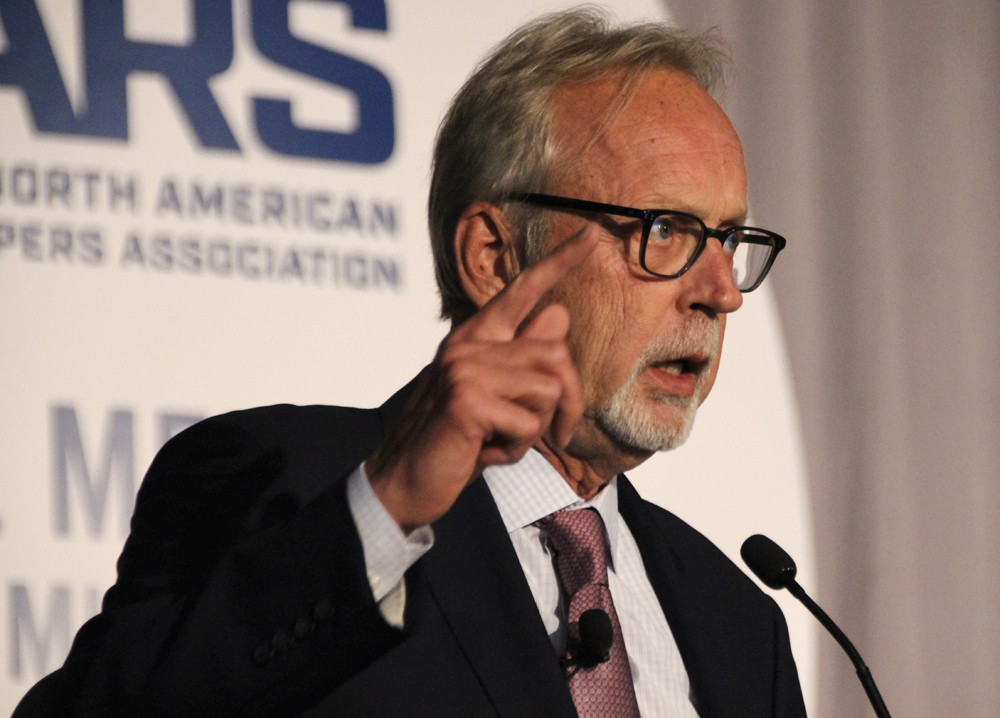 ---
KANSAS CITY — The 40 or so union rail employees picketing outside the site of the National Rail Shippers Conference, unhappy over their lack of a new national contract, might have been surprised by the message delivered inside by CSX Transportation CEO Jim Foote.
They might have welcomed it, too, if not for the adversarial relationship that Foote himself says means employees don't trust their managers.
Railroads, Foote said, need to rethink the nature of their jobs. They need to fix that adversarial relationship. And they need to actually negotiate.
"Lesson learned," he said, having earlier related in detail the railroad's long-running — and still ongoing — effort to reach the same level of 7,100 train and engine employees it had during the pandemic. (He now estimates it will happen in the third quarter of 2022.) "People don't want to work in the railroad business any more. People don't like to work weekends. People don't like to work nights. People like to go to their kids' birthdays. People like to be home for Christmas.
"We need to fundamentally review and understand the jobs that we offer to our employees. And I'll tell you, it isn't just about money. There's been a mindset and a change in the world about what people want from the people they work for, and we need to change. And I'm talking about, primarily, that we need to change for the 85% of people who work for me that are in the union."
The adversarial relationship, he said, stems from the Railway Labor Act and the Federal Employers Liability Act.
And he said "developing better working relationships with our union leadership and our employees" is the railroad's most important goal.
"That is the biggest transformative change that CSX can make, and that is the biggest transformative change that the industry can make: Finally, finally, finally building a better rapport with our employees and having a better working relationship with them."
Later, he was asked if CSX might withdraw from the industry-wide labor negotiations, which are in their third year.
"I think that entire structure — not necessarily the multi-employer bargaining process per se, but I think the entire process needs to be looked at," he said. "You can't roll the dice trying to figure out who the administration's going to be any year you're going to have a national labor contract, so you can get the appropriate presidential emergency board, and you can write the appropriate people in Congress to get the labor agreement you want.
"You sit down with your employees, you negotiate, and you come up with an agreement that's beneficial to your company, and beneficial to your employees. It's as simple as that. That's what every other business in the world does, and we need to put our big-boy pants on and get back into the negotiating arena."