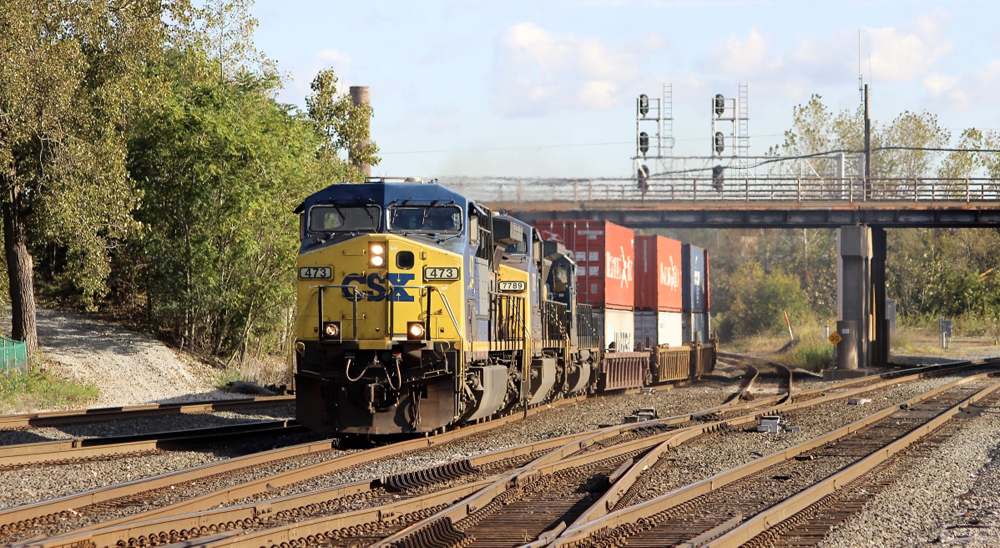 JACKSONVILLE, Fla. — CSX Transportation won't be able to get its merchandise service back to pre-pandemic levels until it can hire enough train and engine crews to handle strong volume growth.
That likely won't happen before the end of the year because the railroad is struggling to hire conductors in an extremely tight labor market, executives said on the railroad's earnings call on Wednesday.
"It is an enormous challenge for us to go out and to find people that want to be conductors on the railroad, just like it's hard to find people who want to be baristas or anything else," CEO Jim Foote says. "It's very, very difficult."
CSX's volume and earnings recovered from last year's historic pandemic-related second quarter declines. In addition, CSX's earnings received a jolt from the $349 million gain on the sale of property rights in Virginia for new passenger operations.
Adjusted for the impact of one-time items, operating income grew 62%, while revenue surged 33%, to $3 billion. Earnings per share rose 82%, to 40 cents. Adjusted for the impact of the land sales, CSX's operating ratio was 55.1%, down from 63.3% a year ago.
Volume in every CSX business segment grew thanks to easy comparisons with the second quarter of 2020. Intermodal volume set a new record. Merchandise traffic was up 21%. And coal rebounded, too, with a 44% increase in volume.
"This quarter's results highlight just how quickly volumes have rebounded, as each of our three lines of business experienced record growth as we lapped the most severe economic impacts of the pandemic," Foote says.
But CSX's operating metrics all declined for a quarter, a reflection of significantly higher volume than a year ago and the impact of ongoing crew shortages. Train velocity was down 16%, while dwell rose 18%. On-time train originations slumped 11%, to 78%, while on-time arrivals fell 20%, to 67%.
Carload trip-plan compliance, which measures on-time performance, fell to 69% from 81% a year ago, while intermodal trip-plan compliance was 89%, down from 94% a year ago.
Intermodal performance is improving, but carload service lags. "On the carload side the reliability isn't where we need it to be," says Jamie Boychuk, executive vice president of operations.
In January, the railroad expected to have 500 new conductors on the property by now. Instead, it has 200 new conductors and crew attrition came in higher than expected in the first half of the year.
No Quick Turnaround
Foote said it's unclear whether CSX will be able to meet his goal of getting merchandise service back to the 85% on-time performance range by the end of the year — unless there's a dramatic turnaround in the hiring situation.
CSX has taken a couple of steps to improve crew availability and recruitment.
First, the railroad reached a new conductor availability agreement with the SMART-TD union that took effect this month. It has been successful in boosting availability over the past couple of weeks, Boychuk says.
Second, CSX launched an incentive program for current employees to refer applicants to the railroad. "Being a fourth-generation railroader, I'm a believer that sometimes the best people you can get for railroads that stick around are actually people from railroad families," Boychuk says. People from railroad families tend to understand what the job is and the lifestyle it entails, he explains.
The incentive program has taken the application pool from a few hundred to more than 1,000, he says.
Foote says the railroad will have to figure out how to make train and engine crew jobs more attractive. "They're extremely good paying jobs, with extremely good benefits, with all kinds of other bells and whistles," he says. "But in today's world, that's not enough."
Part of the problem, Foote says, is that people don't want to work nights, weekends, holidays, and outside in all kinds of weather. "People before liked that," he says. "They don't want to do that anymore."
"We need employees to run the railroad. Simple as that," Foote says.
He adds: "Throwing money at people these days is not the answer."
But Foote says he is proud of the way CSX has performed given the widespread disruptions in all modes of transportation due to strong demand. "We've been very, very, very committed to making sure that this railroad runs well," he says. "It has been an unbelievable challenge. I've never seen anything like this in the transportation environment in my entire career, where everything seems to be going sideways at the same time. Despite all that, we have been keep our terminals open in Chicago and I hope we can continue to do that."
Union Pacific and BNSF Railway have been forced to curtail international intermodal service to Chicago from the West Coast, where volume has exceeded outgate capacity at intermodal terminals due largely to slow customer turn times. Norfolk Southern also has embargoed traffic to certain intermodal terminals periodically so that it could keep them fluid.
More Distributed Power and Technology
CSX increased the use of distributed power by 39% and boosted autonomous track inspection miles by 27%. The use of drones took off, with inspection flights rising 80%.
CSX's personal injury frequency index improved 13%, while the train accident rate improved 34% to a new record low for the second quarter.
The railroad also distributed 9,000 tablets to employees, which helps them share information in real time.