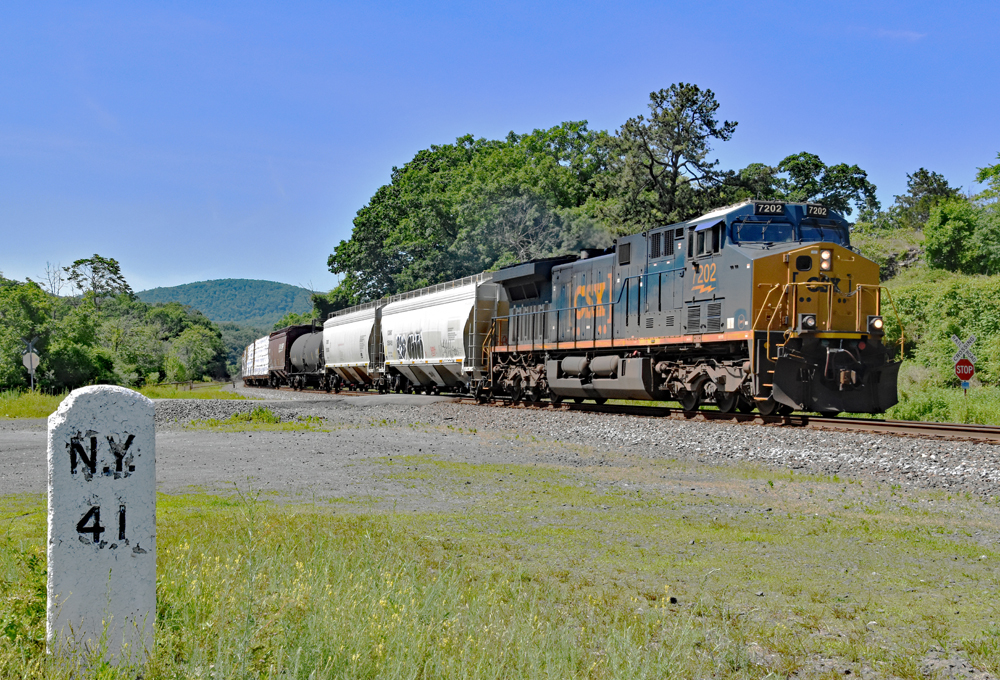 ---
JACKSONVILLE, Fla. — CSX Transportation is awaiting regulatory approval to become the first railroad to use Trip Optimizer's Zero-to-Zero function, which allows the advanced cruise control system to automatically start and stop freight trains.
The goal, CSX says, is to save fuel as part of the railroad's effort to reduce its greenhouse gas emissions by 37% by 2030. "Zero-to-Zero is a big piece of that … to improve fuel economy on line-of-road. We're doing everything we can to reach those goals," says Corey Davis, CSX's director of fuel strategy and utilization, who headed the railroad's Zero-to-Zero test program.
In conventional Trip Optimizer use, the system's auto throttle mode works at speeds of 12 mph and above. Wabtec says Trip Optimizer can apply dynamic brakes, and when air brakes are required can recommend how much air the engineer should use and for how long, as well as when to release brakes. CSX trains have rolled off more than 23 million miles under auto control so far this year, Davis says.
Zero-to-Zero goes a step further than automatic throttle and dynamic braking. It gives Trip Optimizer control of the train's air brakes, which allows it to start and stop a train automatically. The system receives signal aspects and track authorities from the positive train control system.
What Zero-to-Zero can't do: Operate a train automatically in areas where there are no signals, such as yards, or when entering passing sidings that require a train to stop within half the engineer's range of vision.
But it can automatically stop and start trains on the main — for crew changes, for example — as well as depart from passing sidings.
A couple of years ago CSX analyzed its Trip Optimizer operations and asked how it could get more benefits out of the energy management system that reduces fuel use. The first place to look was areas where Trip Optimizer wasn't available, such as slow speeds and stopping and starting.
The biggest opportunity was taking advantage of places where Trip Optimizer would give control back to the engineer in advance of a red signal, Davis says. So CSX saw Zero-to-Zero as the solution. "It's the best way to save fuel for all of those mainline miles," Davis says.
CSX estimates Zero-to-Zero will save about 5 million gallons of diesel fuel annually. That translates into a roughly 1.3% reduction in diesel fuel use, based on the 362.1 million gallons that CSX locomotives burned in 2021. At this year's average fuel price, Zero-to-Zero also would save CSX nearly $18.5 million.
Zero-to-Zero also brings safety benefits by reducing the risk of train pull-aparts when starting, stopping, or upon application or release of air brakes, Davis says.
"We were really impressed with how well it can actually operate the train and prevent train separations," he says. "We never had an issue on any of our test runs, never had any separations while Trip Optimizer was running. So we see a significant benefit and improvement in safety in not having those train separations."
CSX began testing Zero-to-Zero in December 2020, then continued throughout 2021 on several of its main lines.
Among the locations: Between Hamlet and Wilmington, N.C.; between Birmingham and Mobile, Ala.; and between Pensacola, Fla., and Nashville.
"We did hundreds and hundreds of train starts," Davis says, including trains with conventional locomotive consists on the head end and other trains with distributed power.
The tests began on the flat territory between Hamlet and Wilmington before moving on to the hill-and-dale main linking Birmingham and Mobile.
The route includes some of the most challenging undulating territory on the CSX system, Davis says. "You make many running airbrake applications on that railroad," explains Davis, a locomotive engineer who at one time was CSX's system road foreman of engines.
Zero-to-Zero was able to successfully operate 200-car coal trains over the route.
The test trains included a passenger car behind the locomotives so that personnel from CSX, Wabtec, and the Federal Railroad Administration could monitor their progress.
At the end of 2021 FRA shifted its evaluation of Zero-to-Zero to a different rule, which required CSX to shift testing to the MxV Rail Transportation Technology Center in Pueblo, Colo. Those tests wrapped up this year.
Davis rode every mile. How did engineers react to full automation?
"It's been mixed," Davis says. "For the most part, it's been positive."
Many engineers were apprehensive at first. "I'm a locomotive engineer, so I can relate," Davis says. By the end of their Zero-to-Zero trips, though, the engineers were accepting of the technology and some even said the railroad has always needed it, Davis says.
FRA is currently reviewing the safety plan and test results that CSX submitted to the agency. "They've been involved and are generally supportive of what we're trying to do," Davis says.
Two federal safety regulations — one governing locomotive safety standards and another regarding any safety-critical changes to a positive train control system — cover CSX's Zero-to-Zero testing.
As a result, a cross analysis must be conducted to ensure that Zero-to-Zero doesn't introduce hazards to either train control or PTC, says FRA spokesman Cory Gattie.
"Once the analysis work is completed further testing can be allowed," Gattie says.
CSX wants to test Zero-to-Zero on steep grades such as Sand Patch in Pennsylvania and Cowan Mountain in Tennessee, where manned helpers complicate operations.
While other railroads have talked about using Zero-to-Zero to automate operations — which is not the same as autonomous operations — CSX says its focus is only on fuel savings.
Meanwhile, the Class I railroads are closely watching CSX.
Once FRA approves Zero-to-Zero based on CSX's test, the other Class I systems are expected to follow CSX's lead. As with positive train control implementation, there's no need for each railroad to reinvent the wheel as part of their application process with the FRA.
"We're all waiting for the FRA," says Jamie Helmer, Norfolk Southern's director of fuel efficiency. "Our paperwork's with the FRA as well."
Zero-to-Zero is a natural progression for Trip Optimizer's energy management functions, Helmer says.