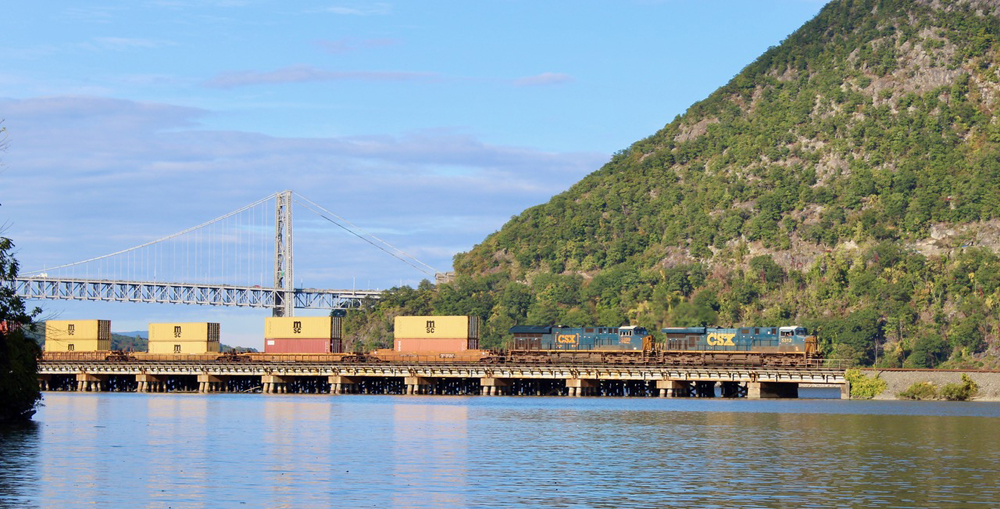 ---
JACKSONVILLE, Fla. — CSX Transportation's third-quarter profits, revenue, and volume all grew thanks to strong freight demand and the railroad's acquisition of a bulk chemical trucking company.
But executives said the railroad would have been able to handle more traffic if not for a persistent worker shortage, as well as the impact of the spike in COVID-19 cases in the Southeast that at its peak sidelined several hundred CSX train crew members.
"We are committed to helping our customers overcome the current supply chain challenges," CEO Jim Foote told investors and analysts on the railroad's earnings call on Wednesday afternoon.
"We have a strong hiring pipeline, and we will hire until we have staffed the network to match demand," he added.
Operating income surged 26%, to $1.4 billion, as revenue grew 24%, to $3.3 billion. Earnings per share grew 34%, to 43 cents. The results reflected the addition of $200 million in revenue from Quality Carriers, the trucking firm that CSX acquired in July for $546 million.
CSX's operating ratio improved 0.5 points to 56.4%, but Quality Carriers added 2.5 points to the tally. Fuel costs doubled but the railroad benefited from all-time record fuel efficiency.
Traffic volume was up 3% overall in the quarter, with coal surging 16% and intermodal rising 4%. Merchandise traffic fell 2% largely due to a 26% decline in automotive volume thanks to the ongoing computer ship shortage that has curtailed vehicle production.
Although federal regulators say they've received ongoing complaints about CSX service, the railroad reported that carload trip plan compliance was 68% for the quarter and intermodal shipments were 88% on time.
Foote says both figures will improve once more conductors are hired and fully trained. CSX's performance metrics continue to lead the industry in most areas, Foote says, adding that he hasn't received service complaints from shippers.
But there was no doubt that crew shortages hurt the railroad's ability to take on more volume.
"We're clearly constrained. There was more business out there this quarter … and throughout this year, that we could not handle," Foote says. "And the primary reason for that is our inability, like everyone else in the world right now, to ramp up our workforce coming out of the steep declines of the early phases of the pandemic."
CSX has revamped its hiring process and expects the labor crunch to ease by early next year.
Kevin Boone, executive vice president of sales and marketing, says CSX has taken several steps to alleviate bottlenecks in the supply chain.
Among them: Adding container storage yards at 13 intermodal terminals across its system, working with the Georgia Ports Authority to use inland rail yards to free up truck capacity and reduce congestion at Savannah; running port-to-port service to allow shippers to dodge congestion; increasing steel wheel interchange with Western railroads; and adding Transflo transload capacity in the merchandise network.
CSX also increased the size of its customer service team by 40% and added workers at intermodal terminals.
CSX is adding automated equipment at its hump yards and intermodal terminals, including autonomous cranes, and is adding new passing sidings and extending others, mostly in the Mobile, Ala., area to accommodate traffic growth and maintain fluidity, says Jamie Boychuk, executive vice president of operations.