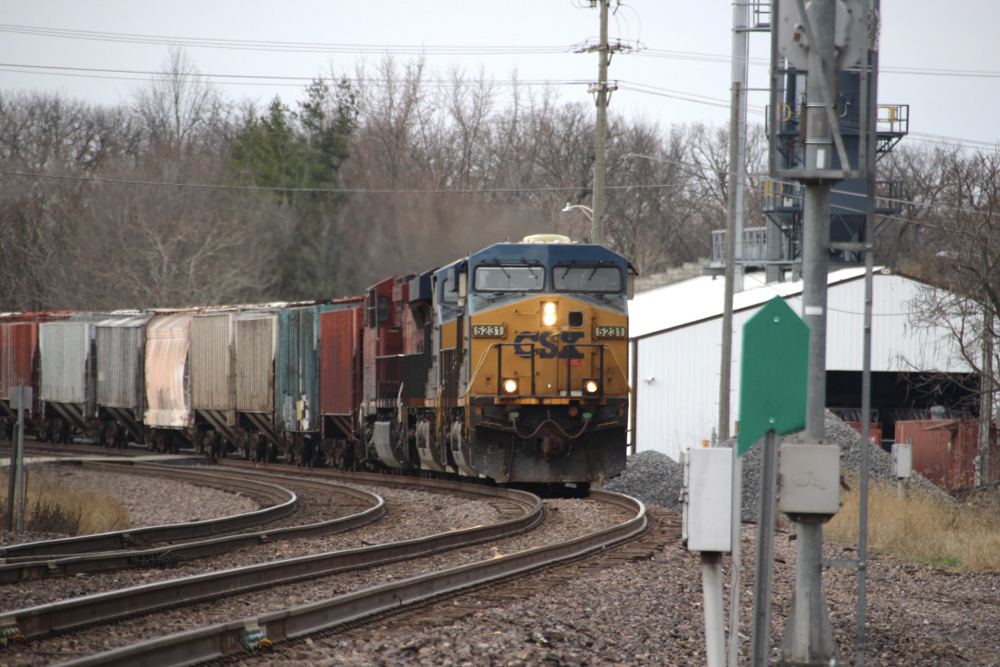 ---
JACKSONVILLE, Fla. — CSX Transportation reported strong fourth-quarter earnings on Wednesday and, despite signs of an economic slowdown, said it expected to gain volume this year thanks to ongoing service improvements.
"I'm particularly proud to report that our service metrics continued to show real improvement through the fourth quarter after starting a clear upward trend in the early fall. And we are very pleased that progress has continued throughout this month," CEO Joe Hinrichs said on the railroad's earnings call. "As we anticipated, our hiring successes have allowed us to deliver better customer service that will allow us to capture more business with more volume over time."
The railroad's conductor hiring efforts have paid off, executives said, noting that in recent weeks on-time performance has reached pre-pandemic levels. For the quarter, intermodal trip plan compliance was 94%, while merchandise traffic reached 77%, a 20-point improvement compared to the third quarter.
The big four U.S. railroads, including CSX, couldn't meet demand in 2022 due to widespread service problems related to crew shortages. The other railroads that have reported fourth quarter earnings thus far — Canadian National, Norfolk Southern, and Union Pacific — have said they expect a slowing economy to hurt their volume recovery this year.
But CSX bucked that trend. The railroad expects its merchandise and coal volume to grow, which CSX said will propel its overall volumes to faster growth than the economy this year. Intermodal traffic is expected to decline, largely due to a drop in import activity as retailers work off high inventories.
"We're still not meeting all the demand that's out there for carload," Hinrichs says.
Due to economic uncertainty, however, CSX did not issue earnings guidance for the year or set an operating-ratio goal. "We're not going to put a target out there for O.R.," Hinrichs says, noting that putting a focus on growth and cost control should lead to good financial performance over the long term.
Nearing full crew levels boosted the railroad's train velocity by 11% and reduced terminal dwell by 13% compared to the third quarter.
Chief Operating Officer Jamie Boychuk says operations should continue to improve as more conductors graduate from training and enter service. CSX remains in conductor hiring mode to offset attrition, a low retention rate for new conductors, and to ensure it has enough crews when summer arrives. "We're looking at continuing to build our numbers up so we can get to a point where we can cover vacation time and make sure that our employees get time off," Boychuk says.
CSX won't furlough train crews if volume slows and instead will use attrition to thin the ranks if necessary, Boychuk says.
CSX will spend $2.13 billion on capital projects this year, up from $1.79 billion in 2022.
For the quarter, CSX's volume declined 2%, with coal up 9%, merchandise down 2%, and intermodal down 5%. Quarterly operating income rose 7%, to $1.4 billion, as revenue increased 9%, to $3.7 billion. Earnings per share increased 17%, to 49 cents. The operating ratio was 60.9%, up 0.8 points from a year ago.
For the year, volume was down 1%. Operating income was up 8%, to $6 billion, as revenue grew 19%, to $14.8 billion. Earnings per share increased 16%, to $1.95. The 2022 operating ratio was 59.5%.