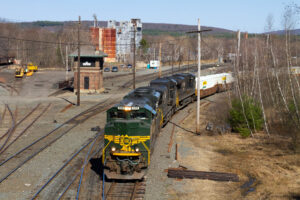 WASHINGTON – CSX Transportation agreed to Amtrak's conditions regarding passenger service in New England on Wednesday, in advance of the start of a scheduled public hearing on CSX's proposed acquisition of Pan Am Railways.
Amtrak on Jan. 3 said it would oppose the CSX-Pan Am deal unless the Surface Transportation Board imposed seven conditions on the merger. Wednesday, in a letter to regulators, CSX asked the board to include Amtrak's conditions.
Among the conditions CSX agreed to:
Cooperate with proposed expansion of passenger service between Albany, N.Y., and Boston via CSX's Boston & Albany main line from the Albany area to Worcester, Mass.
Work with Amtrak and the Northern New England Passenger Authority to expand and improve Downeaster service linking Maine and Boston, including the addition of positive train control on trackage in New Hampshire and Maine.
Host seasonal Berkshire Flyer trains between Albany and Pittsfield, Mass., this year as special trains, pending construction of a 1,000-foot station track in Pittsfield.
Give Amtrak trains priority over freight traffic.
Ensure that Norfolk Southern intermodal and automotive trains, which are shifting from Pan Am Southern to new trackage rights over CSX's B&A, do not interfere with current or proposed Amtrak service between Albany and Worcester.
Amtrak said Thursday evening the two sides had not yet achieved a full agreement.
"We are pleased that CSX has agreed to accept six of the seven conditions Amtrak requested to ensure that performance and expansion of Amtrak service is not harmed if the Surface Transportation Board approves CSX's proposed acquisition of Pan Am Railways," the passenger railroad said in a statement. "CSX has made a new proposal regarding the seventh condition: initiation of the planned, seasonal/weekend Berkshire Flyer service between Albany and Pittsfield. We are awaiting the details of CSX's proposal, which will be reviewed by Amtrak and the Massachusetts Department of Transportation, our state partner."
CSX CEO Jim Foote told Thursday's hearing his company had agreed to all conditions regarding the Berkshire Flyer, putting teeth in CSX's assurances it would work with Amtrak.
A deal between CSX and Amtrak would leave only two parties seeking conditions on the merger: Massachusetts Department of Transportation/Massachusetts Bay Transportation Authority and Canadian Pacific.
Bay State transportation officials want assurances about existing and future commuter and passenger service. CP has raised concerns about the viability of the Pan Am Southern's former Boston & Maine main line between Mechanicville, N.Y., and Ayer, Mass., after Norfolk Southern's intermodal and automotive traffic is diverted to new trackage rights over CSX's faster and fully cleared Boston & Albany main line.
— Updated Jan. 14 at 7:55 a.m. to reflect Amtrak statement; updated at 10:50 a.m. to correct some time references from Thursday to Wednesday.