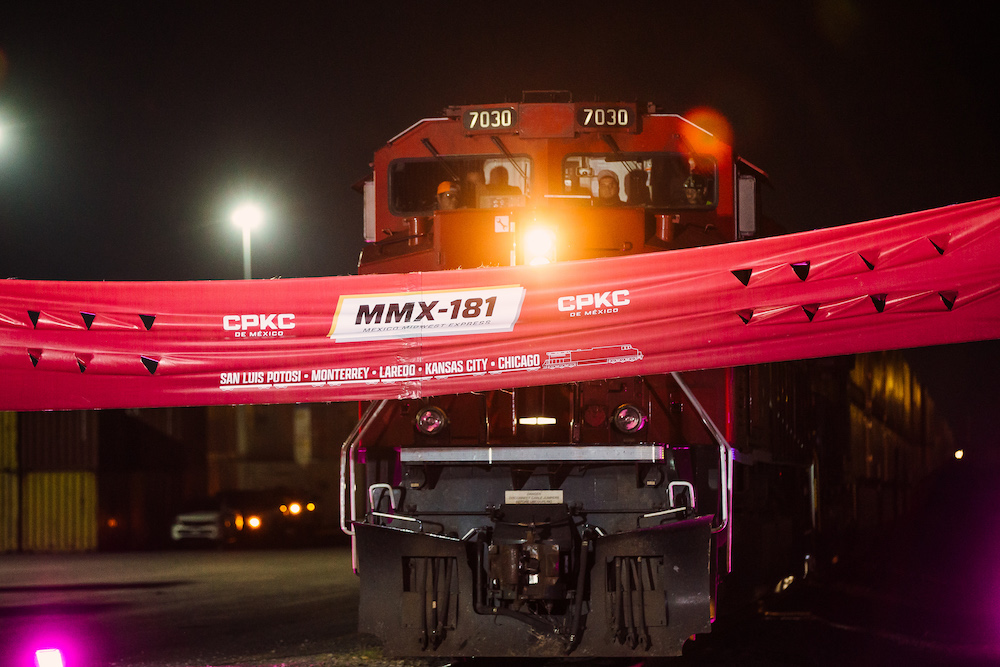 ---
CALGARY, Alberta — CPKC today launched the Mexico Midwest Express premium intermodal service linking Chicago, Kansas City, and Laredo, Texas, with Monterrey and San Luis Potosi in Mexico.
A nighttime photo on CPKC's home page showed train MMX-181 about to break through a CPKC de Mexico banner on its inaugural northbound run.
The newly merged railroad bills trains MMX-180 and MMX-181 as the first truck-competitive, single-line rail service option between the Midwest and Mexico.
"The Mexico Midwest Express offers truly best-in-class service and represents the growth potential of providing truck-competitive service and reliable rail transportation options for shippers with the newly-combined CPKC," CPKC CEO Keith Creel said in a statement. "This is a game changer for this essential north-south trade corridor. Customers already are signing up for these new options as we compete hard to grow our business."
Last month, CPKC announced new multi-year agreements with intermodal customers Schneider and Knight-Swift Transportation for service on the CPKC single-line north-south corridor. The northbound train featured a string of Schneider containers. "This is the beginning of what will be a game-changing opportunity within cross-border intermodal," Schneider Executive Vice President Jim Filter said in a post on LinkedIn.
MMX-180 and MMX-181 link Chicago, Kansas City, Texas markets, Monterrey, and San Luis Potosi. The trains offer third-day service to/from Laredo, fourth-day service to/from Monterrey, and 4.5-day service to/from San Luis Potosi. MMX provides total transit time of 98 hours from Chicago to San Luis Potosi, which CPKC says is a day faster than the nearest competitor.
The railroad said a diverse group of shippers, moving a variety of products, will use the new service. CPKC said its single-line haul efficiencies, combined with seamless crossborder service, make MMX transit times competitive with over the road trucks.
Canadian Pacific and Kansas City Southern in March 2022 began dedicated interline intermodal service test runs between Lázaro Cárdenas, Mexico and Chicago as a proof of concept.
"CPKC is working with customers and investing in infrastructure to unlock the full potential of the newly combined network while continually raising the bar with industry-leading safety and sustainability practices," the railroad said.
Canadian National, Union Pacific, and Ferromex on May 15 will launch their new Falcon Premium interline intermodal service connecting Detroit and Canada with points in Mexico.