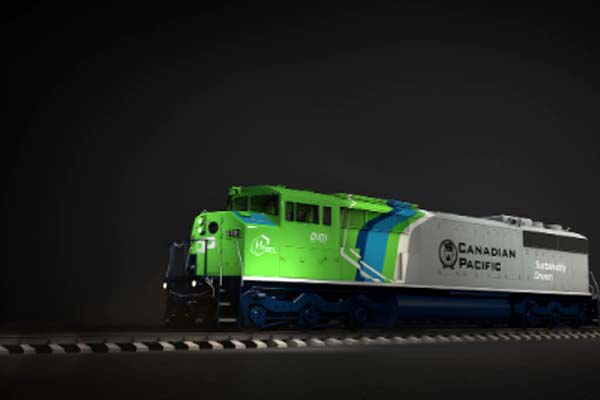 CALGARY, Alberta – Canadian Pacific has shared an image of its forthcoming hydrogen-powered locomotive. It shows an EMD cowl-style locomotive in a green, blue, white, and gray paint scheme.
According to the railroad's sustainability website, the locomotive, known as "H2 0EL" for Hydrogen – Zero Emissions Locomotive, will be prepped for its official painting and launch. Each design element of the locomotive articulates the effect of this project. The blue and green paint colors represent sustainability, water, and technology. The H2 0EL wordmark features angled typography to symbolize movement and progress in action.
"This is a globally significant project that positions CP at the leading edge of decarbonizing the freight transportation sector," President and CEO Keith Creel says. "CP will continue to focus on finding innovative solutions to transform our operations and implement our Climate Strategy, positioning CP and our industry as leaders for a sustainable future."
CP has previously tested lower-emission locomotives using biofuels and compressed natural gas, as well as battery-powered units. Virtually all freight locomotives in North America are diesel-powered, representing railroading's most significant source of greenhouse gas emissions.
The railroad expects the unit to begin operation in 2022.