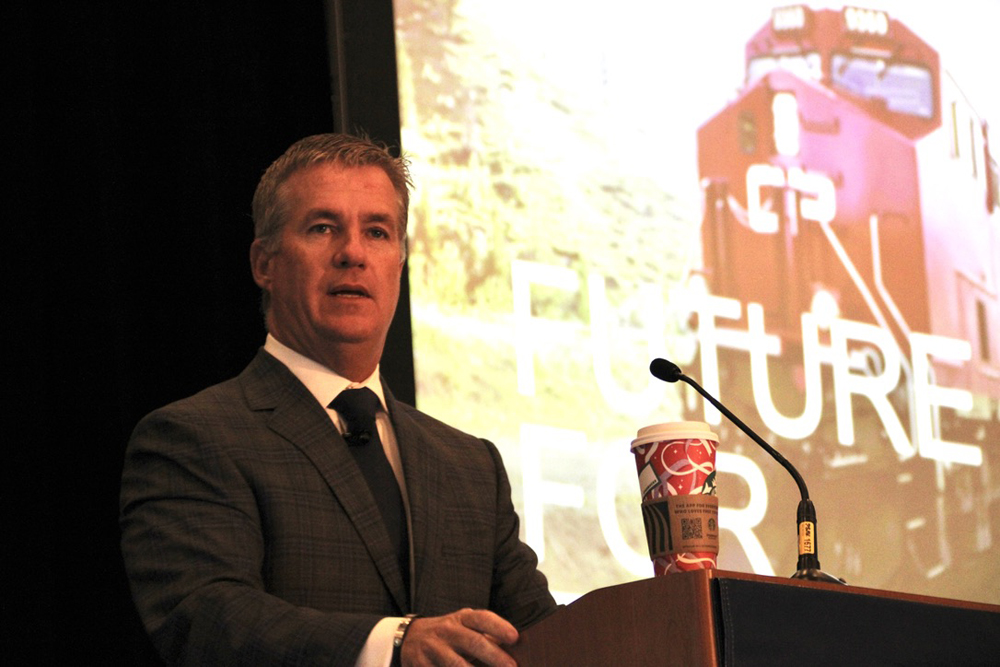 LOMBARD, Ill. — Mexico's port of Lazaro Cardenas will become a significant option in addressing congestion at U.S. West Coast ports and a "necessary" addition to the intermodal supply chain under the Canadian Pacific-Kansas City Southern merger, CP CEO Keith Creel contends.
Creel and KCS CEO Patrick Ottensmeyer, appearing jointly at the Midwest Association of Rail Shippers Winter 2022 meeting, took the case for the merger directly to those who will use its services on Wednesday, explaining why they believe the union will benefit individual market segments.
In addressing intermodal traffic, Creel made the case that Lazaro Cardenas could become the new Prince Rupert, British Columbia — the Canadian port that has become a key part of Canadian National's international intermodal strategy.
"Some would suggest LA to Chicago is a better route," Creel said. "it's shorter, and why would ships want to go to Lazaro? I would suggest that it's necessary. I would suggest that there's so much business pointed at LA/Long Beach, and there's so much business pointed at West Coast U.S. ports — to handle tomorrow's growth, much less today's needs, it's not enough."
Creel said the Mexican port's disadvantage in terms of sailing times could be offset with ships "with a full ship of goods to discharge at Lazaro," rather than making intermediate stops. In that case, he said, the additional sailing time would be just three days, 16 days as opposed to 13 to LA.
And that, he said, would be quickly offset by more quickly moving goods through the Mexican port.
"It doesn't do any good if your goods are floating in the ocean, looking at LA, hoping you can get discharged," he said. "Today, the on-dock dwell exceeds a week. Ten days? Eighteen days? …. It's so random. Just to get to the dock is two or three weeks, and then another 8-9-10 days to get onto the railcar. … Compare that to Lazaro. You're talking two, two and a half days.
"So you've got a three-day disadvantage sailing that gets overcome right out of the gate by two days' dock dwell versus eight or nine days." While noting the rail distance to Chicago from the Mexican port is about 420 additional miles, or about 15 additional hours, he said the overall time through LA/Long Beach is "what, three weeks? Four weeks? Five weeks? Versus an alternative that's 13 [days] plus two plus five. It's compelling."
The Lazaro Cardenas situation is just one example of what Creel says "is going to allow you to create and open up new opportunities and business markets that simply don't exist today."
"If we can create truck-like reliable service, and our transit times are competitive … I think that's pretty compelling," Creel says. " … It's going to create a seamless service experience for a customer where there's going to be one railroad where the buck stops. We're going to be accountable, cradle to grave, origin to destination."