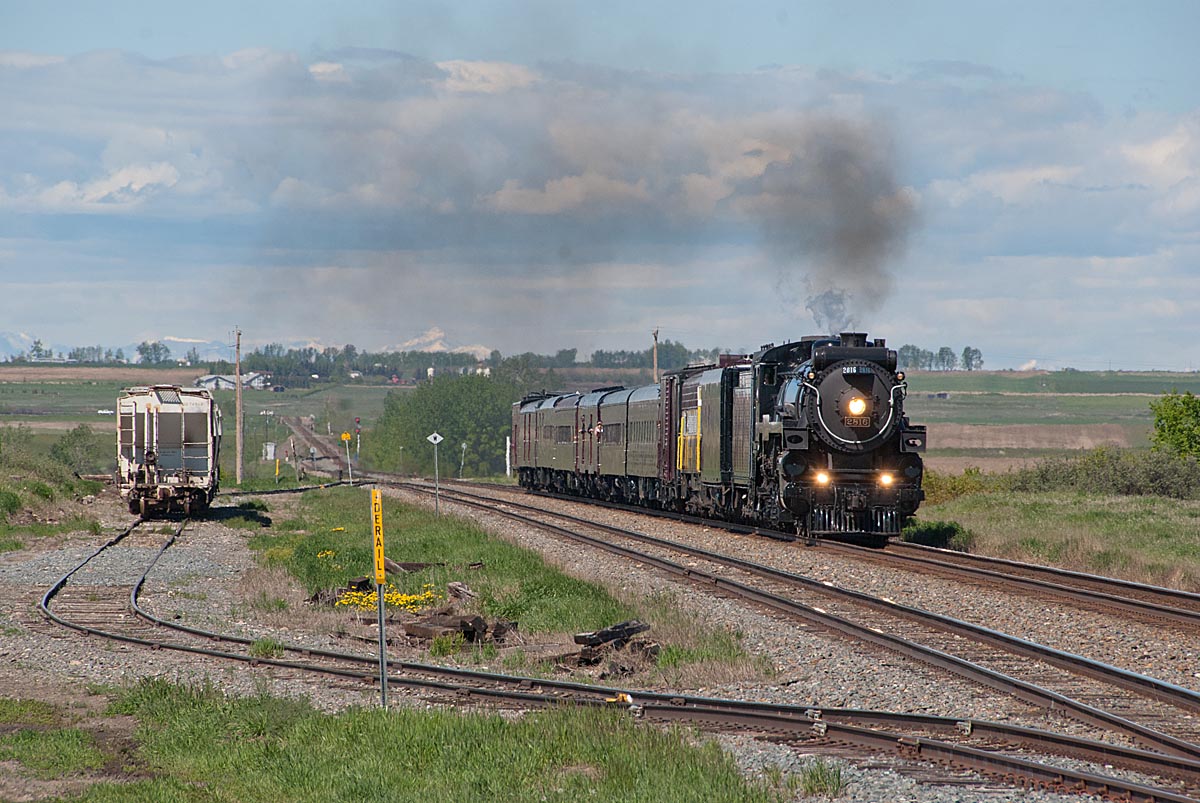 Canadian Pacific CEO Keith Creel – who last week won a hard-fought, four month merger battle to acquire Kansas City Southern – is fully aware that the first Class I railroad combination in two decades is history in the making.
"We've got some history that we're very proud of with Canadian Pacific. We drove the spike in 1885 that … created Canada as it is today," Creel said in an interview with Trains on Friday, two days after Canadian National dropped its KCS bid and CP and KCS signed their merger deal. "We're the railroad that's going to drive that final spike to actually be the only true North American network that's going to connect three countries – Canada, the U.S., and Mexico – and that's something we're extremely proud of."
To celebrate the historic occasion, CP will put 4-6-4 No. 2816 on the point of its business train for a 3,741-mile barnstorming trip from Calgary, Alberta, to Mexico City sometime after the railroads are combined. The Empress, as the gleaming 1930 Montreal Locomotive Works H1b Hudson is called, was restored in 2001 for excursion and special train service but last ran on the main line in 2013.
CP and KCS plan to file their merger application with federal regulators next month. Approval of their merger – which may lead to more than $820 million worth of new traffic for the combined system – is expected late next year.
Honoring CP, KCS History
Creel chose the combined railroad's name – Canadian Pacific Kansas City, or CPKC for short – to salute the long history of both companies. CP dates to 1881, while KCS traces its roots to 1887.
Creel says he realizes that some people have been critical of the CPKC name but that he doesn't get wrapped up in it. "To me it's about honoring our employees and honoring our histories," he says.
What livery will CPKC locomotives wear, assuming the merger receives Surface Transportation Board approval?
"We don't want to get ahead of ourselves or send the wrong signal to the STB," Creel says. "That being said, the answer would be I've got some ideas. We're going to try to protect both companies' proud histories. That matters."
CP's iconic beaver and shield – which Creel restored as the company logo during his first day as chief executive in 2017 – will live on.
"Obviously the beaver is near and dear to our hearts," Creel says. "The beaver will be part of that when it's finalized, there's no doubt in my mind. So it won't be a huge retooling of our logo. It will be an enhancement that will honor the KCS team and I think we'll make them proud to be a part of it. When it comes to locomotives, we haven't gotten that far yet. That's something when the time's appropriate we'll take a look at."
Planning for Smooth Merger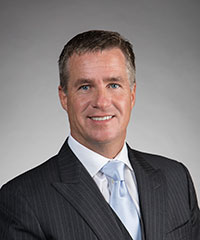 For now CP and KCS are busy with the merger application process, obtaining regulatory approval of their $31 billion deal, and ensuring that the combination goes smoothly. "We're energized and ready to get to work," Creel says.
Merger integration teams in Calgary and Kansas City are drawing up plans to combine the companies.
Operationally, merging CP and KCS is straightforward because the railroads only touch at Kansas City and interchange volumes are relatively low. CP and KCS currently exchange about four trains per day through Kansas City.
"It all depends on bulk traffic – that's the variable," Creel says. "Right now it's about two trains a day each way, and that can surge with more crude or that can surge with ag products."
Creel doesn't expect major traffic swings immediately after the railroads begin operating as a single system. "It's actually very straightforward," he says. "The complexity gets down to making sure the IT systems are talking."
CP and KCS already use many of the same back office information technology systems. CP may license its proprietary Rail Performance Management system to KCS after KCS is placed into an independent voting trust. That, Creel says, will allow KCS to better see and manage its network – and already have the software running before CP and KCS combine their operations.
The Rail Performance System is a command-and-control system for the railroad. "This is something I can pull up on my laptop or I can pull it up on my iPhone anywhere in the world and I can see the health of my network," Creel says.
CP will count on its management team's experience with prior mergers to make the KCS acquisition go smoothly, Creel says. CP is fresh off its acquisition of regional Central Maine & Quebec last year. Creel was chief operating officer at Canadian National when CN acquired the Elgin, Joliet & Eastern and began operating it in 2009. Current CP board member Gordon Trafton led CN's EJ&E integration efforts, and Creel was deeply involved in operational and strategy aspects of the deal.
"We can make sure that we dot all the right i's, cross the t's, we challenge ourselves, we stress test. We're not leaving any stone unturned," Creel says, noting that the EJ&E deal was far more complex because it turned the J from a sleepy railroad that handled four trains a day to one with two dozen through freights.
"We do not expect any problems – obviously there will be challenges, there always will be – but we're going to make sure we have the right resources and talent and energy and commitment and discipline around that process to make sure it's seamless for our customers," Creel says.
Capacity Projects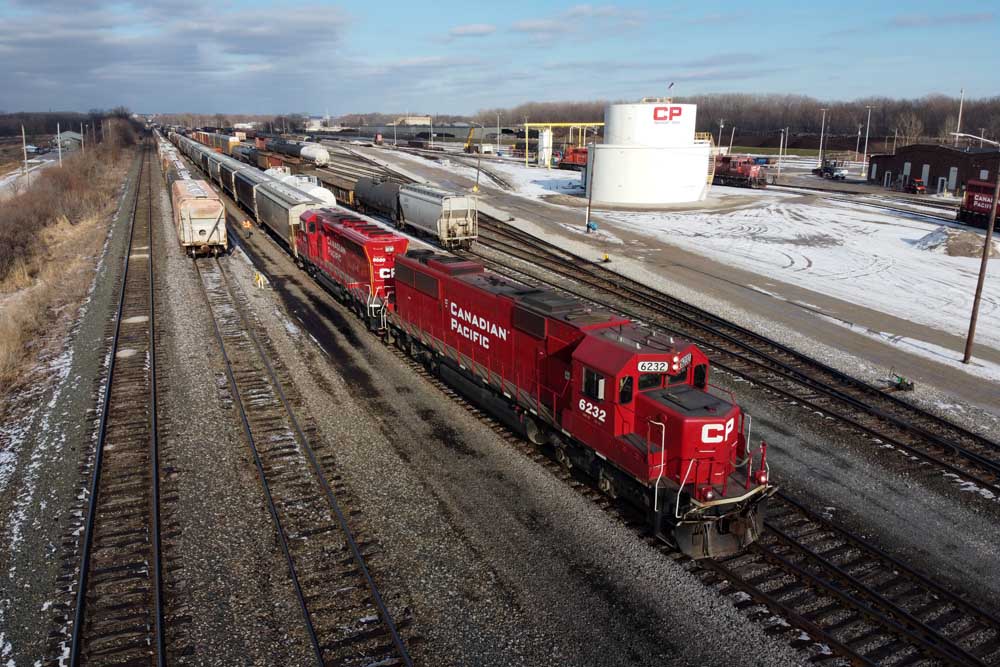 To support merger-related traffic growth, CP will beef up its 483-mile Chicago-Kansas City corridor along with Kansas City Southern's 530-mile main line from Kansas City to its operational hub at Shreveport, La.
The Chicago-Shreveport route will be upgraded to Federal Railroad Administration Class 4 trackage to support 60-mph speeds where possible. Passing sidings will be added and extended. And centralized traffic control, which already covers all of the KCS portion of the corridor, will be extended to CP's route.
CP's former Milwaukee Road trackage from Kansas City to the junction with the Twin Cities-Chicago main at Savanna, Ill., has pockets of centralized traffic control but the majority is dark territory that operates under traffic warrant control. CP's main line from the Twin Cities to Chicago has CTC.
"We're going to create a third compelling service main line to get from the Texas and Mexican markets into the Midwest and into Canada," Creel says. "So to do that we need Class 4 track, we need CTC, we need solid infrastructure that allows us to create a service experience for the customer that is truly competitive with the alternatives."
No Plans for Chicago Bypass
Is CP contemplating cobbling together a Chicago bypass for Kansas City-Detroit-Ontario traffic using Kansas City Southern's former Gateway Western route to Springfield, Ill.?
"No, not at all," Creel says. "The only bypass for Chicago will be the traffic that goes to Chicago to interchange now to the other roads that we can handle single-line."
Creel says that amounts to about a train's worth of traffic per day that CP currently handles from Western Canada and the Upper Midwest to Chicago. After the merger, this traffic will run directly from Minneapolis-St. Paul through Kansas City.
CP's traffic from Kansas City Southern points to Detroit and Ontario, Quebec, and Eastern Canada will continue to run via Chicago, Creel says. From there trains will continue to use the Indiana Harbor Belt or Belt Railway of Chicago to reach CP's trackage rights over Norfolk Southern to CP's Detroit River Rail Tunnel. Intermodal traffic will continue to run from CP's Bensenville terminal to Toronto, Montreal, and Saint John, New Brunswick, via haulage rights over CSX Transportation from Chicago to the gateway at Buffalo, N.Y.
CP's Detroit River Rail Tunnel, which it fully reacquired last year in a $312 million deal, lacks clearances necessary for domestic double-stack traffic. But Creel says he envisions the day when traffic growth from the CP-KCS merger will support building a new tunnel linking Detroit and Windsor, Ontario, that will be able to handle domestic double stacks.
Cooperation Key for Houston Bottleneck
Kansas City Southern's fast-growing international corridor from the Laredo, Texas, gateway to Beaumont, Texas, relies on sections of Union Pacific traffic rights – including through the often-congested Houston terminal where KCS trains can experience significant delays.
Creel says he'll be "boots on the ground" and will spend time in Houston to better understand operations and dispatching through the terminal.
CP already has a good working relationship with UP, Creel says, and he expects that to be key to getting CPKC trains through Houston.
"I think as long as we continue to work closely together, make sure that our interests are protected, and that we're fair to UP and UP's fair to us, we'll do OK through there," Creel says.
Open to New Amtrak Service
The Southern Rail Commission, which has long eyed launching Amtrak service between Baton Rouge, La., and New Orleans, now is proposing adding new service between Baton Rouge and Shreveport and from Shreveport to Meridian, Miss., all via KCS trackage.
Will CPKC be open to more passenger service?
"I committed to Amtrak that as soon as I get into a position to be able to look at the details, I would," Creel says. "And now that I am, I will."
The KCS New Orleans Subdivision is a dark railroad between Baton Rouge and New Orleans, with a top speed of 49 mph. Creel says the first order of business to have a safe railroad that can provide the level of service that passengers expect. "The last thing you want to do is put on a passenger train and nobody rides it," Creel says.
Amtrak and CPKC would have to take on their fair shares of capital improvements to ensure safe, scheduled operation of passenger trains. "I think we can work together to figure this out and coexist the way we've been able to coexist with Amtrak on our existing lines," Creel says.
CP has consistently ranked at the top of Amtrak's report card for host railroads.