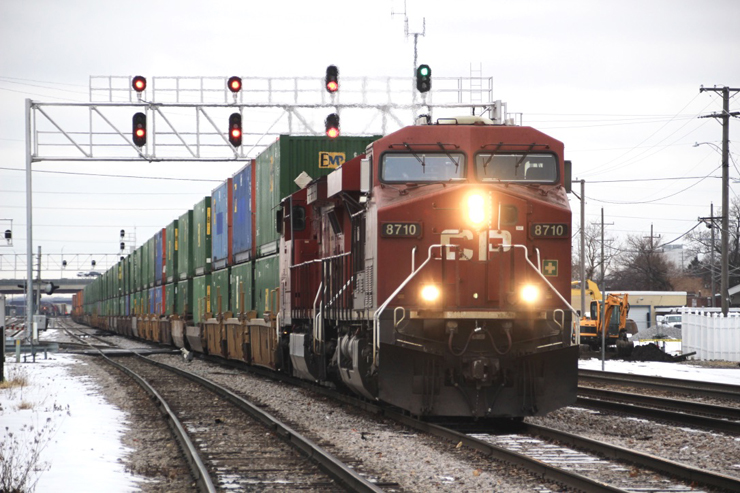 ---
WASHINGTON — On Wednesday's first day of public hearings regarding their proposed merger, Canadian Pacific and Kansas City Southern sought to blunt criticism of their $31 billion combination by preemptively addressing concerns raised by other Class I railroads, Chicago-area commuter railroad Metra, and lineside communities in the Midwest.
Merger opponents — including Metra and communities in Illinois, Iowa, and Minnesota — rallied around the same theme: The combination of CP and KCS is not consistent with public interest, which is the hurdle the Class I merger must clear. And therefore, they argued, the Surface Transportation Board must reject it outright or impose a string of conditions.
But CP CEO Keith Creel told the STB that the combined Canadian Pacific Kansas City system would be in the public interest because it's a perfect end-to-end merger with no overlap. The deal, he says, will create new single-line service, more competition among Class I railroads, and broader reach for existing CP and KCS customers.
John Brooks, CP's chief marketing officer, says the merger will provide shippers' supply chains with more options and resiliency, something pandemic-related disruptions showed is needed. CPKC, he says, will create a superhighway linking Canada, Chicago, and the Midwest with Texas and Mexico, providing shippers with an alternative to existing BNSF Railway and Union Pacific routes.
"Our success will depend on our ability to deliver capacity and service at competitive economics," Brooks says, noting the merger will divert freight from highway to rail, too.
Concerns over competition, CP executives told the board, come from Class I railroads that will have to work harder to compete with CPKC, including BNSF, UP, and Canadian National. The other railroads are scheduled to testify before the board on Thursday and Friday.
Class I Opposition
BNSF and UP have raised concerns that traffic growth on CPKC would swamp the railroads' shared routes across Texas and through the congested Houston terminal. CP assured the board that it will collaborate with BNSF and UP to support smooth operations and capacity improvements. "It's in our interest to make sure this part of our network works for all users," Creel says.
John Orr, KCS's executive vice president of operations, says there's adequate capacity for projected traffic growth across the KCS international corridor between the Mexican border at Laredo and Beaumont, Texas.
Daily train counts peaked through Houston in 2016, Orr says, and the area's trackage can handle the eight additional trains related to the CPKC merger.
STB member Robert Primus noted that the Houston terminal melted down in 1997 following the UP-Southern Pacific merger. Creel attributed that to ill-advised operational changes the railroads made, and noted that KCS operates through Houston rather than originating or terminating trains in area yards.
How the railroads use existing capacity matters, Creel says. Capacity through Houston is determined by a combination of train speed, train length, and the length of yard tracks. If trains are longer than yard tracks, it will lead to congestion as through tracks hold trains that can't fit into yards, Creel says. Yards must be expanded, he says, or trains shortened.
The board should reject CN's proposal that CPKC be forced to divest KCS's former Gateway Western routes linking Springfield, Ill., with Kansas City and St. Louis, CP and KCS executives said. CN eyes the route as a way to connect its system to Kansas City via Springfield.
But KCS CEO Pat Ottensmeyer says the former Gateway Western lines across Missouri and Illinois "have become the aorta" of the railway's grain service from the Midwest to destinations in Mexico. There's no reason for CPKC to divest the trackage, Ottensmeyer says, and no shippers on the line support such a move.
Board member Patrick Fuchs noted that gateway protections are among the most contentious issues facing the merger. BNSF and UP fear CPKC will strangle their traffic at the key Laredo gateway in order to force freight onto their longer, slower mainline from Mexico to the Midwest and Canada.
The board spent an hour delving into how to protect current interchange points. CP and KCS have pledged to keep all gateways open on commercially reasonable terms. But the board and the railroads struggled to define "commercially reasonable" and how to enforce the railroads' promises.
CP lawyer David Meyer noted that no shipper has ever brought a case claiming a railroad had crimped gateway traffic through unreasonable rates or service. And Ottensmeyer noted that BNSF and UP made the same arguments when KCS acquired an interest in short line Texas-Mexican Railway in 1995. The board rejected those arguments then, and should now, Ottensmeyer says.
KCS didn't foreclose BNSF and UP interchange traffic, Ottensmeyer says. Rather, KCS did what it told the board it would do: Create a strong, independent competitor for traffic to and from Mexico.
Community Impacts
A panel on community concerns began with a fiery presentation from former Davenport, Iowa, Mayor Daniel Gluba, who claimed CPKC will focus on moving flammable Canadian crude oil at the expense of other types of freight. Davenport attracts people to events on its riverfront, where CP's main line runs past parks, attractions, and historic buildings.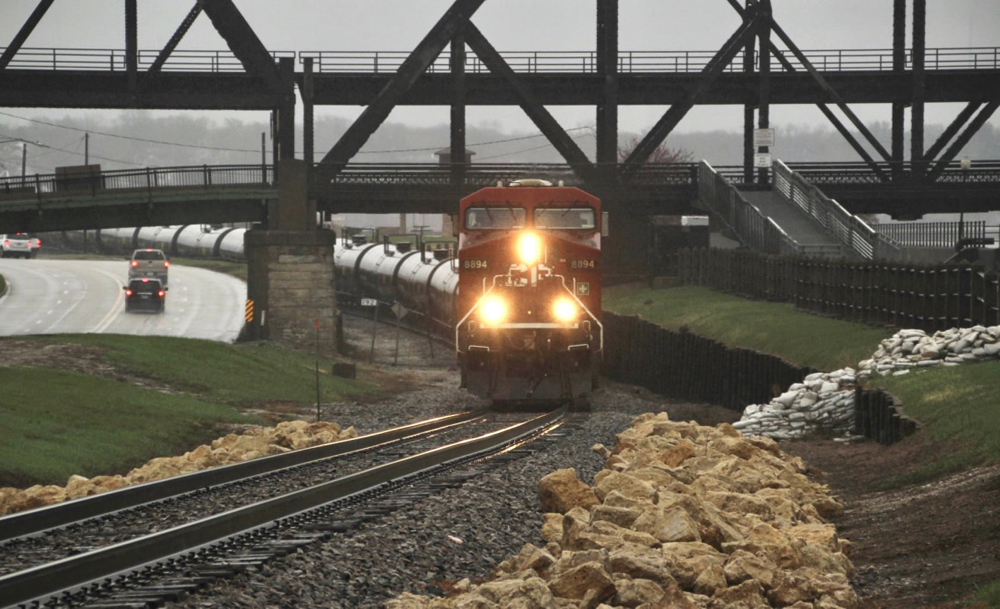 The increased train traffic will pose a danger to the community and put thousands of lives at risk, he says, evoking the 2013 Lac Megantic crude oil train disaster that killed 47 people in Quebec.
Gluba claims that CP tried to strong-arm the community into a meager $10 million settlement that won't come close to mitigating the harm of increased train traffic but would force American taxpayers to make improvements that would effectively subsidize a foreign corporation.
Gluba asked the board to order the railways to create a $3 billion fund that communities could tap to mitigate merger impacts. The money would allow CP to route its mainline through a new tunnel along the Davenport waterfront, Gluba says.
The county surrounding Minneapolis asked the board to require a study on how to mitigate the impact of increased truck traffic from CP's intermodal terminal at Shoreham Yard. The White Earth Nation of Native Americans said it opposed the merger because of increased rail traffic through its reservation in Minnesota.
The Coalition to Stop CPKC — a group of eight communities northwest of Chicago — told the board that a tripling of traffic from three CP trains per day to 11 would destroy the fabric of their towns, create public safety hazards, and hurt Metra commuter service on the MD-W line that hosts CP freights.
The group whittled down its original request for $9 billion worth of mitigation projects to $400 million. The funding would go toward three grade-crossing separations and three pedestrian crossings, among other projects.
Carie Anne Ergo, the Itasca, Ill., village administrator, said the tripling of traffic was not in the public interest and that there had been insufficient analysis regarding the public safety ramifications of blocked grade crossings.
The coalition asked the board to impose 10 years of oversight on the merger, consider CN's divestiture request because it could take traffic out of their communities, and cap the number of trains CPKC could operate.
The group also claimed, without evidence from the merger application, that CPKC would increase traffic to 18 or more trains per day west of Bensenville Yard.
Creel acknowledged that increased freight traffic will have an effect on some lineside communities, but says CP is willing to work toward reasonable solutions. The railway has reached agreements with some communities in Iowa and Illinois, he noted, with more talks still under way. In some cases, however, Creel says agreements are impossible because communities are seeking relief that's beyond the scope of impacts related to the merger.
Metra, CP Disagree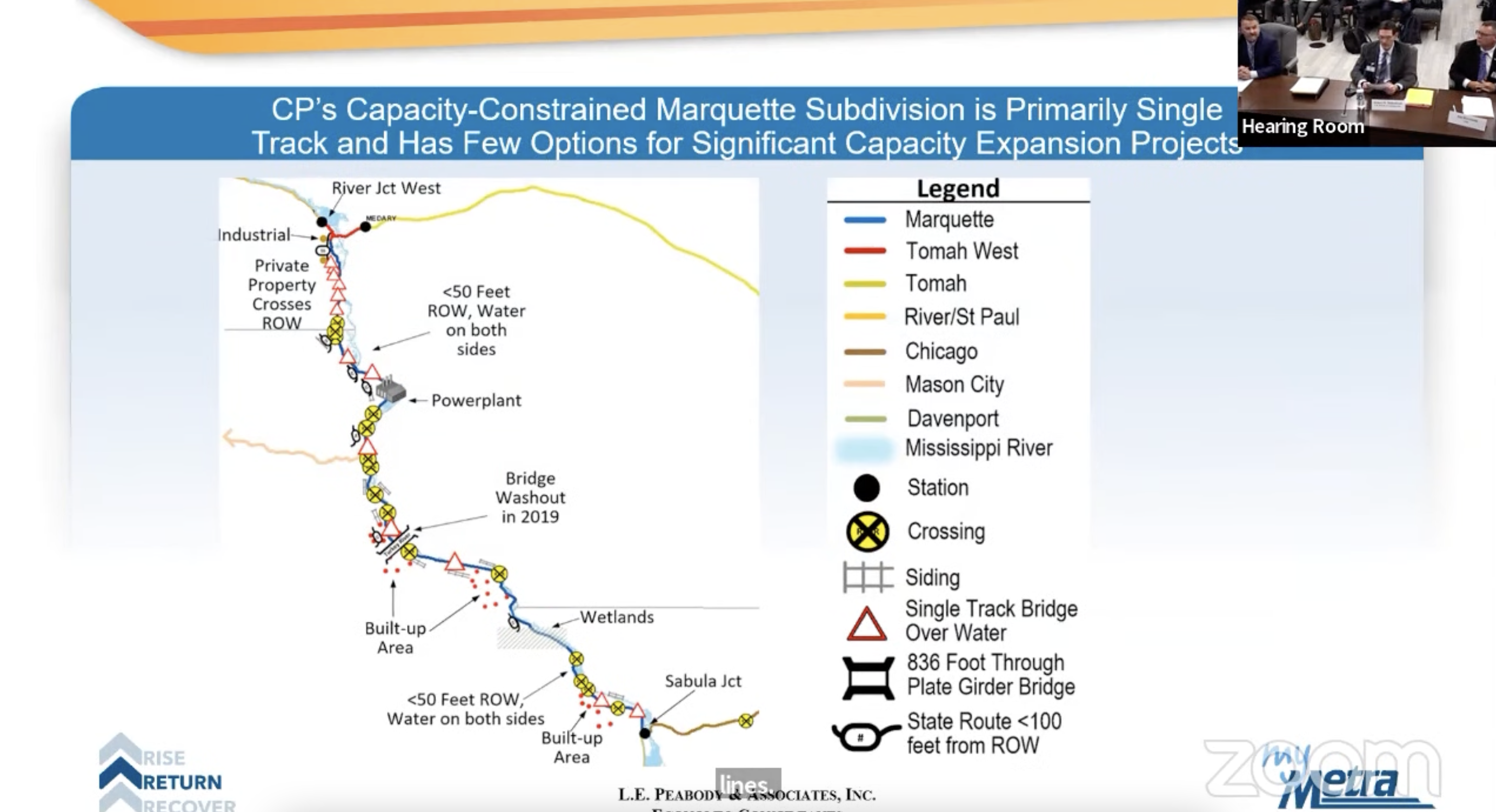 ---
Metra CEO Jim Derwinski said increased CP freight traffic on the Milwaukee District-West and Milwaukee District-North lines would be devastating to the commuter railroad's operations. Metra sought capital improvements on those lines, which it owns but CP dispatches. Metra said the most critical condition that the board could impose was turning dispatching control over the Metra so that commuter trains could be prioritized over freights.
CP and Metra disagreed over whether the routes had sufficient capacity to handle additional freight traffic. Their traffic studies reached opposite conclusions. CP showed the Milwaukee West line from Bensenville to Elgin will have excess capacity even after merger-related growth in freight traffic. Metra sought to poke holes in CP's traffic study, saying its assumptions and data were fatally flawed and that its own analysis showed significant increases in delays to Metra trains.
Derwinski said there was little room for more traffic on existing infrastructure, particularly considering CP's record of "spotty cooperation" and delays to commuter trains that would be exacerbated by increased freight traffic.
But CP said it would never run its railroad above full capacity. CP also won't object to Metra returning to pre-COVID service levels, and will work with the commuter railroad on dispatching decisions and expanded service outside of peak hours.
In their separate presentations to the board, CP and Metra also clashed over CP's merger-related traffic projections. CP says it plans to run an additional eight trains per day west of Bensenville Yard on the Elgin Subdivision, which is part of the Milwaukee West line. But Metra says the total could be at least six trains higher than CP's projections.
The reason? Metra says CP's Marquette Subdivision, which runs along the Mississippi River in Iowa and carries north-south traffic between the Twin Cities and Kansas City, would become a bottleneck.
CP intends to shift north-south traffic currently interchanged in Chicago to a single-line CPKC route via the Marquette Subdivision. Metra claims that the Marquette Sub lacks the capacity to handle the additional traffic, even with planned capacity increases on the line. As a result, CP would be forced to send this traffic through Chicago via the Milwaukee West and Milwaukee North lines.
CP says it would never run traffic 250 miles out of route and that the Marquette Subdivision will be able to handle the traffic increase, thanks to construction of three new passing sidings and the addition of centralized traffic control. And CP says it won't bring the new traffic on until all of its capacity improvements are made.
The hearings will continue on Thursday with presentations scheduled from shippers, officials from Texas and Louisiana, as well as Norfolk Southern, CN, and BNSF.