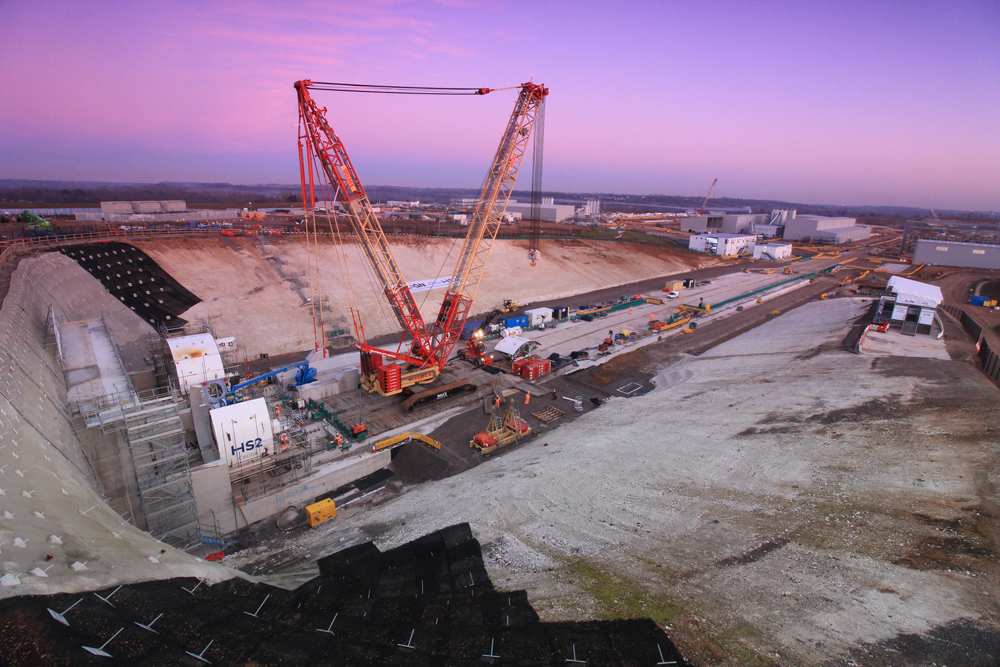 LONDON — Construction work has begun along the entire 140-mile length of the first stage of Britain's new 200-plus-mph high speed rail line, known as High Speed 2 (HS2), which will link London with cities in northern England and allow faster through trains to Scotland as well.
The project has been developed in several phases and not all have yet been given the final go-ahead, which concerns some of the scheme's supporters in northern England. Construction on the first phase formally started in February 2020, although preparation work such as demolition and site clearance had been underway for several years. Some of this work was controversial, involving removal of previously undamaged woodland dating back several centuries.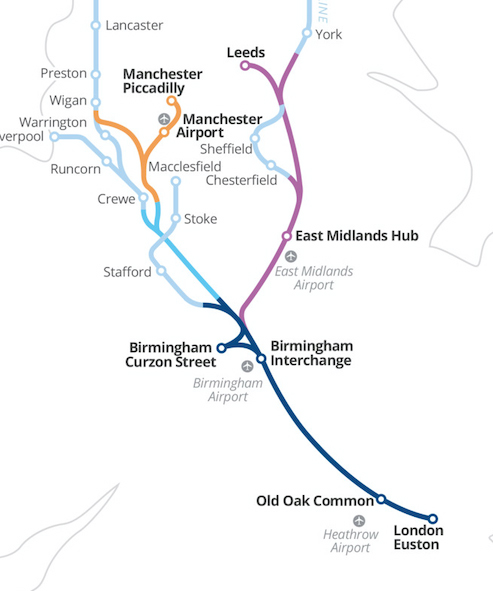 The first stage will link London with the UK's second largest city, Birmingham, and include a spur line to link up with the main London-Manchester/Liverpool/Glasgow "West Coast Main Line." This section will have a new terminal stub-end station in Birmingham as well as another near major highways and Birmingham's international airport. The spur line to join the West Coast main near the city of Litchfield will allow the 200-mph-plus trains planned for the HS2 line to join the 125-mph conventional network in the early years of operation.
A second construction segment known as "phase 2a," taking the new line north from Litchfield to Crewe, was fully approved by the British Parliament in February 2021. It should open at a similar time to the main London- Birmingham section in 2029-2033.
Planning for additional HS2 lines north from Crewe to Manchester is continuing. Planning for a much longer line from Litchfield to Leeds, with connections towards York and Newcastle, is currently stalled, with some suggestion it may be cancelled. British Prime Minister Boris Johnson has promised it will be built, and has also talked about expanding the project to take the HS2 route north to Scotland. However, this is not being actively planned.
Four major new stations, ten tunnels
The first London-Birmingham section of HS2 has four major new stations. Work on all these has been underway for some years, initially to clear the sites before construction can begin. A 10-track terminus station will be built alongside the West Coast Main Line's London terminus at Euston. From here the new line will go west in an 8-mile tunnel, part way along that tunnel in west London will be a new station called Old Oak Common. This will be a major new interchange with existing lines on the surface and underground platforms for the high speed trains; current plans are for this station to open before Euston's HS2 platforms, so for the first few years it will be the line's London terminal.
Northwest of London, a 10-mile-long tunnel under the Chiltern Hills is being built, along with what will be the longest rail bridge in the UK – the 2.1-mile-long Colne Valley Viaduct. The Chiltern Tunnel being dug by German-built tunnel boring machines was extended during the planning phase to avoid removal of established ancient woodland. While this removed or reduced some objections to the project, it increased its cost. Other tunnels have also been added to minimize destruction of woodland or to reinstate farmland on top of some sections. In total, 10 tunnels adding up to 32 miles of the route are part of the first phase.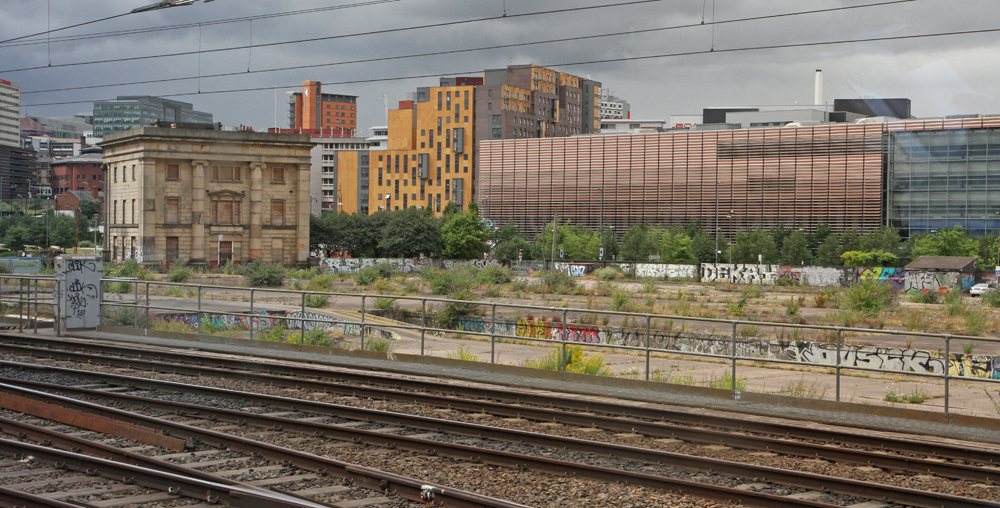 Two stations in and near Birmingham will complete the first section. The Birmingham Interchange station near the city's airport has been under construction since 2020, and the $800 million contract for the new line's city center terminus station in Birmingham was awarded early this month. The Birmingham Curzon Street HS2 station will occupy a site which was historically the city's first station, also named Curzon Street, which opened in 1838. Site clearance has now been completed; this included a large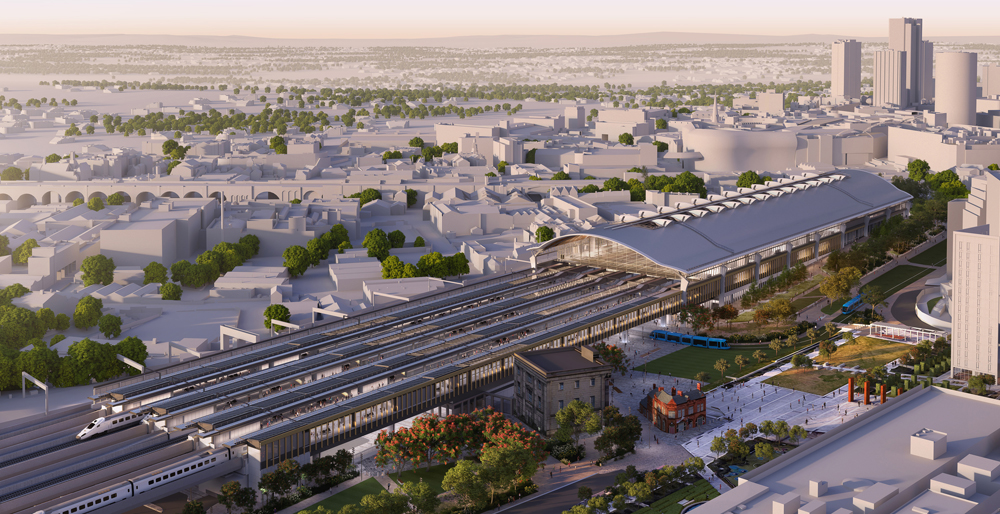 archaeological program, involving 70 archaeologists, which among other things unearthed the remains of the world's oldest railway roundhouse maintenance shop! The new station will be served by up to nine high speed trains an hour travelling north and south, as well as an extension of the Midland Metro light rail system. The station will also provide parking for more than 550 bicycles.
Further north on the proposed second phase, existing stations at Crewe and Manchester Piccadilly will be rebuilt, while a new station will be built at Manchester's international airport. The city of Liverpool is not on the current HS2 route but that hasn't stopped the city government there from planning a new station to be served by HS2 trains via a rebuilt existing line from north of Crewe.
Trains to be ordered in 2021
The high speed train fleet to operate the new route will be ordered later this year. The trains have to be able to operate on the established British rail network, meaning they cannot be as large as most European high speed trains because of clearance restrictions. Five European companies — Alstom, Talgo, Bombardier Transportation working with Hitachi, CAF, and Siemens — are competing to build the initial order of 54 trains capable of up to 225 mph. A decision is expected later this year. All of the manufacturers are pledging to build all or some of the trains in the UK.
The HS2 project is forecast to cost $87 billion to $124 billion in total; the final amount is currently unclear, as it will depend upon how much of the second stage is built, and when. The first stage is expected to cost $49 billion to $63 billion and will be opened in 2029, with the final section from Old Oak Common to Euston is expected to be open by 2033. The project's costs have increased from the original proposals, although this is partly due to political decisions (the route was approved in detail by the British parliament) to use much more tunneling than is dictated by the topography along the route.