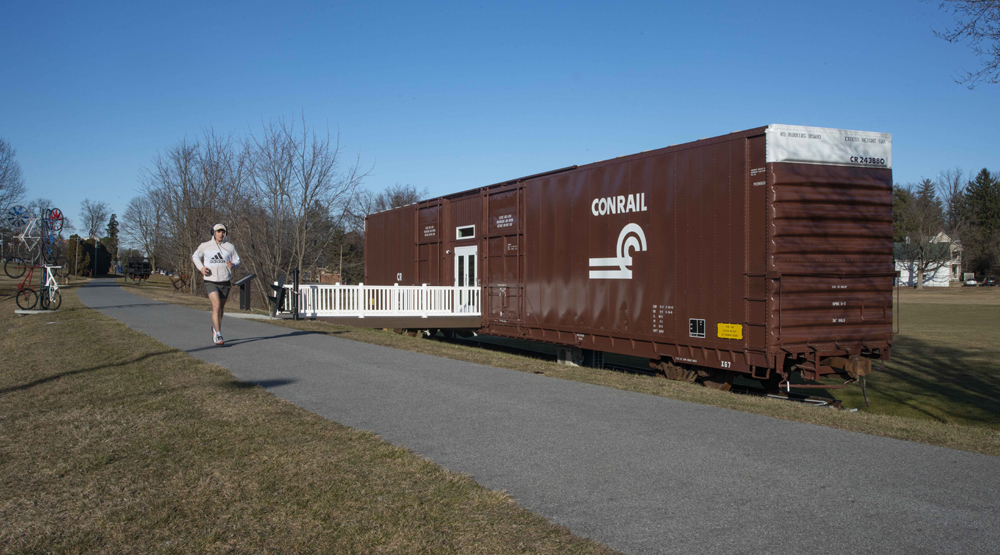 ---
SHIPPENSBURG, Pa. — The Conrail Historical Society will open its $150,000 museum and archive center – housed here in a retired 86-foot hi-cube auto-parts boxcar – on April 1, the anniversary date of the railroad's founding in 1976.
A brief ceremony at noon that day will mark the culmination of several years of the society's collaboration with Shippensburg University, the Cumberland Valley Rail Trail, Cumberland Area Economic Development Corp., and the Cumberland Valley Visitors Bureau. Also involved: the Pennsylvania & Southern Railway and a local contractor who moved the car, Dave Burkholder of Dave's Truck Repair.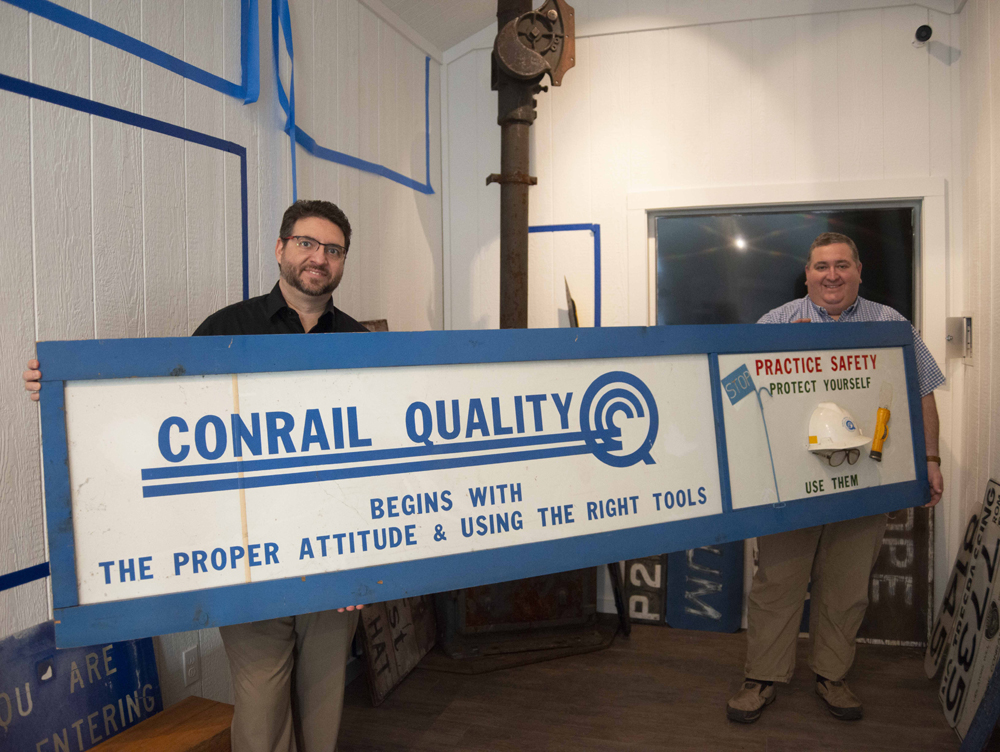 The car sits on a section of panel track adjacent to the rail trail, which occupies the abandoned right-of-way of the former Cumberland Valley Railroad, later Pennsylvania Railroad, Penn Central, and Conrail. About 200 feet away stands the Cumberland Valley Railroad Museum, opened in 2017, which occupies a 50-foot former PC boxcar that was the inspiration for this project. The trailhead is at 51 East Fort Street, adjoining the university campus.
"We're approaching 25 years since Conrail was divided," says Conrail Historical Society President Brock Kerchner, "and the legacy of Conrail — if not for an organization and museum such as this — would just disappear into history."
"We are beyond honored to keep the memory alive of the Conrail employees who sacrificed and dedicated so much to turn a collection of bankrupt railroads into a leader in the industry," he said. "It is a classic rags-to-riches fairytale."
Overseeing the work is project director Jim Stanton, a board member of both CRHS and the rail trail. In addition to exhibit design, tasks he coordinated were utilities, security, internet access, welding, floor leveling, installation of insulation, and framing and finishing the walls. The car was a good candidate for conversion, Stanton says: "The car was rebuilt by CSX in 2003. And the roof was in good shape. They really gave us a great car."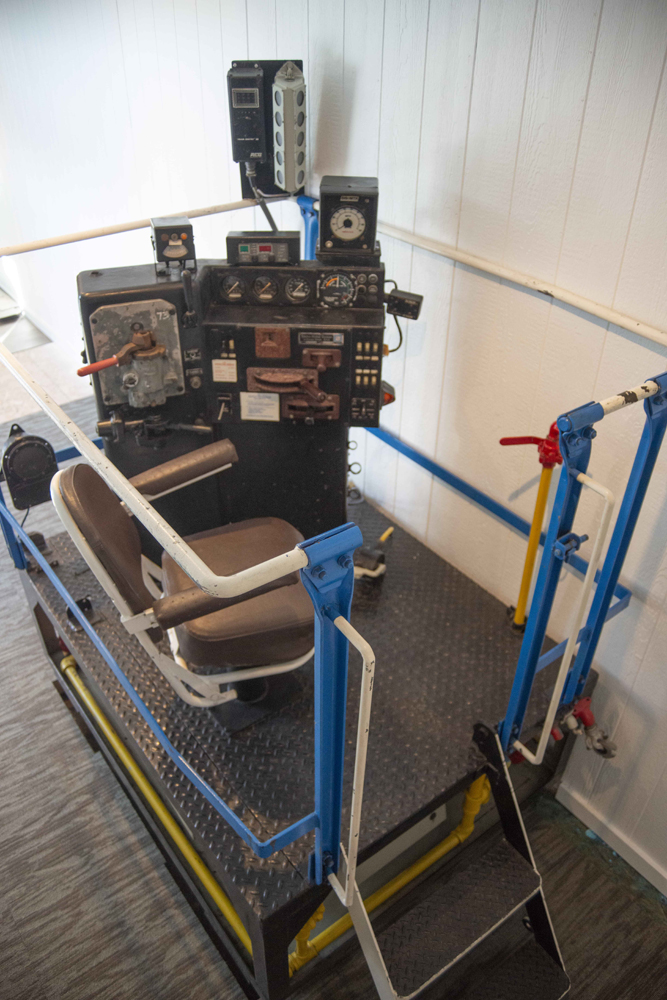 With government backing, Conrail was formed on April 1, 1976, from the remnants of bankrupt eastern and midwestern railroads, including Penn Central, Reading, Erie Lackawanna, Jersey Central, and Lehigh Valley. With regulatory reform, the shedding of unprofitable lines, exiting commuter passenger business, and new labor agreements, Conrail became profitable. In 1999, Norfolk Southern and CSX Transportation jointly bought and divided it. A small version of the railroad, Conrail Shared Assets Organization, remains active, handling terminal switching for NS and CSX in North Jersey, Philadelphia/South Jersey, and Detroit.
About two-thirds of the boxcar is devoted to exhibits, including a locomotive control-stand simulator that Conrail used at its training center at Essington, Pa., near Philadelphia, known as "Choo Choo U." Panels will tell the story of the demise of PC and the other roads, the renewal that created the modern Conrail, and the split.
Artifacts include an ex-Erie Railroad semaphore signal built by Union Switch & Signal Co., and an interlocking tower model board from Virginia Avenue Tower in Washington, D.C. A mannequin's clothing will be changed periodically to reflect the gear worn by different crafts such as conductor, engineer, car inspector, and signal maintainer. It will be supplemented by articles such as a grip (a metal valise to hold clothing, rulebooks, and paperwork), cooler, crew packs, and employee timetables. Rounding out the displays are a screen for video presentations and space for rotating exhibits.
The collection reflects Conrail's emphasis on workplace safety, with safety jackets, signs and posters, awards, and photographs carrying that theme.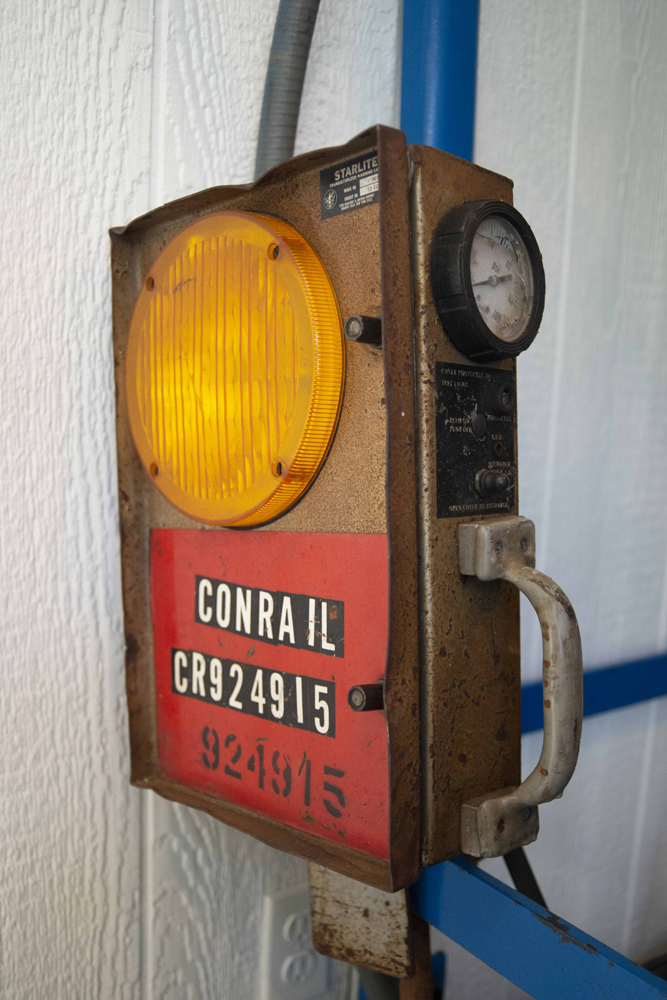 The remainder of the space is dedicated to archival storage and conservation. It will include a large-format scanner and a flatbed scanner to digitize the group's collections. Among the holding are thousands of dispatchers' sheets and hundreds of thousands of slides and negatives. Eventually, CRHS intends to make all of these records available to researchers, both for in-person visits and on-line.
One of the keys to making this work smoothly, Stanton said, is the availability of faculty and students from the university's History Department, who will serve as interns to sort, catalog, and archive the material.
"Here is a world-class history program with undergraduate and graduate students looking for practical real-world experience," he said, characterizing them as "a steady stream of eager, well-trained students."
The project began several years ago when Professor Allen Dieterich-Ward, who was instrumental in developing the first boxcar museum, urged Stanton to pursue setting up a parallel Conrail-themed facility. Former CRHS President Rudy Garbely researched the CSX freight-car roster to find a suitable car that could house the museum. The group settled on a member of the X67 class, designed and built by Penn Central at its Hollidaysburg, Pa., shop to handle Ford Motor Co. parts. The car later passed to Conrail and then CSX ownership.
A sympathetic CSX manager tipped off Garbely in 2019 that members of that fleet, built in 1970, were quickly approaching the 50-year limit for freight cars in interchange service. Knowing that the cars would be retired and scrapped after aging out in 2020, he asked CSX to identify a candidate for donation.
CSX agreed and shipped that car, NYC 243880, formerly CR 295633, from Ohio to the Pennsylvania & Southern, a short line that serves a business park in Chambersburg, Pa., that was once part of Letterkenny Army Depot. P&S stored it for two years while CRHS lined up funding.
CRHS says the car, one of 154 X67s built at Hollidaysburg, represents the only fleet of 86-foot auto boxcars to be built by a railroad, not a commercial carbuilder. An over-the-road contractor moved the car 12 miles from Chambersburg to Shippensburg, where it was parked in a temporary spot owned by the university. It was repainted to its Conrail appearance in September 2021, then moved across an athletic field to its final site in February 2022, when frozen ground allowed the 57-ton car to traverse otherwise soft soil.