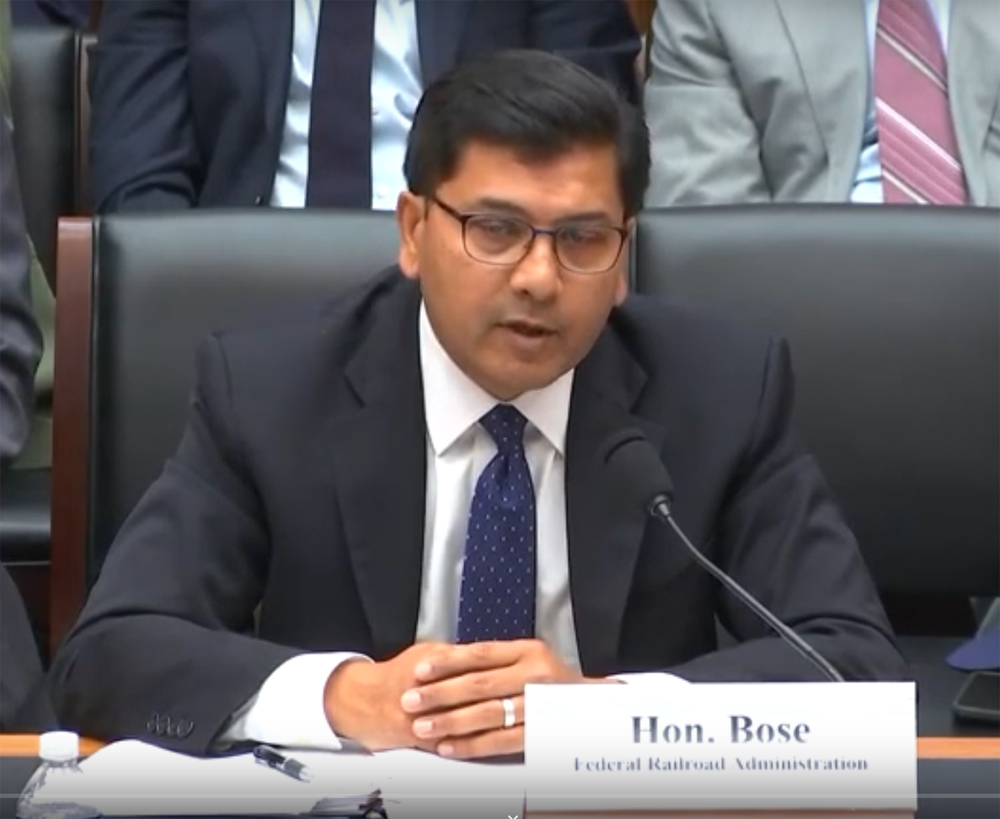 ---
WASHINGTON – Operational changes related to Precision Scheduled Railroading — including a reliance on longer trains — took center stage at a congressional hearing focused on rail safety.
Rail labor leaders and some safety officials were critical of PSR during a House Transportation & Infrastructure subcommittee hearing on Tuesday. But little light, backed up with data, was shed on safety trends in the industry.
Federal Railroad Administration Administrator Amit Bose said he was amazed that the safety watchdog was not collecting train-length data as part of its accident investigations. "We've changed that," he says.
In response to a question from Rep. Seth Moulton, D-Mass., Thomas Chapman, a member of the National Transportation Safety Board, said the board is aware of safety concerns related to PSR operational changes that range from worker fatigue to the makeup of longer trains.
"Those are issues that we would look at in any accident investigation. It's on our radar…" he said. "We've had no accident investigations that were specifically related to PSR."
Moulton asked whether the NTSB knew whether derailments and train pull-aparts were rising. Chapman was unsure. "It's striking to me that you would not know," Moulton said.
Bose said the FRA is looking at operational processes that have changed under PSR, including training for crews that must operate longer trains, the reduction of train and track inspectors, fatigue issues, and hours of service.
Grady Cothen Jr., a retired FRA safety official who is now a consultant, says the trend toward longer trains ignores the dangers of in-train forces that can lead to derailments.
Long-term safety progress has stalled, he says, because heavier, longer trains are being put together without regard to how they are made up. The resulting derailments are often blamed on human factors, but in reality are organizational failures driven by management decisions. Other times wrecks involving long trains are blamed on equipment failures, but he says the equipment fails due to excessive forces that are the result of long trains.
Cothen says PSR is designed for one thing: To reward investors by delivering cash to the bottom line. Congress and the FRA need to provide countervailing pressure on the industry to improve safety, he says.
His third safety recommendation is to mandate phased adoption of electronically controlled pneumatic brakes. They're needed to overcome limitations inherent in the 1870s design of current air brake systems.
Don Grissom, assistant general president of the Brotherhood of Railway Carmen, says the number of carmen has been reduced by 15% to 20% due to implementation of Precision Scheduled Railroading. The remaining carmen are pressured to inspect cars in a third of the time required and are expected to turn a blind eye toward defects, he says. Meanwhile, he says carmen often must work 16-hour shifts for five or six days in a row, which leads to fatigue.
Roy Morrison, director of safety for the Brotherhood of Maintenance of Way Employees Division of the Teamsters, says members of his union are forced to cut corners even as railroads want to cut visual track inspections by 80%. Seventy-five percent of track defects, he says, cannot be detected by automated track cars.
But Norfolk Southern Chief Operating Officer Cindy Sanborn says automated track inspections improve safety while allowing inspectors to focus on switches, diamonds, and repairing defects – none of which automated track inspection technology can handle.
The FRA pulled the waiver that allowed NS to reduce visual track inspections in tandem with increased automated inspections. "We are concerned that FRA is not doing everything it can to help develop technology," Sanborn says.
Bose defended the FRA's decision to deny waivers that would allow railroads to scale back visual inspections of track while automated track inspections were ramped up. Railroads are free to use automated track inspection whenever and wherever they want, he said, and use of the autonomous cars does not require a waiver. What does require a waiver, he explains, is cutting back on the frequency of visual track inspections.
Moulton criticized PSR for its impact on service and said E. Hunter Harrison's low-cost operating model doesn't benefit anyone but shareholders. How, he asked, can railroads return to a functional system that prioritizes service and safety while growing freight volume?
"PSR is a catchphrase for things people don't like about what's going on at the railroad," Sanborn responded, noting she was representing both NS and the Association of American Railroads.
NS implemented PSR principles 2019 and saw its service reach the best level in years, she says. By not switching cars as often and running longer trains with modernized locomotives, NS was able to move its tonnage with fewer locomotives and employees, she explains.
Then the pandemic hit, and NS reduced staffing levels as traffic declined. The labor market changed as volume came back, Sanborn says, making it hard for NS to hire at many locations across its system. NS is hiring aggressively and wants to restore service so it can grow, she says.
Moulton asked what NS was doing to address operational problems related to longer trains, including derailments, break-in-twos, and the inability to fit into passing sidings or yards.
Sanborn says she doesn't believe the evidence supports that longer trains lead to more derailments. And she says that if NS were to rely on shorter trains, it would only exacerbate the railroad's crew shortages and service problems.
Crew size, which sits at the intersection of concerns over labor and safety, also drew attention at the hearing.
The Trump administration shelved a proposed crew-size rule proposed during the Obama administration, arguing that the FRA had no safety data to support a two-person crew rule and that crew size has traditionally been handled through negotiations between railroads and labor.
"Safety is not nor should it ever be negotiable," says Jeremy Ferguson, president of the SMART Transportation Division union. Accidents occur with single-person crews, he says, but data is not collected about crew size.
"Railroads are willing to gamble with safety to improve the bottom line," he says, noting an increase in accidents and employee injuries over the past few years.
Railroads disagree.
"There is no evidence that trains with one person crews have accidents at a higher rate than trains with two-person crews," Sanborn says. "While it wouldn't enhance safety, there's one thing a crew size regulation would accomplish: it would make railroads less competitive against other modes of transportation who do not face similar operational restrictions."
During his run for the White House in 2020, President Joe Biden promised rail labor that his administration would enact a rule that would require two crew members in the cab of the locomotive.
Bose says FRA is preparing a notice of proposed rulemaking for a two-person crew mandate. The agency has conducted research related to crew size, he says, and the data will be released when the rule is proposed.
Rep. Dusty Johnson, R-S.D., asked Bose when the rule would be proposed and why the data couldn't be shared now.
Bose said the data was part of the rulemaking process – and declined to say when the FRA would propose the crew-size rule. He did offer to go over the data with Johnson's office.
"It doesn't boost confidence that you're providing no timeline," said Johnson, who served in a regulatory capacity on the South Dakota Public Utilities Commission.
The FRA may release the proposed crew rule within a matter of weeks, an agency spokesman says. The FRA has been researching crew cognition and related analyses of engineer and conductor jobs and workload in the cab.