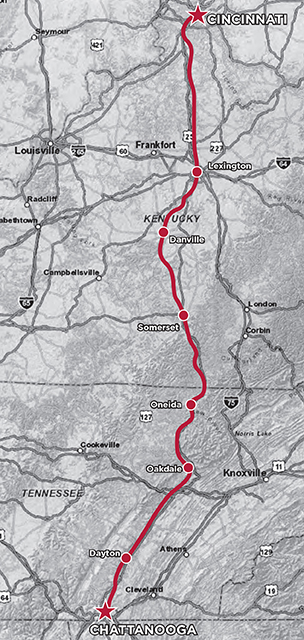 CINCINNATI — Norfolk Southern initially offered little more than half of the current price of $1.2 billion for its proposed purchase of the municipally owned Cincinnati Southern Railway — and the prospect of arbitration ultimately pushed the Cincinnati Southern board to agree to the final figure, WVXU Radio reports.
NS and the City of Cincinnati announced in November that they had reached agreement on the sale of the line, which NS and its predecessors had operated through subsidiary Cincinnati, New Orleans & Texas Pacific since 1881 [see "Norfolk Southern to buy CNO&TP line …," Trains News Wire, Nov. 21, 2022].
The National Public Radio station, in a report based on newly released documents, says that negotiations for the route between Cincinnati and Chattanooga, Tenn., began in December 2020 with Cincinnati Southern's board of trustees seeking to increase the annual rent from NS from about $25 million to $65 million per year. NS responded by seeking to buy the line, with an initial offer of $865 million, which the Cincinnati Southern board termed "grossly inadequate."
Efforts to determine the line's worth led to valuations ranging from $616 million to $2.46 billion. The back and forth of negotiations led to an NS offer in April 2022 of $1.55 billion, plus an additional $50 million depending on the speed in which the deal was finalized, or a lease of $37.3 million. Essentially, that ended up being the offer accepted — largely because of a clause in the existing lease that called for arbitration if no deal was reached by June 30, 2022.
"That arbitration clause introduces so much risk and uncertainty," Cincinnati Mayor Aftab Pureval told WVXU. "Because the arbitrator could choose any one of these valuations, irrespective of our opinion."
Completion of the sale now is contingent on a change in state law that would allow the revenue to be set aside for city infrastructure projects, and approval by Cincinnati voters. The legislature is expected to consider the matter this year, which would allow it to go to the voters in November.