---
SHIRLEYSBURG, Pa. — A new generation of facilities is planned for next summer at East Broad Top Railroad's time-honored Colgate Grove picnic area, the line's historic tourist-era turnaround point.
Sometime during the coming season, the EBT Foundation Inc. will open two small pavilions and restrooms, along with something that the location never had before, a boarding platform.
Situated 4½ miles north of EBT's headquarters at Rockhill Furnace, Pa., the grove lies astride the 33-mile main line of the narrow gauge coal carrier. EBT quit running in 1956, was reopened as a steam tourist road from 1960 to 2011, and was revived again in 2020 by the non-profit EBT Foundation, Inc. It is a registered National Historic Landmark, and this fall it celebrated the 150th anniversary of the 1872 start of its construction.
The revised plan is a scaled-back version of the Foundation's original concept, which called for a large event-venue building with a stage, suitable for concerts, weddings, and other occasions. The rapidly rising cost of construction materials pushed that idea into the future, according to EBT General Manager Brad Esposito.
The need to provide something in the interim led to the revised plan, he said.
"This will give [passengers] a chance to have picnics and events," Esposito said. "There's a high demand for it. We conducted surveys and that was one of the common threads — to let people off at the grove."
When the railroad first began carrying tourists in 1960, it operated about 3 miles in pull-pull fashion, with one steam engine powering the train north, then detaching while a following engine coupled on to pull it southward back to Rockhill Furnace. An existing siding known as the Clay Spur just south of here provided an opportunity to create a wye to simplify train operations.
EBT restored the main track to Clay Spur, adding a third leg to form a wye. Picnic pavilions were built, giving riders the option to stop over and return on a following train. A wye at Rockhill, leading to the Shade Gap Branch, allowed a cycle whereby trains turned again for the next northward trip.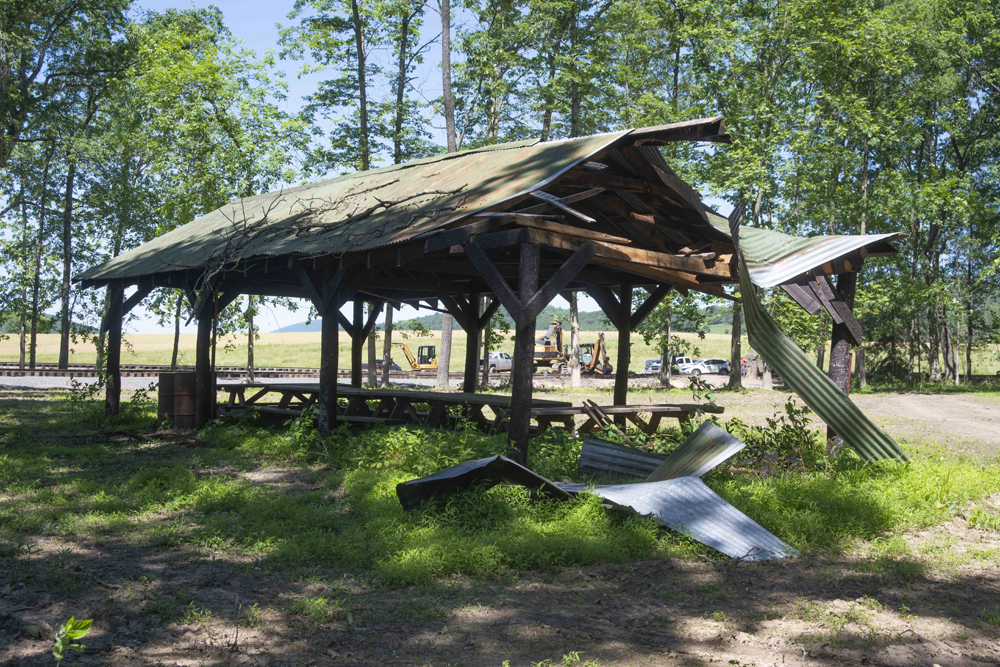 Ever since, EBT has prided itself on always running with the engine in front and facing correctly, a rarity among steam tourist railroads, which almost always must operate tender-first for half the run.
When it bought the property from its previous owners, the Kovalchick family of Indiana, Pa., in February 2020, the Foundation acquired 27 miles of the original EBT main line. Track crews — comprising both Foundation employees and Friends of the East Broad Top volunteers — began restoring ballast, culverts, ties, and rail on the 4½-mile tourist-era segment. One of the state grants the foundation won earmarked funds for the restoration of picnic facilities at the grove.
After reopening the 4½-mile stretch and the wye, EBT began running diesel-powered trains — as well as its 1927 gas-electric car and various speeders – to the grove again in October 2021. It also razed the tourist-era pavilions, which were falling down from lack of maintenance during the 2011-2020 shutdown. With no facilities, the railroad simply turns its train and starts southward without discharging passengers.
Other projects in progress
— Restoration continues to restore 1916 Baldwin Locomotive Works 2-8-2 engine No. 16, the first of six BLW Mikados that is undergoing work. All six date from their original arrival on the railroad between 1911 and 1920. Boiler jacketing on No. 16 is complete, Esposito said, while work on spring rigging and valve gear remain. The cab has been mounted to the deck, but must be removed for trimming and fitting.
— On the main line south of Rockhill, Esposito said, a contractor will soon resume clearing brush and grading, after which ballast will be laid, and ties and rail will be reinstalled. EBT's goal is to make the main line from Rockhill to Pogue, 3 miles, passable for light equipment and work trains by the fall of 2023. This part of the main line has not seen a train since common-carrier operations ended in 1956.
— Final design is under way for a fire suppression system to protect the historic circa-1900 shops complex and eight-stall roundhouse.