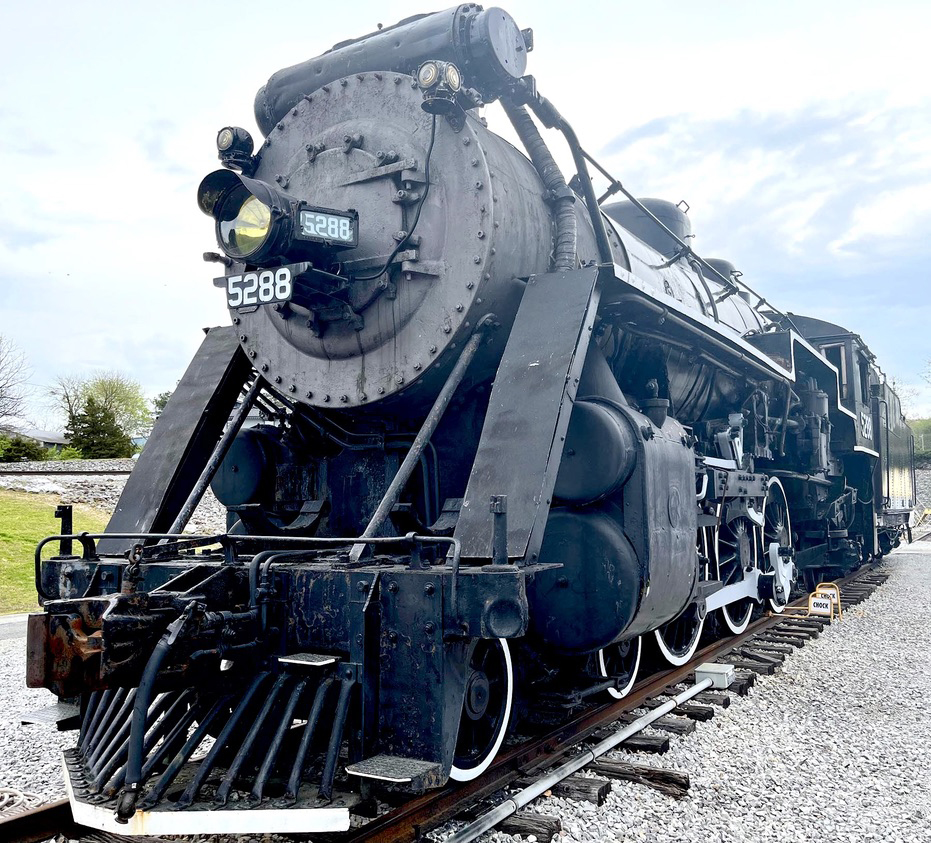 ---
CHATTANOOGA, Tenn. – The Tennessee Valley Railroad Museum will transfer ownership of former Canadian National 4-6-2 No. 5288 to the Colebrookdale Railroad Preservation Trust in Boyertown, Pa., the two organizations announced Friday, with Colebrookdale planning to eventually restore the locomotive to operation.
The engine will move to Pennsylvania as soon as possible.
Built by Montreal Locomotive Works for the Canadian Government Railways in 1919, the locomotive was assigned to the Grand Trunk and eventually Canadian National. No. 5288 was retired in 1961 and sold to Nelson Blount of Steamtown USA in 1961. The engine had been overhauled in 1957 and stored serviceable until it was sold to Blount. After its move to Pennsylvania in 1995, Steamtown rationalized its collection and in 2001 transferred the engine to TVRM, where it has since been on outdoor display.
"Over the past few years, TVRM carefully reviewed the current status and future possibilities for operation of the locomotive," Tim Andrews, TVRM president., said in a press release. "After being on outdoor display since arriving in 2001, the TVRM board determined that Colebrookdale could provide 5288 a broader range of options for the future." The museum remains dedicated to preservation and operation of steam locomotives, Andrews said, particularly those of regional significance.
The Colebrookdale group inquired about No. 5288 in 2020, and after carefully vetting the organization, TVRM's board agreed to the transfer in 2021. Since then, much discussion and planning for the move to Pennsylvania has taken place, according to Andrews.
Nathaniel Guest, executive director of the Colebrookdale Railroad Preservation Trust, tells Trains News Wire he was thrilled the museum agreed to release the locomotive. "We plan to display the locomotive as an historic artifact, build a shelter to keep it out of the elements, and eventually restore it to operation," he says He views the trust as the custodian of the locomotive until that time comes.
Colebrookdale is trying to tell a different story, Guest says, by portraying the "golden era" of passenger trains, from 1890 to 1920. "I'm captivated by the elegant passenger trains," he says. "Steam was always part of that experience, and we want to recreate an era and the look. The steam locomotive was a natural and authentic part of that picture."
Guest said the Colebrookdale Railroad Preservation Trust views each of its steam locomotives as historic objects, to be cared for as such. "They were authentically part of the picture. Eventually we'll restore them. Someday."
No. 5288 is the second Pacific type acquired by Colebrookdale, Guest notes. The first, Grand Trunk Western No. 5030, currently still in Jackson, Mich., is about seven years older and is smaller. No. 18, a chunky Alco 2-8-0 from Michigan's Lake Superior & Ishpeming Railroad is under restoration for eventual service on the Colebrookdale Railroad.
More information on the Colebrookdale Railroad is available at its website; for more on the Tennessee Valley Railroad Museum, visit its website.