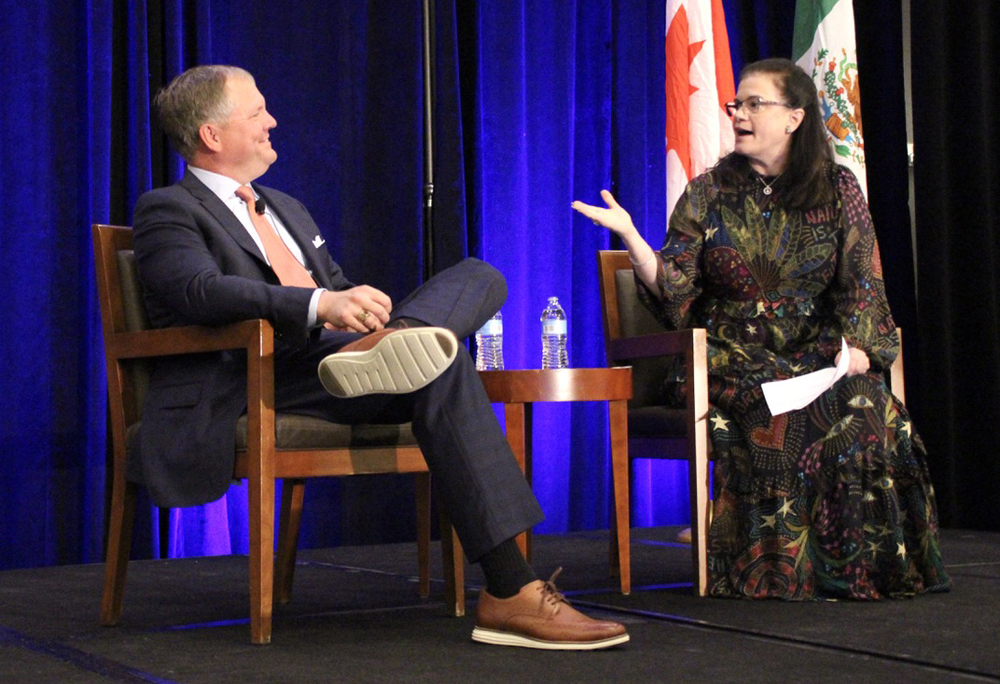 ---
LOMBARD, Ill. — The two Class I CEOs who addressed the Midwest Association of Rail Shippers on Wednesday took different approaches to the same addressing the same concerns for the audience filling a hotel ballroom, which is to say providing assurances that railroad service is improving and will continue to do so after the rail industry struggled in 2022.
For Canadian National's Tracy Robinson, this took the form of explaining why scheduled railroading — often seen as at least somewhat of a culprit in those rail performance issues — is working for the railroad and its customers.
For Norfolk Southern's Alan Shaw, it was reinforcing the idea — central to its current operating plan, and emphasized during its investor day presentation in December — that his railroad that his railroad wants to break the business-as-usual cycle of cutting people during an economic downturn, then reacting when conditions improve.
"I go back and look at the service product we've delivered over the last 15, 20 years," Shaw says. "Every three to four years, there's been a pretty significant disruption in our service product. And I know that no company is going to grow over the long term if it provides its customers a lousy product."
In some ways, the two viewpoints are closely aligned. Robinson made the case that a scheduled railroad, operating properly, has a better ability to deal with unexpected events; Shaw said the NS approach should lead to a more resilient, more reliable operation.
Robinson: Precision railroading is basic railroading
The lead-off speaker at the two-day conference, and the first of the three Class I CEOs scheduled to appear, Robinson acknowledged that "there's been lots of debate" about scheduled railroading.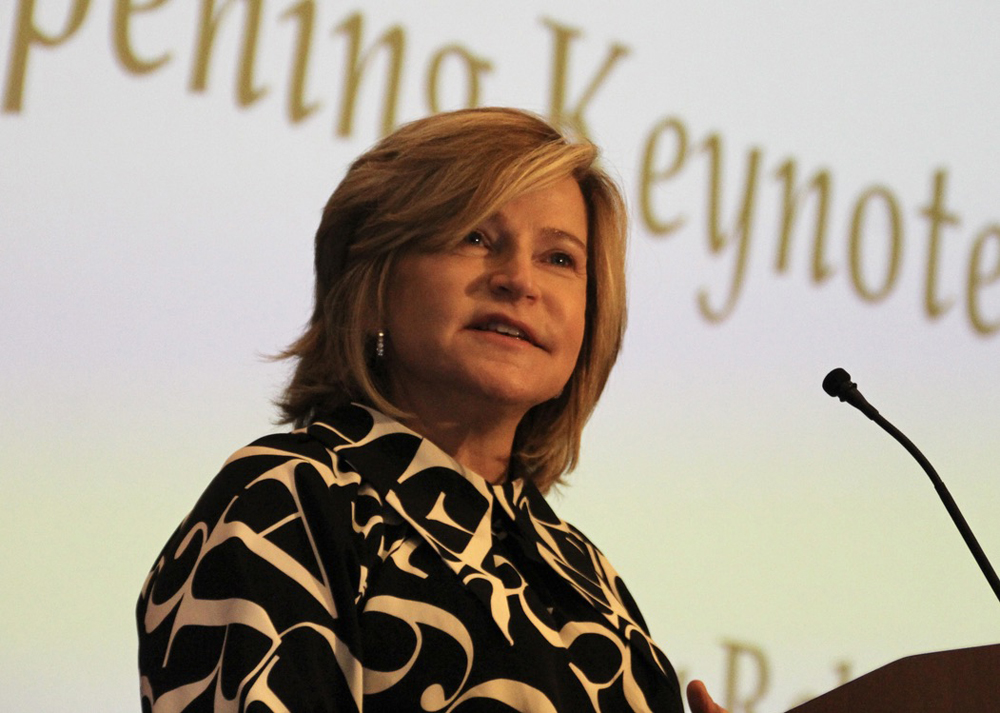 "But at CN, it's just basic railroading," she said. "It's about running to a plan, where trains originate and arrive on time. Where assets move, not sit. Where service to our customers is consistent. Where we're fast enough and consistent enough to offer attractive options to trucks and other modes. Where we are the first choice as a partner. …
"Over the last year, our team has demonstrated that this renewed commitment to running an on-time operation has driven benefits to our customers and our supply-chain partners. So we have improved dramatically the on-time performance across our system, including the local service to our customers. We are moving meaningfully faster, and we are dwelling less." Car velocity is currently about 220 miles a day, she said, up from 150 miles at the same time a year ago.
That improvement will continue, she said, "because these days, for you and in this world, this kind of operational performance is table stakes. We need it to support your business, and in truth, we need it to support our business."
In illustrating the concept of a more resilient railroad, Robinson cited Kirk Yard in Gary, Ind., which was hit hard by extreme winter weather just before Christmas and was "probably one of the hardest-hit points on our network," she said. "Ice, snow, 50-plus-mph winds for more than 24 hours. … I think it's a credit to our team, and evidence of the nimbleness of the scheduled approach to railroading, and winter preparation, that the impact to Kirk Yard and our U.S. operations was isolated to a very brief period. We knew it was coming; we rerouted around the area; we focused on getting on our operation up again quickly. And the impact was isolated, essentially, to one day, with about 24 hours to get back to normal operations.
"So we're learning as we go, we're relearning as we go, and we're going to remain focused on scheduled railroading."
Shaw: No more trying to 'time the market'
Speaking in a "fireside chat" with Adriene Bailey, a partner at consulting firm Oliver Wyman, Shaw said NS would no longer try to "time the market" in its decisions about crew staffing and assets.
"Because frankly, that's where we've gotten in trouble in the past," he said. "The economy moves up, and we don't have enough crews, or enough intermodal chassis, or enough locomotives."
The railroad knows, in the long term, that it will need those things, and technology, and other forms of capital investment, he said.  "And so the resiliency strategy at Norfolk Southern is: look out on the horizon, figure out where you want to be three to five years from now, and build a glide path and pathway towards investing over time to get there, instead of trying to move up and move down with the economic cycle. Because I'm pretty sure we're too slow to react when we're trying to time the economic cycle. That's what leads to service problems."
While those kind of short-term cuts have been helpful to railroad profitability in the short term, Shaw said there are sound financial reasons not to take such a cyclical approach.
"We took a look at this, and look at the revenue opportunity you lose, when you have a poor service product," he said. "And we're also talking about the additional costs. I don't think people realize a faster railroad is a less expensive railroad. One that's running on time, one that's running on schedule, is less expensive than one that's running off schedule.
"We've talked to our investors about how a poor service product has been costing us $150 million a year in service recovery costs." There is business the company misses when it's unable to respond to a recovering economy, he said.  "And then over the long term, we know that our inability to provide a consistent, reliable service product across the economic cycles prevents our customers from trusting us to grow.
"So you add all that stuff up, and look at the savings, especially with the furloughing of employees, and then look at what the costs are with recruiting and hiring and training employees when your furloughed employees come back, it's a pretty easy decision."