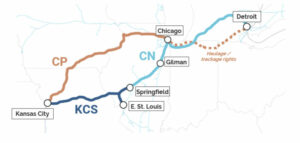 (updated Jan. 13, 1:46 p.m.)
MONTREAL – Canadian National wants to acquire Kansas City Southern's line linking Springfield, Ill., with Kansas City, Mo., and East St. Louis, Ill.
CN today said it would ask the Surface Transportation Board to condition approval of the Canadian Pacific-Kansas City Southern merger on divestiture of KCS's Springfield Line.
CN promises to spend at least $250 million to create the Springfield Speedway, a new single-line route linking Kansas City with Detroit and Eastern Canada via the Illinois capital.
The funding would beef up CN's 112-mile former Illinois Central Gilman Subdivision from Gilman, Ill., to Springfield and KCS's 288-mile former Gateway Western line from Springfield to Kansas City. CN's Gilman Sub is a 60-mph route with islands of centralized traffic control, while the KCS line is 40-mph dark territory with a sawtooth profile and short passing sidings.
When CN was seeking to acquire KCS, it said its largest single capital investment would be to upgrade the Springfield Line. Now CN argues that acquiring the route would improve service and railroad competition while taking thousands of trucks off the road annually.
"The Springfield Line is a direct competitive alternative to CP's route from Kansas City to Chicago, and beyond to Detroit and eastern Canada," CN said in a statement. "CP and KCS have made it clear in their merger application that they plan no investment on the Springfield Line, and instead will de-emphasize it in favor of CP's existing parallel line."
CN says that a divestiture of the route would open new international markets to customers by linking Illinois, Indiana, and Michigan manufacturers and farmers to the world. CN added that it would preserve existing competition by providing CPKC with haulage rights access to customers on the route, as well as to interchange with Eastern railroads at East St. Louis.
CN also seeks 8.3% ownership in the Kansas City Terminal Railway; a 50% interest in the KCS International Freight Gateway intermodal terminal in Pittsburg, Mo., south of Kansas City; trackage rights to reach the terminal; and trackage rights between Rock Creek Junction and Airline Junction in Kansas City.
CP, in a statement, said that CN's "proposal is built on a series of factual errors or misstatements."
The KCS Springfield Line is not parallel to CP's former Milwaukee Road route from Kansas City to Chicago, CP notes, and the KCS route ends at Springfield, well short of Chicago.
"Contrary to CN's misleading statements, KCS's line is not part of a through route to Chicago in conjunction with CN," CP said. "In fact, there is no direct connection between KCS and CN today at Springfield, and historic interchange volumes reflect the absence of any actual service here. Only four cars were interchanged by KCS at Springfield with CN in 2020 and 133 cars interchanged with CN in 2019."
CP said it will not downgrade the KCS Springfield Line or reroute traffic away from the line, which is an integral part of the KCS network and will see 30% traffic growth due to the merger.
The STB has the authority to order the divestiture of parallel trackage as a merger condition.
Link to CN filing: https://dcms-external.s3.amazonaws.com/DCMS_External_PROD/1642087383136/303512.pdf