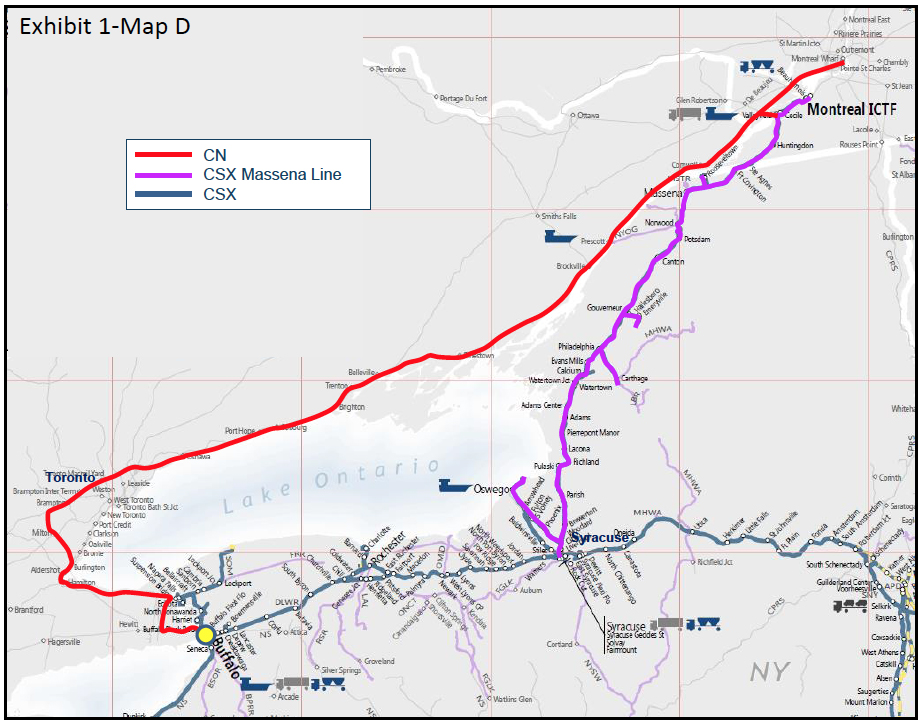 Canadian National's proposed acquisition of CSX Transportation's Massena Line linking the Syracuse, N.Y., area with Montreal remains in limbo, two weeks after the Surface Transportation Board refused to reconsider a condition it placed on the deal.
The railroads have declined to comment and they have not updated U.S. regulators.
The railroads previously said they would scuttle the deal if the board did not reconsider a condition that would permit CN to one day negotiate interchange agreements with short lines in Syracuse.
The STB in April 2020 approved CN's acquisition of the line through its Bessemer & Lake Erie subsidiary. But the board ordered CSX and CN to eliminate a provision in the sale agreement that would bar CN from ever negotiating direct interchange with the Finger Lakes Railway and the New York, Susquehanna & Western in the Syracuse area.
The board twice extended the deadline for the railroads to submit a revised purchase and sale agreement. The railroads told the board they were unable to come to terms and asked regulators to reconsider.
Industry observers did not expect the board's Feb. 25 decision to affect future transactions involving so-called paper barriers that require a line's new owner to interchange exclusively with the selling railroad. Paper barriers are common when a Class I spins off a branch to a short line.
Line sales involving two Class I railroads are relatively rare, however. "I think the main thing in this case was that it was a transaction between two Class I's and the STB is not in much of a mood to be favorable towards Class I's at the moment," one official says.
A shortline executive suspects that the problem in this case was that the purchase and sale agreement permanently barred CN from directly interchanging with area short lines. In contrast, many line-sale deals put time limits on an interchange restriction or have other stipulations that make eventual interchange difficult but not impossible.
Anthony B. Hatch, an independent rail analyst, says interchange restrictions are an expected part of line-sale deals. "It's like buying WCBS — well, your network is going to be CBS," he says.
The bigger story, Hatch says, is what the STB decision in a minor Class I deal like the Massena Line might mean for a megamerger involving two Class I systems. "If two railroads can't get this done," he says, there's no way a merger application could receive the STB's blessing.
The STB said that the interchange restriction posed "serious competitive concerns" and that there were no reasons why it should reconsider its decision or the condition it imposed.
Regulators also found no merit in the railroads' contention that the board erred in imposing a condition designed to protect B&LE, "a 'sophisticated buyer' capable of evaluating the commercial impacts of the transaction."