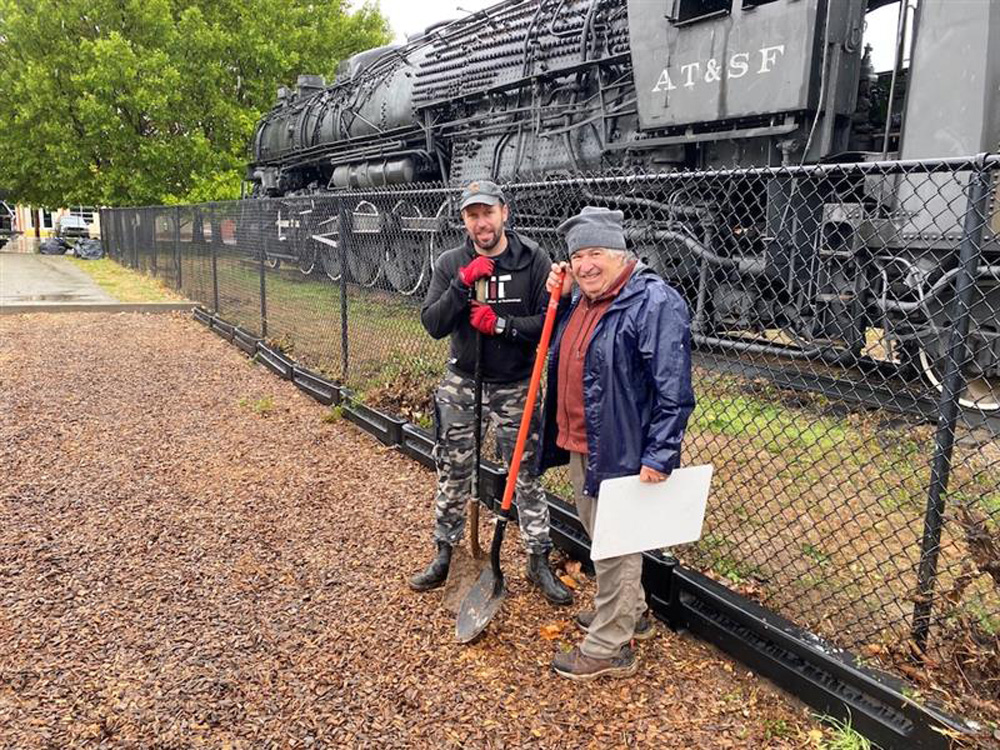 ---
SANTA FE, N.M. — Santa Fe 2-10-4 No. 5030, displayed in a Santa Fe park since 1959, is getting a refresh thanks to the Old Santa Fe Association. Volunteers from the civic association cleared trash and weeds and set up a new fence around the 380,300-pound machine. They repaired some of the rust and corroded metal from the boiler before giving it a fresh coat of paint. A new sign is attached to the chain link fence that announces that the "Park Train" has been adopted by OSFA.
Community activist Rick Martinez brought the locomotive's poor condition to the attention of the Old Santa Fe Association, which adopted it and repainted it in October. "It was really [in] bad shape," Adam Fulton Johnson, the association's executive director told the Santa Fe New Mexican. "There was a lot of trash, [and] there was actually a person living in it. The train is a part of history, and we want to protect it, sort of as a landmark."
No. 5030 is one of twenty-five oil burning Texas-type 2-10-4 5011 Class locomotives built for Santa Fe by Baldwin in 1944. Designed to haul heavy freight at speeds approaching 70 mph, they also pulled passenger troop trains during the final years of WWII. Modern features of the 5011 Class included Timken roller bearings fitted to all axles, cast-steel beds with integral cylinders and lightweight rods. No. 5030 is one of five preserved Santa Fe 2-10-4s, the others are No. 5000, Santa Fe's first 2-10-4 built in 1930 and displayed in Amarillo, Texas; No. 5011 at the National Museum of Museum of Transportation in St. Louis; No. 5017 at the National Railroad Museum in Green Bay, Wis.; and No. 5021 at the California State Railroad Museum in Sacramento.
The City of Santa Fe provided about $1,200 for the project. Local business Xtreme Painting volunteered to coat the locomotive with a black rust-resistant finish. Volunteers then hand-lettering the numbers, Santa Fe name, and painted the trim to restore the locomotive to its original look.
The group will host a bell-ringing ceremony Nov. 19 at the park to christen the locomotive.