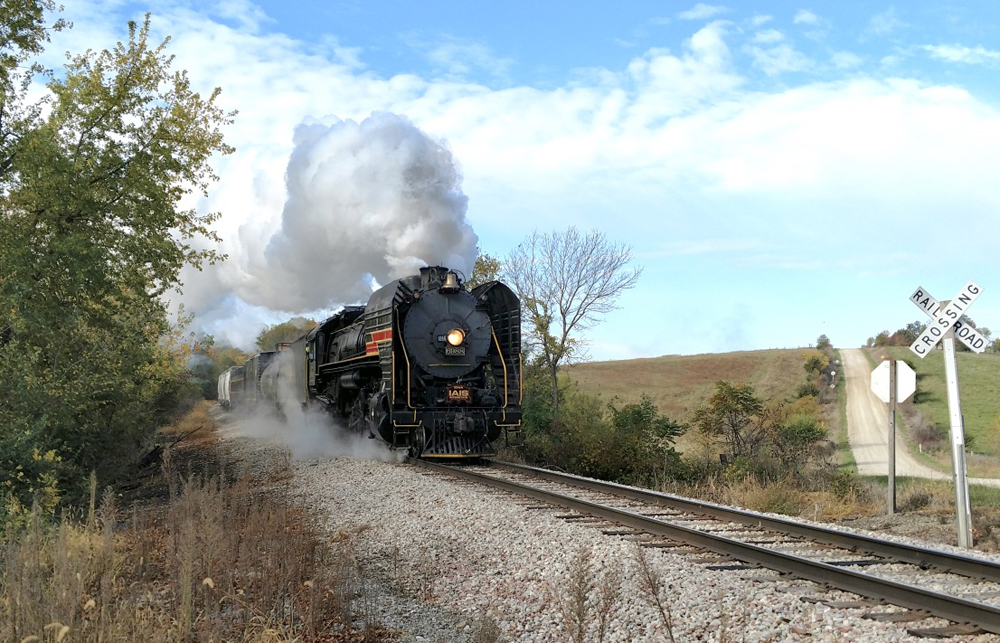 ---
NEWTON, Iowa — Fifteen years have flown by for Chinese-built QJ 2-10-2 No. 6988, and it is making its last runs today and Saturday before going into storage.
The locomotive is at the point where it is required to have a 15-year inspection per Federal Railroad Administration. It and sister No. 7081 were brought to the U.S. in 2006. Only No. 6988 has been active in recent years, pulling short fundraising excursions for fire departments and other emergency response and cultural organizations along the Iowa Interstate Railroad. The last of these was in August and September.
Today and Saturday, the non-profit in charge of the locomotives, the Central States Steam Preservation, is slated to run freight with No. 6988 between its home in Newton and South Amana, Iowa. The engine also made three short trips Thursday between Newton and Kellogg, Iowa. The aim is to use the remaining coal for the locomotives before they are placed in storage.
No. 6988 was built in 1985 and saw extensive service in China until it and No. 7081 were brought to the U.S. with sister 7081 by the Iowa Interstate. The two engines ran in community service until 2013 when they were set aside. The Americanized No. 6988, nicknamed Iowa Bolt, was brought back out in 2019.