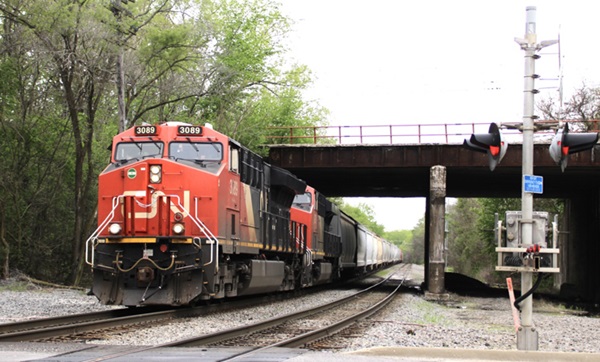 WASHINGTON — The Chicago suburb of Barrington, Ill. — which battled Canadian National's acquisition of the Elgin, Joliet & Eastern in 2009 and has protested increased rail traffic ever since — has warned federal regulators that CN's proposed merger with Kansas City Southern would create "a traffic congestion nightmare for the people of the greater Chicagoland area."
An organization representing Chicago-area mayors has also expressed concerns, among them the impact the merger could have on Metra commuter operations and Amtrak passenger service.
The EJ&E is CN's Chicago bypass, connecting its former Wisconsin Central, Illinois Central, and Grand Trunk Western lines to create the only single-line route around North America's congested rail hub. CN traffic in Barrington, northwest of Chicago, has risen from an average of 6.4 trains per day in 2009 to more than 18 as of 2016, the last full year of STB oversight of the EJ&E merger impacts.
Barrington argues a CN-KCS combination would further increase rail traffic through the community, which aims to build an underpass to relieve grade-crossing congestion.
The KCS board is reviewing CN's unsolicited $33.7 billion merger offer, which came about a month after KCS and Canadian Pacific announced their friendly $29 billion merger deal. CP has received STB approval to put KCS into an independent voting trust while the merger is under review, and CN is seeking the same regulatory approval.
"Based on the potential for severe negative impacts on the Village and other Chicagoland communities that are already struggling to cope with massive rail freight volumes in the most congested rail chokepoint in the nation, it is imperative that the Board carefully assess the CN merger before greenlighting it for KCS shareholders with premature Trust approval," Barrington's lawyer, Richard Streeter, wrote in a May 7 letter to the Surface Transportation Board.
Analysts say that if CN obtains approval to put KCS into a voting trust, it's likely that its offer will prevail over CP's in the battle for KCS. CN has not provided details on how its acquisition of KCS might affect rail traffic in Chicago. That's typical as railroads develop traffic projections as part of a formal merger application.
Based on preliminary talks with KCS, CN says forest products and propane traffic from Western Canada to destinations on KCS may increase. But most of the traffic growth from a CN-KCS combination, officials have said, may be intermodal and automotive traffic linking Mexico and Texas with Detroit and Eastern Canada — points that would not involve Barrington.
The town's lawyer also wrote that traffic moving between Western Canada and points on KCS would not touch the Chicago area in a merger between CP and KCS.
"Without question, the proposed CN-KCS merger would have major implications for the region, impacted communities, and regional traffic flow," Streeter wrote. "Because the approval of CN's Voting Trust motion may predetermine the outcome of the matter, the Board is urged not to make any premature decisions on this matter absent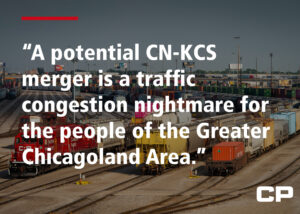 robust analysis that can truly gauge if this merger would survive public interest scrutiny."
The board's public interest test for a voting trust, however, hinges on whether a dissolution of a merger agreement or a regulatory rejection of a merger would compromise the railroads' financial and operational capabilities.
Barrington's filing was bolstered Monday by a letter from the chairman of the Metropolitan Mayors Caucus Executive Board, a group representing mayors in the eight-county Chicago area. It asks the STB to consider seven questions in weighing whether the merger is in the public interest for the region. Along with concerns about Metra and Amtrak operations, they include whether CN operations reflect what the railroad predicted when it bought the EJ&E, and how updated operating information should influence the board decision; how many additional train movements would result in the region; and to what extent the merged railroad would be required to mitigate community harm.
Canadian Pacific, which continues to publicize what it claims will be the negative impacts of a CN-KCS merger, has highlighted the Barrington filing in a series of social media posts on both its Twitter and Facebook pages.
— Updated at 2:15 p.m. to reflect filing by Metropolitan Mayors Caucus. Trains editor David Lassen contributed to this report.