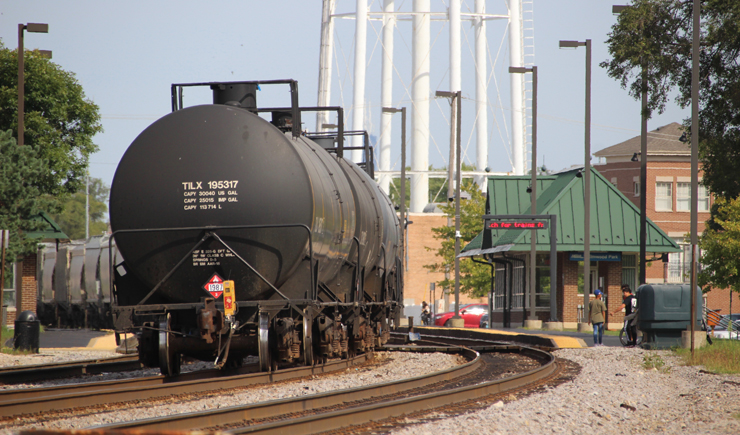 ---
WASHINGTON – Railroads are trying to shift liability for the shipment of hazardous materials to chemical producers, a trade association says in a letter to federal regulators.
The American Chemistry Council, which represents chemical manufacturers, raised concerns about railroad liability and insurance requirements in a letter this week to the Surface Transportation Board.
"Railroads leverage their market power to impose requirements on customers beyond what would be possible in a more competitive marketplace. These requirements inappropriately minimize railroad liability for transportation risks that the railroad itself has the greatest ability to mitigate. This potentially undermines both the safety and viability of shipping hazardous materials by rail," Chris Jahn, the chemistry council's CEO, wrote.
Rail is the safest way to move hazardous materials, including toxic inhalation hazard materials such as chlorine, Jahn noted. "It is essential to our nation's economy and public safety that these materials continue to move by rail," he wrote.
The insurance policies carried by Class I railroads typically provide $1 billion to $1.5 billion worth of coverage, which the chemistry council says is enough to "cover the vast majority of foreseeable incidents" when combined with self-insurance.
The Feb. 3 hazardous materials derailment in East Palestine, Ohio, has already cost Norfolk Southern nearly $1 billion, although the railroad says it will seek reimbursement from shippers and railcar owners who were involved in the derailment.
The derailment has increased scrutiny of hazardous materials shipments by rail and the risk they pose to lineside communities.
"Shippers share in the cost of insurance and legal liability through the rates they pay for rail service. ACC is not aware of evidence in the public record to quantify the unique railroad costs for transporting hazardous materials," Jahn wrote. "However, railroads have wide latitude to recoup such costs through ratemaking. Railroads have commonly told ACC member companies that the high rates charged for carrying hazardous materials are driven by the cost of insurance and the additional liability posed by these materials."
Chemical traffic brings in the highest revenue per unit of any carload commodity, and chemical producers' supply chains are among the most rail-dependent of any industry.
Most railroads have imposed tariffs that include insurance and indemnity requirements for toxic inhalation hazard shipments, the ACC says, on top of the rates shippers already pay.