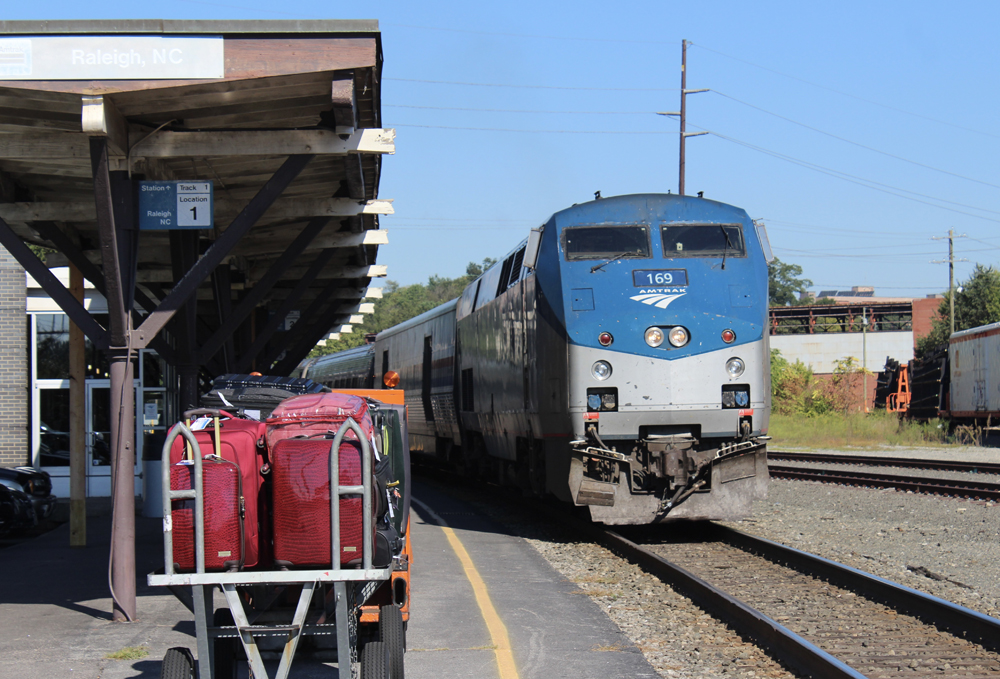 ---
WASHINGTON — Amtrak says checked baggage service is being dropped this fall from two state-supported routes "due to equipment shortages" — even though the company received 70 new baggage cars as part of its 125-car Viewliner II equipment order from CAF USA in 2014-15.
The company now says, however, that a notice posted in at least one station saying the Southwest Chief and Capitol Limited are also affected is erronious.
The trains affected are the Carolinian and Pennsylvanian. An advisory in the "service alerts" section of Amtrak's website explains the Carolinian will continue to accept carry-on bicycles, but neither checked baggage nor checked bicycles are being offered on the Pennsylvanian's New York-Pittsburgh route. The cutbacks begin Oct. 3, with "service expected to resume on or about Nov. 17."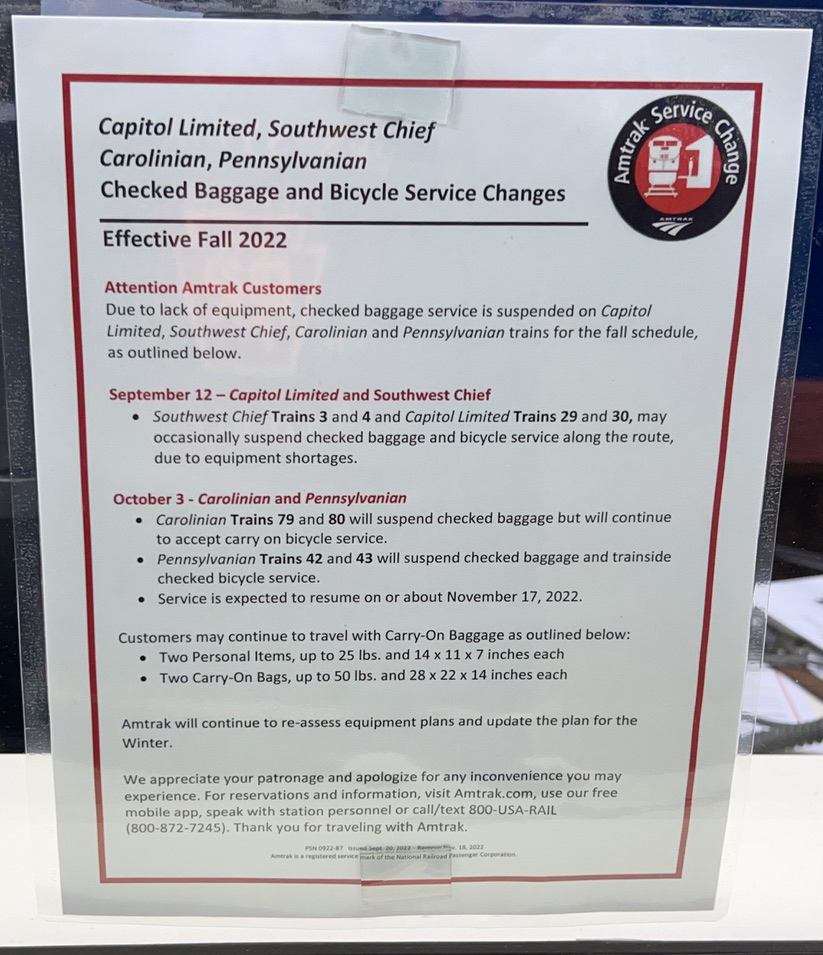 No similar alert shows up on the website for those attempting to book tickets for the Chief and Capitol, but the advisory at right, photographed in Pittsburgh, includes those trains and says the company "may occasionally suspend checked baggage and bicycle service along the route, due to equipment shortages."
A Trains News Wire spot check when attempting to add a bicycle to a Chicago-Albuquerque, N.M., or Pittsburgh-Washington, D.C., booking revealed no checked-baggage prohibition on either train for the week beginning Sept. 26. Two bicycle slots at $20 each were available for every Southwest Chief departure, but all bicycle availability showed "sold out" on the Capitol Limited all week.
Historically, the North Carolina-sponsored Carolinian has always carried a baggage car, but Pennsylvania only recently paid to add on to the Pennsylvanian, whose clientele often includes college students.
Each of these trains has operated with a Viewliner II baggage car, although in recent years the Capitol carried both checked baggage and bicycles in the lower level of a Superliner coach-baggage. That reduced capacity was what was rectified for the summer of 2022.
The service reductions join suspension of three Midwest Corridor round trips this fall in citing lack of equipment as a reason for the temporary elimination [see "Amtrak suspensions bring brief relief …," News Wire, Sept. 19, 2022].
However, the root cause is depletion of the maintenance forces that keep cars and locomotives operational. Of the 70 Viewliner II baggage cars, only five are reportedly out of service, according to the online component of the book "Amtrak by the Numbers," by David C. Warner and Elbert Simon.
Meanwhile, the first Seattle-Vancouver, B.C., Amtrak Cascades round trip since March 2020 is set to resume today (Monday, Sept. 26). The bicycle charge is $5.
— Updated at 8:37 a.m. CDT with Amtrak saying advisory including Southwest Chief and Capitol Limited in baggage cuts is in error.