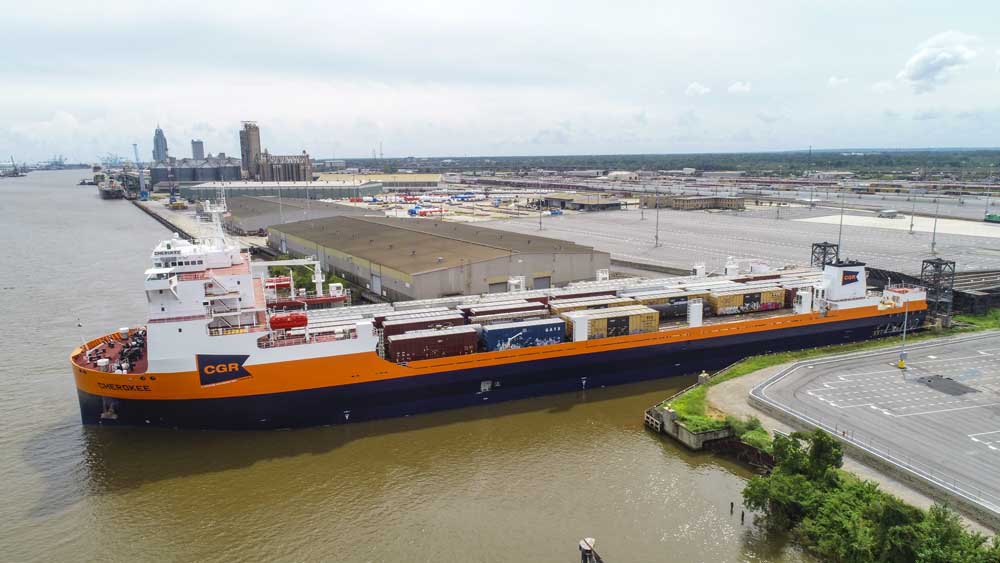 JACKSONVILLE, Fla. – CG Railway's new rail ferry, which plies the Gulf of Mexico between Mobile, Ala., and Coatzacoalcos in Mexico, set a speed and volume record on its maiden 1,912-mile round trip this month.
The 590-foot Cherokee departed the Port of Mobile on Sept. 12 with 122 freight cars aboard. It arrived at the Port of Coatzacoalcos three days later. The ship departed Coatzacoalcos on Sept. 15 with 130 freight cars on board and arrived at Mobile on Sept. 18.
"We are extremely pleased with the Cherokee's performance during its maiden voyage," Todd Biscan, CGR vice president of sales and marketing, said in a statement. "The rail ferry transported more than 22,500 tons of diverse commodities, including chemicals, plastics, pulp and paper, agricultural products and food. CGR is excited to enhance service quality to customers and safely move railcars from the U.S. to Southern Mexico in three days with customs cleared en route."
CG Railway, a Class III railway, dates to 2000. In 2017 it became a joint venture of short line holding company Genesee & Wyoming and SEACOR Holdings.
The Cherokee is the first of two new double-deck ferries that will replace CG Railway's two existing vessels. The second ferry, the Mayan, on Sept. 22. It's expected to enter service in December.
The new vessels cut sailing time to three days from five and can carry 135 railcars, up from 115, and have a top speed of 14 knots, up from 7 knots on the old ships. The new vessels increase CG Railway' capacity by 40% thanks to their additional capacity and faster sailing times.
The railway handles 10,000 carloads per year and connects with Ferromex in Coatzacoalcos and seven railroads in Mobile: BNSF Railway, Canadian National, CSX Transportation, Norfolk Southern, Alabama & Gulf Coast Railway, Mississippi Export Railroad, and the Alabama State Port Authority's Terminal Railway.
The new ferries also provide a 44% reduction in carbon dioxide emissions per ton-mile compared to an all-rail route, the companies say.