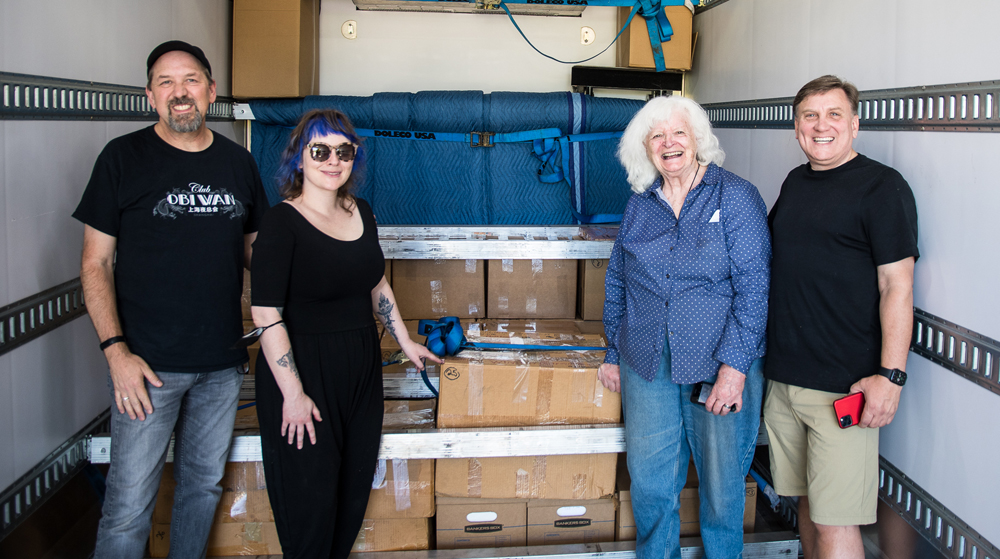 ---
MADISON, Wis. — The Center for Railroad Photography & Art will offer an online look at its newly acquired collection of the works of rail photography legend Richard Steinheimer on Aug. 2.
The event, free but exclusive to CRPA members, will be held on Zoom at 7 p.m. CDT, and will provide the first look at the materials included in the collection. It will feature Steinheimer's widow and photographic partner, Shirley Burman Steinheimer, along with Steinheimer devotees Elrond Lawrence (the center's acquisitions and marketing coordinator) and Ken Rehor.
"Spending a week in Stein's office and darkroom was like being a kid in the greatest candy store ever, and we can't wait to share that experience," Lawrence says. "While it was mind-blowing to handle Stein's original works, what really struck us were the hundreds and hundreds of great photos we'd never seen before. Shirley is a wealth of information and entertaining stories which we know fans will love."
It will provide a look at the process of preparing the collection for its move from California to the Center's facility in Madison, as well as a Q&A with Shirley Burman Steinheimer and members of the CPRA team that will manage cataloging and digitizing of the collection.
The Center announced the acquisition of the Steinheimer collection in June [see "Center for Rail Photography & Art acquires Steinheimer works," Trains News Wire, June 13, 2022], a development CRP&A Executive Director Scott Lothes calls "truly a monumental event in the center's history.
"From the day I joined the staff in 2008, I have hoped we could be the steward for Stein's photography, and I know our founder, John Gruber, also held that hope," Lothes says. "As our archivists dive into the dozens of boxes that arrived from California, I can hardly wait to see what they find."
Information on the event and registration for Center members is available at this page on the CPRA website; membership information is available here.
— Updated at 7:50 a.m. CDT with additional comment from Elrond Lawrence.