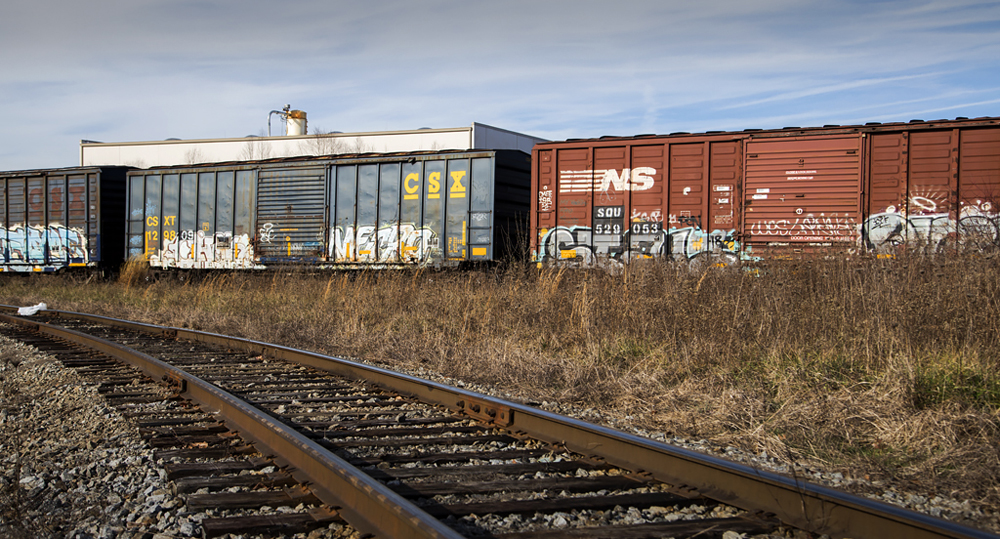 ---
CHARLESTON, W.Va. — Supply-chain woes stemming from COVID-19's economic rebound have been thoroughly scrutinized in the past year, specifically the interwovenness of intermodal container rail shipments and its role in the supply chain. Trains' Bill Stephens summarized the topic as part of 2021's year-end countdown of major stories: "News Wire Top 10, No. 3, a snarled supply chain," Dec. 29, 2021.
One opportunity that has sprung from supply chain unknowns is renewed interest in the boxcar. As truck drivers flock to lucrative opportunities where logistics companies are paying high wages to move goods, some shippers can't find drivers and are leaning on the reliable boxcar. This is exacerbated by higher freight rates and fuel costs that continue to rise in a transportation environment still relatively flush with uncertainty.
According to DAT Freight & Analytics trendlines for December 2021, van load-to-truck rates were up 35% year-over-year, flatbed load-to-truck up 27%, and fuel prices up nearly 41%. December capacity was particularly constrained as a result of expected holiday orders, further influencing escalated prices.
For shippers with the versatility to choose between trucks and railcars, this invites reconsideration of the benefits of the boxcar. Truckers were successful in pulling volume from railroads when U.S. highways were built, but periodic trucking capacity constraints may boost the rail option. Also, the move to Precision Scheduled Railroading has set rigorous railroad operating metrics that focus on delivery timeliness and reliability, which may bolster the shippers' case for rail.
While these circumstances may aid interest in the boxcar, there is reason to wonder of these railcars will still be around in a few years.
Railroads own the majority of the boxcars used today, and a significant portion of today's fleet was built in the early- to mid-1970s as the standard Plate C 50-foot boxcar. Many shippers who intermittently use rail, but mostly truck, may only have infrastructure that supports the 50-foot design. And with boxcars being the secondary choice, except in current anomalies, can shippers justify capital spending to accommodate larger 60-foot boxcars at warehouses and loading docks?
That decision lays in the hands of the business, and the railroads will not wait. It is estimated there are fewer than 100,000 boxcars in the U.S. today. About one third of the fleet has disappeared in the past 10 years, with thousands of additional boxcars approaching the end of their lifespan in the next half-decade. Boxcar construction is capital intensive for railroads and replenishing the fleet on a one-for-one basis likely isn't practical, considering the volume of shipments that have more or less permanently migrated to highways since the last wave of boxcar builds, when railroads handled a larger share of manufactured products.
Customers whose needs rely heavily on rail have already migrated to 60-foot boxcars and infrastructure. These newer Plate F high-cube boxcars have many years of life remaining. Less frequent shippers, who may not be able to justify the spending to modify their facilities for the 60-foot cars, must rely on the dwindling pool of 50-foot cars. When trucking supply is tight in the future, there will be ever fewer boxcars to lessen the burden, and some of these shippers' move to trucks will be permanent.
It's a quandary that has shippers scrambling for boxcars at the same time a significant portion of the fleet is on its last days of life. For a Class I railroad today, these cars represent a respected return on investment, considering so much of today's pool fleet was inherited from predecessor railroads. On the other hand, it's odd to imagine a list of customers in desperate need of an old but otherwise sound 40-plus-year-old boxcar just as it's rolled into a scrap yard.
— Chase Gunnoe works in marketing & sales for the freight rail industry and is the author of Carload Considerations, a new monthly commentary series at Trains News Wire. It will discuss the freight rail industry, commodities, and economic trends. Its views are the sole opinion of its author with no particular emphasis on a specific railroad or shipper.