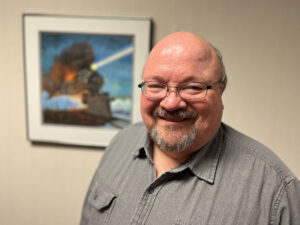 WAUKESHA, Wis — Kalmbach Media Co. has named veteran railroad editor and journalist Carl A. Swanson as the new editor of TRAINS, the nation's largest-circulation magazine about the railroad industry.
Swanson succeeds the late Jim Wrinn, who died March 30, 2022, and served as editor for more than 17 years. Kalmbach has published TRAINS monthly since its founding in November 1940.
Swanson joins the TRAINS staff from MODEL RAILROADER, where he served as editor for the past three years. Before that he led Kalmbach's CLASSIC TOY TRAINS for 13 years. He relishes the opportunity now to lead what is known as the magazine of railroading.
"No industry has a richer history or a more dynamic future than railroading, and no one covers it better than Trains," says Swanson. "As a lifelong railfan and avid reader of the magazine, I am excited and humbled by this opportunity to continue TRAINS' tradition of excellence in informing, delighting, and serving our customers."
A Nebraska native, Swanson was a reporter for the Norfolk (Neb.) Daily News before embarking on his railroad journalism career. Swanson was editor of Pentrex Publishing's Passenger Train Journal and Rail News magazines prior to joining Kalmbach in 1997 as associate editor of CLASSIC TOY TRAINS. He moved over to TRAINS magazine as an associate editor in 1999 and then promoted to senior editor of MODEL RAILROADER in 2002.
Someone who knows Swanson's work from his previous tenure at TRAINS is the current acting editor, Kevin P. Keefe, who served as the magazine's editor in the 1990s and went on to serve as its publisher before his retirement as Kalmbach's vice president-editorial in 2016.
"Carl has wide-ranging interests when it comes to railroading," says Keefe. "In his earlier stint at TRAINS, he did an excellent job of recognizing what readers want, and now he'll do the same in the top job. Couple that with his superb skills as a writer and you have someone who will more than live up to the traditions of the position."
Swanson is also author of "Faces of Railroading," a deluxe pictorial tribute to the people of railroading, published by Kalmbach Books in 2004. He also edited the second edition of Kalmbach's "Command Control for Toy Trains."
A graduate of the University of Nebraska-Lincoln and the Woodland School of Photography, Swanson enjoys exploring and writing about local history and has authored two books for The History Press, "Lost Milwaukee" in 2018 and the recently published "Historic Crimes of Milwaukee." He blogs regularly at www.milwaukeenotebook.com.
Swanson lives in Milwaukee with his wife, Judith. The couple has three adult children.