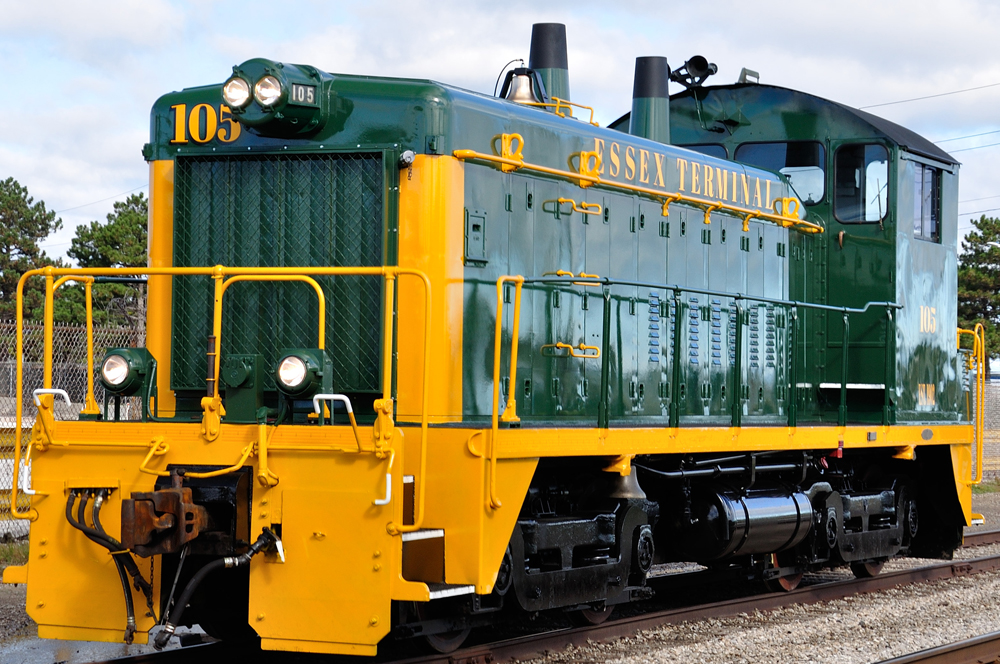 ---
WINDSOR, Ontario — The Essex Terminal Railway is celebrating its upcoming 120th anniversary by unveiling a rebuilt SW1200 restored to its original colors.
The short line serves industries along 54 km (33.5 miles) of track in Windsor and surrounding Essex County, across the border from Detroit. It commissioned Sarnia, Ont., firm Lambton Diesel Specialists (LDS) to carry out the $500,000 rebuild of locomotive No. 105, built in 1956.
The green paint scheme, a sharp contrast to the current dominant yellow livery, was applied to a locomotive that was completely rebuilt except for the cab and frame.
Among the myriad changes: the 1,200-hp engine was replaced, with the original 12-567B prime mover swapped for a 12-645E load-tested at 1,394 hp. Both power truck assemblies with upgraded to D77/D78 traction motors. Other enhancements included a WBO double-ended air compressor and a D-15-C main generator. New brake arms and levers with heads and brake straps are all riding on newly mounted "FAT 40" bearing type wheels. Interior cab improvements included GPS tracking with speedometer, new electric cab box heaters instead of the original water type heaters, and n- slip flooring.
Michael Semande, the ETR's director of operations, lauded LDS's restoration, noting it was "absolutely the best company that we ever had to deal with, with refurbishing any locomotives — hats off to those guys."
No. 105 is part of a fleet whose most recent locomotives date to the 1970s. "We've got a pretty old fleet but very well taken care of," Semande said, "and this one is entirely new for us, so we're hoping to get another 30 or 40 years out of it."
The entire project was done secretly and was a total surprise to the railroad's staff when unveiled.
"The cellphones came out from everybody in the room," Semande said. "Our employees were posting it everywhere. So it was a real morale booster."
Beyond that, area motorists were stopping  and snapping photos of the refreshed engine as it went past.
"It's bringing back memories for a lot of their parents who were around when that locomotive first hit our fleet," Semande said.
The Essex Terminal is the "main umbrella" of three companies including Morterm, a marine shipping port, and Motipark Automotive Storage, which services the auto industry in what many consider to be Canada's auto capital.
The short line, incorporated in 1902, serves several major industries including chemical, agribusiness, salt, lumber and scrap metal. It has interchanges with Canadian National, Canadian Pacific, and CSX.