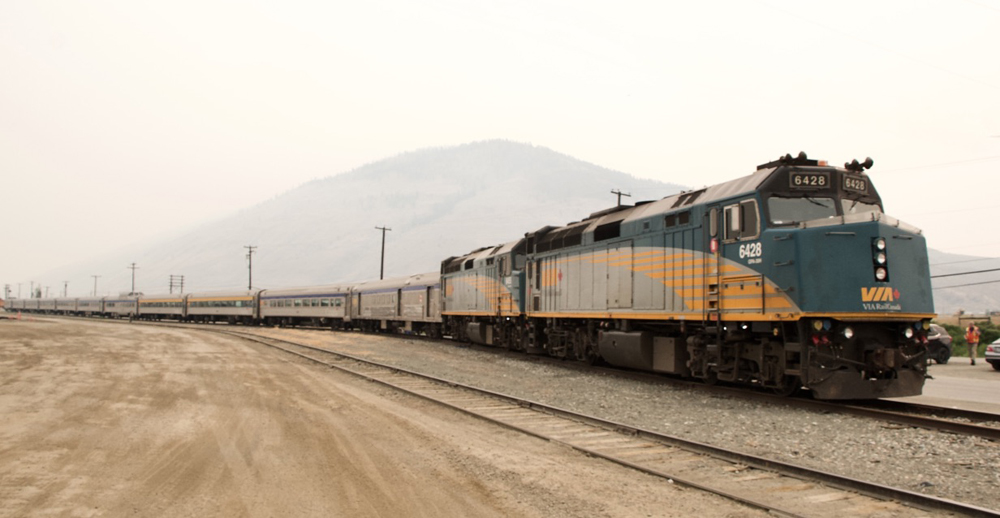 KAMLOOPS, British Columbia — VIA Rail Canada's Canadian, luxury cruise train Rocky Mountaineer, and Amtrak's Coast Starlight have had their operations disrupted by western wildfires, with trains running over only part of their routes because of fire damage.
The wildfire that decimated the town of Lytton, B.C., halted last week's westbound Canadian about 100 miles to the northeast at Kamloops, B.C., last Wednesday. Passengers were bused the final 218 miles to Vancouver, while the train was sent to the yard that serves the Rocky Mountaineer shops. The once-weekly train is scheduled to originate at Kamloops today (Monday, July 5), as track cleanup continues in the Lytton area. Passengers will be bused from Vancouver, according to a VIA Rail Canada source.
The CBC reports most of the structures in the village of 250 people were destroyed by fire, with two people confirmed dead and others still unaccounted for. More than 1,000 people were forced to evacuate with no more than 15 minutes' notice.
Canadian National and Canadian Pacific operate through Lytton on paired trackage, with eastbound trains operating on CP and westbounds on CN. Canadian National said in a Friday statement the events in Lytton "are deeply distressing" and that it had offered its assistance to local elected officials, and offered its support "to the people of the First Nation of Lytton and we are committed in assisting this community during this tragic event." The railroad said it was evaluating the impact on operations but that its focus was on "the safety and support of the community."
As of Monday, the CBC reports more than 180 wildfires were burning in British Columbia, with 60 in the Kamloops region. Temperatures reached 121 degrees (F) in Lytton last week, the highest temperature ever recorded there. Almost 500 "sudden deaths" in the province during the last week have been attributed to the heat. The next weekly westbound Canadian has departed Toronto, but it is not known how long the track outages will continue.
Rocky Mountaineer also has an eastbound departure from Vancouver scheduled for today, its first trip of the year to Banff. Spokeswoman Nicole Ford tells Trains News Wire, "The plan is for guests to travel by motorcoach to Kamloops. After their overnight stay there, they will travel by train from Kamloops to Banff on Tuesday. We do not yet know if the westbound departure, which leaves Banff on July 7, will be impacted, but will continue to work with our rail partners to understand the situation and resulting impact on our operations, and we will keep guests informed throughout their journey."
Fire damage to bridge halts Starlight north of Sacramento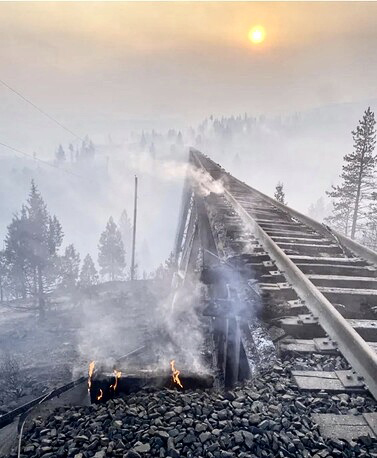 Meanwhile, a fire on Union Pacific's Dry Creek trestle north of Redding, Calif., on June 28 caused enough structural damage to shut down the railroad for weeks. Amtrak instituted an overnight bus bridge between Klamath Falls, Ore., and Sacramento, Calif., for its Los Angeles-Seattle Coast Starlight from June 29 through July 1, but then cancelled the train north of Sacramento through at least July 14, pending bridge reconstruction by the host railroad.
Passengers between Eugene, Ore., and Seattle can use two daily Amtrak Cascades round-trips, but Klamath Falls and Chemult, Ore., and Dunsmuir, Calif., are losing service. Redding and Chico, Calif., are served by Amtrak Thruway buses connecting with Capitol Corridor trains.
Although a detour route is available on the "Inside Gateway" once operated by Western Pacific and Burlington Northern, Amtrak crews are not qualified and slower speeds would not allow the passenger train to reach its terminals in time to turn the equipment.
With the current truncation, the Starlight can turn overnight at Sacramento.