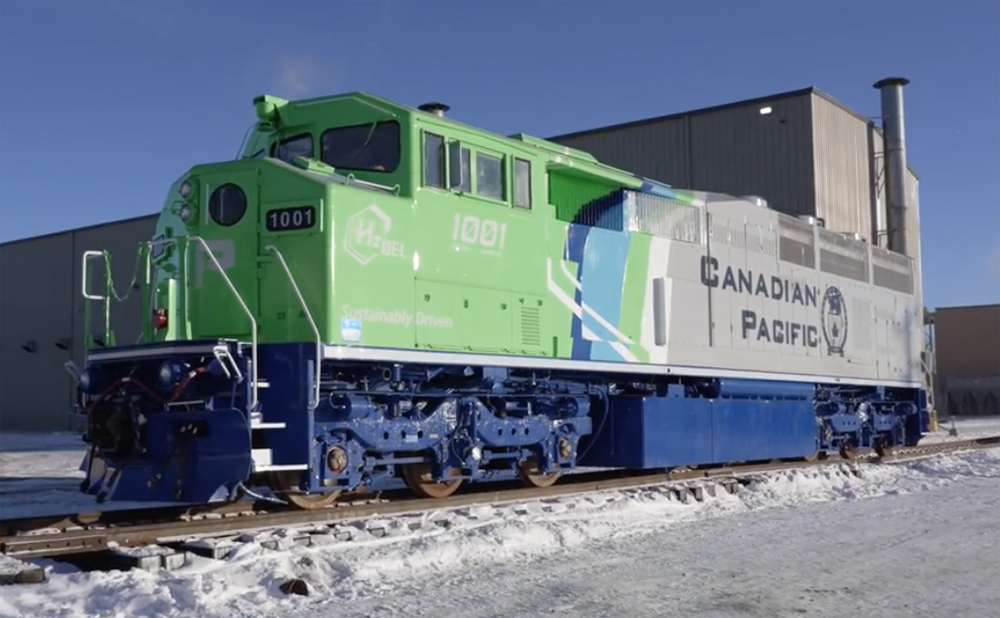 ---
NEW YORK — Canadian Pacific's experimental hydrogen-powered locomotive made its maiden revenue run last month in Calgary, Alberta, taking the first step in determining whether the technology could one day replace diesel-electric locomotives.
"I'll tell you, the excitement around it, the potential of it, is real," CEO Keith Creel told the RailTrends conference on Tuesday. "And to see it two weeks ago, running down the main line at main line speed pulling a load behind it, I mean it made the hairs on my arm stand up because I would have told you two years ago it's a pipe dream … Well, it's not a pipe dream. It's a reality. Still a lot of work left to do, but it's super, super exciting."
The home-built unit, converted SD40-2F No. 1001, is dubbed H2 0EL for "hydrogen zero-emissions locomotive." The Oct. 28 revenue test run was the second main line foray this year for the unit, which uses hydrogen fuel cells and batteries to power its electric traction motors.
CP is using solar power to produce hydrogen at its Calgary headquarters. It also has a separate hydrogen production facility in Edmonton. CP is partnering with the Alberta provincial government to build a DC-traction version as well as another AC-traction unit.
By the end of next year, CP expects to have the three locomotives switching customers in Calgary, Edmonton, and Vancouver, Creel says.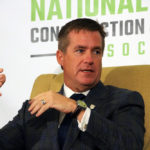 "The next step is scalability," Creel says, through partnering with a customer that can build enough road locomotives to prove the technology on the rugged CP main line in the Canadian Rockies west of Calgary.
"It's the perfect test bed. If you can operate there — heavy haul, cold temperatures, the most challenging operational conditions I've ever experienced in my career … it will work anywhere," Creel says.
If the tests are successful, hydrogen fuel-cell locomotives are likely to first be deployed in local service until the railway can create a hydrogen fueling network across its system and build the tenders necessary to give the locomotives extended range.
"I'm telling you this has the potential, if it proves its mettle and it shakes out in the very tough validation tests we'll give it, it will be truly transformational for this industry," Creel says. "And it's something we're extremely proud of."
Creel emphasized that the hydrogen project is very much an experiment and CP is not betting the farm on its effort to create a green locomotive.
Alberta is aiming to transition to a hydrogen-based economy as part of a push toward cleaner energy supplies. CP would haul hydrogen from Alberta to customers across its system, as well as to its own fueling facilities.
All of the Class I railroads have announced ambitious goals to reduce their carbon emissions as part of an effort to combat climate change.
Wabtec and Progress Rail are offering battery-electric hybrid locomotives and are experimenting with higher blends of biodiesel and renewable diesel to reduce greenhouse gas emissions. BNSF Railway tested Wabtec's battery electric locomotive as part of a hybrid consist that powered merchandise trains between Stockton and Barstow, Calif., last year.
Union Pacific has ordered 20 battery electric locomotives — 10 from each builder — for use in tests at two yards.
Creel spoke at the RailTrends 2022 conference sponsored by trade publication Progressive Railroading and independent analyst Anthony B. Hatch.