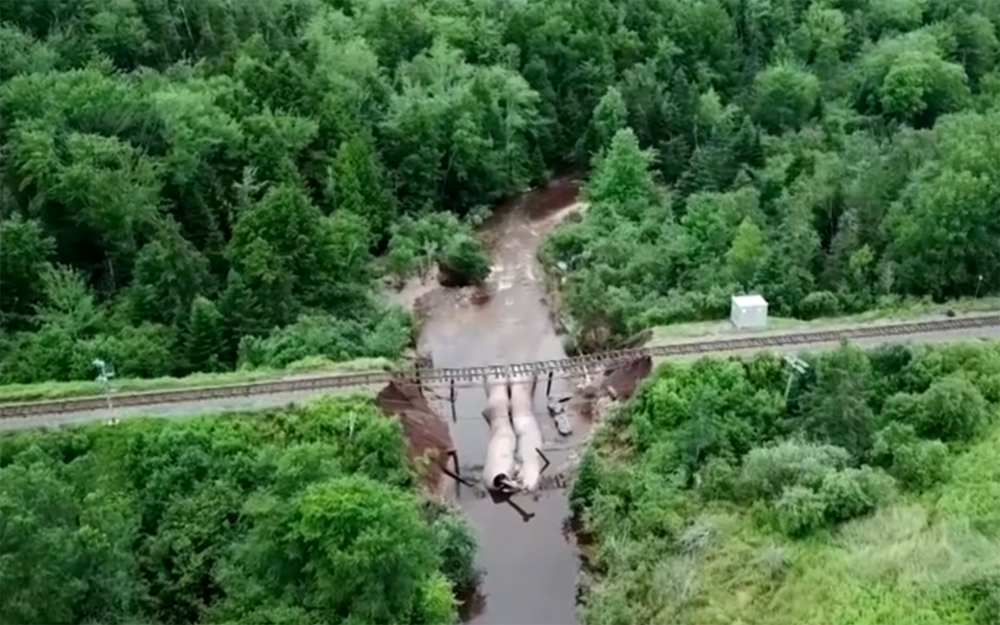 ---
HALIFAX, Nova Scotia — Canadian National's main line to the Port of Halifax, Canada's fourth-largest port, has been washed out as a result of flooding that caused "unimaginable" damage, according to Nova Scotia Premier Tim Houston.
Reuters reports a storm that arrived on Friday left more than 10 inches of rain in a 24-hour period in some places, with the CBC reporting Halifax received its most rain in a day since 1971. The Canadian Press reports a search is continuing for four people missing in the flooding.
The local news site SaltWire reports the line is washed out in the community of Milbrook, just outside of Truro, N.S., and about 50 miles north of Halifax. A SaltWire photo shows tracks dangling above a washed-out culvert. The site quotes a CN news release as saying sections of track were preemptively closed due to poor weather conditions and that "some repairs will be delayed until weather and water events subside."
An advisory on the VIA Rail Canada website warns that the Montreal-Halifax Ocean may not operate beyond Moncton, New Brunswick, because of the flooding. No alternate transportation would be provided; passengers would be contacted directly.
— Updated at 6:45 p.m. with image of flood damage.